Knit your own Wilhelmina Barns-Graham Tie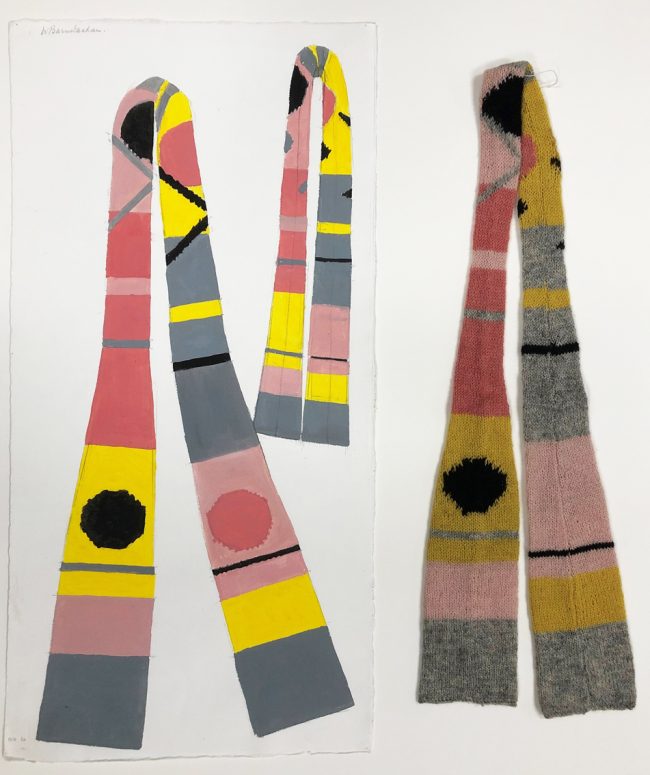 In the mid-1980s, Wilhelmina Barns-Graham designed and knitted a collection of over 50 stunning unique wool ties. Some of these ties were recently shared on the Trust's Instagram account as inspiration for an activity to do while we are all shut in at home during the Covid-19 crisis. The ties received an enthusiastic response, especially so from knitwear designer and design educator Jeni Allison who offered to create a DIY knitting pattern for one of them.
We thought this to be an excellent idea and agreed to her proposal. Jeni selected Number 30, a grey, pink and yellow tie designed and made by Willie in 1986 as the pattern to base the project on. Further photos were taken, stitches counted, ties measured, and pattern plotted. The tie is knitted using 3.25 (US 3) needles using 2 ply wool and colours have been suggested using Jamieson's Spindrift. We're now delighted to be able to share this free knitting pattern with you. You can download it HERE.
We'd love to see your versions of this tie.  Please share them with us by emailing your picture to info@barns-grahamtrust.org.uk or posting on social media using the hashtag #KnitBarnsGraham
The Wilhelmina Barns-Graham Trust would like to thank Jeni Allison for creating this pattern. Jeni studied textiles at Glasgow School of Art, and completed MA in Knitwear at Heriot Watt University with distinction. She is based in Edinburgh and currently works as a Design Interpreter for Barrie Knitwear. Please take a look at Jeni's other work at www.jeniallison.co.uk