Wilhelmina Barns-Graham Late Prints in Newcastle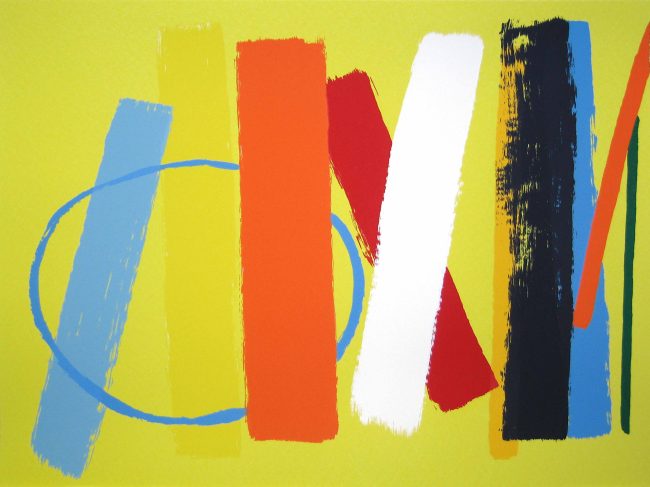 Wilhelmina Barns-Graham: The Late Prints at Gallagher &Turner
This is a special exhibition moment as, until now, Willie has never received a solo exhibition in the North East of England. We are not even sure that her work has been on display at any time in Newcastle, so the Trust is delighted to have the opportunity to correct the situation.
The exhibition focus is on Willie's printmaking, covering the last decade of her life. These joyous works show the full extent of Willie's creativity and exuberance. For her, printmaking was a liberating experience where she was able to 'let rip' (as she put it). The selection is a survey of prints from 1992 to 2002, principally in screenprint but also including an important lithograph – Two Circles on Purple (1992) – and one of only three dynamic etchings she made within this period, in small editions – Eclipse (1999). The availability of these two prints has become particularly limited and they are rarely exhibited.
A significant point in Willie's printmaking career came with her introduction in 1998 to Carol Robertson and Robert Adam of Graal Press, situated outside Edinburgh. Carol is a screenprint specialist who, in the late 1990s, was assisting with the developing of water based screenprint inks with the Swiss paint and ink manufacturer Lascaux. This is a safer product to use rather than the conventional oil-based inks that printmaking studios traditionally used, but it did take some time for the new inks to be accepted by the industry. However, being water-based means that the inks work in the same way as watercolour where the pigments meld into one another rather than creating separate paint/ink layers. As Willie worked primarily in acrylic (also water-based medium) in her late painting, she and Carol were able to evolve screen-printed  images that were truly embodiments of her work in other media.
An important new way for Willie to work was to apply each mark on to a separate sheet of clear acetate. This allowed her to re-use the acetates in different arrangements, a bonus for her as it freed her to create multiple images using the same marks without expending valuable energy. Furthermore, she had not been able previously to produce prints in series but now this became possible, by playing with shapes and altering colour. Series included in the exhibition are Millennium, Water Dance (Porthmeor) and Wind Dance.
Gallagher & Turner, 30 St Mary's Place, Newcastle-upon-Tyne NE1 7PQ
Exhibition runs 27 September to 17 November.