Wilhelmina Barns-Graham: Inspirational Journeys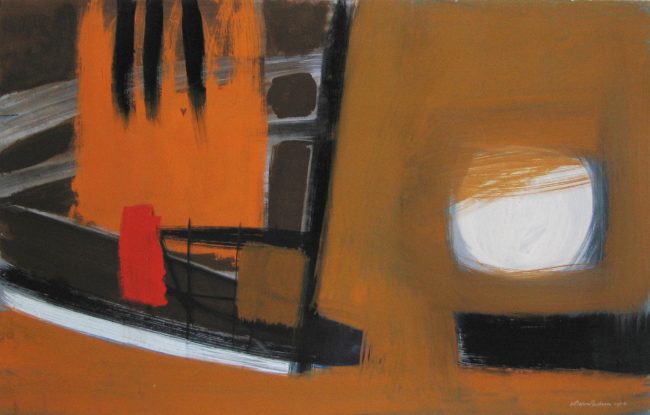 Wilhelmina Barns-Graham: Inspirational Journeys
The Wilhelmina-Barns-Graham Trust is launching a new touring exhibition from its fine collection of Wilhelmina Barns-Graham's legacy. This new show Wilhelmina Barns-Graham: Inspirational Journeys, curated by Trust Director Rob Airey, opens at the Granary Gallery, Berwick-upon-Tweed on 25th October.
As with two previous Barns-Graham touring exhibitions the aim is to focus on a specific aspect of her practice, to include works from a wide timespan so different periods of her long career are represented. Inspirational Journeys focuses on Barns-Graham's trips into Europe over a 50-year period, outlining the importance of her trips to Switzerland (1949), Italy (1952/53/54/55), Spain (1958), Orkney (1984/85) and Lanzarote (1989/90/91/92/93), revealing how they provided a significant impact on her wider practice.  These experiences led to new perspectives, themes and stylistic changes in her work from remarkable on-the-spot pencil drawings to bold and colourful abstract paintings.
An important element of the show is to highlight the importance of travel in broadening the mind both from a creative perspective and in the possibilities arising from cultural exchanges. Scottish artists in particular have always had a very positive relationship with Europe and Wilhelmina Barns-Graham was no exception. On this principle, the Wilhelmina Barns-Graham Trust currently provides financial support for four travel awards for art students either at or having just completed their art college degrees.
The exhibition opens in Berwick-upon-Tweed on 25 Oct 2019 (until 23 Feb 2020), before travelling to the Royal West of England Academy in Bristol opening March 2020, The Atkinson, Southport in January 2021 and the Pier Arts Centre, Stromness in Summer 2021.
A fully illustrated catalogue accompanies the exhibition with a new essay focusing particularly on Barns-Graham's journeys to Switzerland and Italy, by independent curator Dr Rachel Rose Smith.