Wilhelmina Barns-Graham in Beverley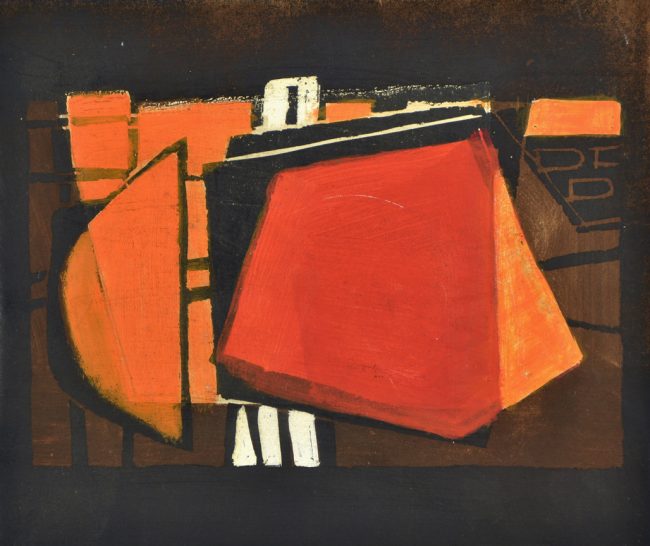 'A Different Way of Working – the prints of Wilhelmina Barns-Graham' goes to Beverley Art Gallery
Curated by Ann Gunn the exhibition spans fifty years of Wilhelmina Barns-Graham's printmaking, from her first linocuts in the early 1950s to the significant collection of screenprints she started in 1998, at the age of eighty-six.
In the early years Barns-Graham experimented with a variety of techniques including off-set, a form of monotype, which allowed her to make copies of her drawings. The process was developed by Paul Klee, and introduced to the UK by the Polish artist Jankel Adler. It is likely that Barns-Graham picked up the technique from Adler, as well as through her friends 'the two Roberts' – Colquhoun and MacBryde.
Barns-Graham explored linocut, etching, lithography and screenprinting during the 1950s. Her printmaking reflected the interests and themes in her painting, with etchings of her renowned glacier studies and linocut prints on the subject of rock forms.
Throughout the 1970s and 1980s, Barns-Graham only produced prints on a sporadic basis.  However, from the early 1990s she began a revitalised venture into printmaking. Working with print workshops around the UK, including those of Kip Gresham, Porthmeor and Dundee Printmakers, she was encouraged by the successful way in which her images were translated into print form, and intrigued by the possibilities for making original works in this medium.
In 1998 Barns-Graham started to work on screenprints with Carol Robertson and Robert Adam of Graal Press, Roslin, near Edinburgh. Their working relationship evolved into a highly successful collaboration in which Robertson's innovations in water-based screenprinting freed Barns-Graham's creative energies to produce series after series of vibrant and joyful images. Within that five-year period, until the artist's death in January 2004, Barns-Graham produced a body of sixty five prints.
The exhibition represents Barns-Graham's journey as a printmaker. In addition, the display features a selection of her tools and studio materials used in the creation of these prints. These provide added educational interest for the visitor in understanding of how prints are made.
Ann Gunn is Head of Museum Studies, University of St Andrews. Her book 'The Prints of Wilhelmina Barns-Graham – a complete catalogue' was published by Lund Humphries in 2007.