Wilhelmina Barns-Graham at British Art Fair 2018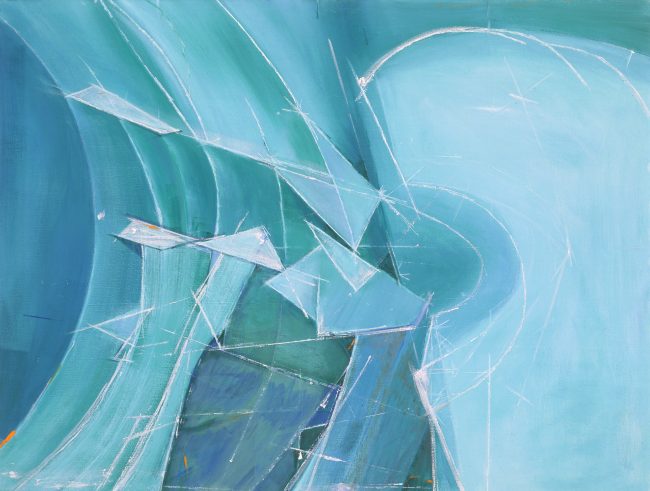 Waterhouse & Dodd are featuring Willie's paintings at the British Art Fair this week. The fair, a stalwart in the London art fair calendar, is under new management and has been much upgraded, the new venue alone sending out statements of intent. Waterhouse & Dodd are highlighting two major paintings – Variations on a Theme: Splintered Ice No.2 (1987 – BGT6464) and White Cone (1953 – BGT6204) as well as a group of pictures which are included in an exhibition Shared Histories: Wilhelmina Barns-Graham, John Wells, George Dannatt taking place in their gallery next month.
This is the first time that White Cone (oil on board, 50.6 x 93.8 cm) has been exhibited since the 1950s and is a specially eye catching painting given its vibrant palette. Willie's rock form pictures of the period tend to be muted but this one is brighter than most, with an atmosphere akin to immediately earlier works such as Three Rock Forms (1951 – BGT1119).
Variation on a Theme Splintered Ice No.2 (oil on canvas, 91.5 x 122 cm) evokes the glacier paintings of the early 1950s but was inspired by the shattered ice covering a dried-out puddle within the grounds of Balmungo House, St Andrews, observed on a winter's afternoon walk. The flashes of colour beneath the ice derive from the mushrooms lying at the bottom of the hollow but themselves suggest something of the detritus that she observed in the Grindelwald glacier back in 1949. As is usual, Willie makes something wonderful out of a simple idea.
Waterhouse & Dodd are exhibiting on the first floor (there are three floors). The owner of the BAF, Jonny Sandelson declared the Splintered Ice the finest painting at the fair. He wanted to give it a prize of some sorts, before he was reminded that there was no such award! Go and see for yourself.
BRITISH ART FAIR 2018
Saatchi Gallery
Duke of Yorks HQ
Kings Road
London SW3 4RY
20–23 September
(Thursday 11–9, Friday and Saturday  11–7. Sunday 11-6)