The SSA Wilhelmina Barns-Graham Award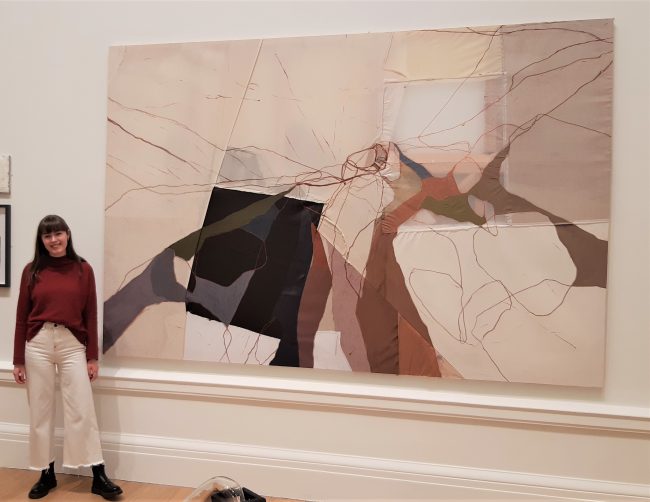 The Wilhelmina Barns-Graham Trust is delighted to announce the first winner of a new prize awarded in partnership with the SSA (Society of Scottish Artists) – Siobhan McLaughlin. The prize is for a work of merit by a graduate who is less than five years out of college and is awarded at the SSA's Annual Open Exhibition. Siobhan graduated with First Class MA (Hons) in Fine Art at Edinburgh University and Edinburgh College of Art this year and her work Untitled (Lochnagar III) particularly impressed the two judges Rob Airey, Director of the Wilhelmina Barns-Graham Trust, and Kate Downie, Past President of the SSA and outgoing trustee of the WBG Trust.
Siobhan McLaughlin is an artist based in Glasgow. Her practice sits between abstracted landscape and an expanded form of painting. Firmly situated in the history of experiential landscape painting, she combines personal experience with compositional devices, such as the use of alternative materials, to create a non-traditional depiction of landscape. One can find more about her and other examples of her art at www.siobhanmclaughlin.co.uk  
The Wilhelmina Barns-Graham Award recognises and celebrates a long association between the artist and the SSA.  In 1935, while Barns-Graham was still studying for her Diploma at Edinburgh College of Art, the SSA offered her the first opportunity to exhibit in a public exhibition – a landscape in oils. She would continue to show in the annual exhibitions through the 1930s.  While at ECA Barns-Graham also benefitted from the award of a number of scholarships and bursaries. It is particularly appropriate therefore that the Wilhelmina Barns-Graham Trust should support a new £2,000 prize for an artist, while the 2019 Scottish Society of Artists Open exhibition is being held in Edinburgh.
The SSA is an artist-led organisation with over 1000 members from across Scotland and beyond. This year's annual Open Exhibition is the second collaborative venture between the SSA and Visual Arts Scotland (VAS). The two organisations have joined forces once again, with one common vision and clarity of purpose, to create a combined annual show which they believe to be the very best in contemporary art and design. Further information on the SSA website.
The SSA|VAS OPEN is on at the Royal Scottish Academy, The Mound, Edinburgh between 22 December 2019 to 30 January 2020.