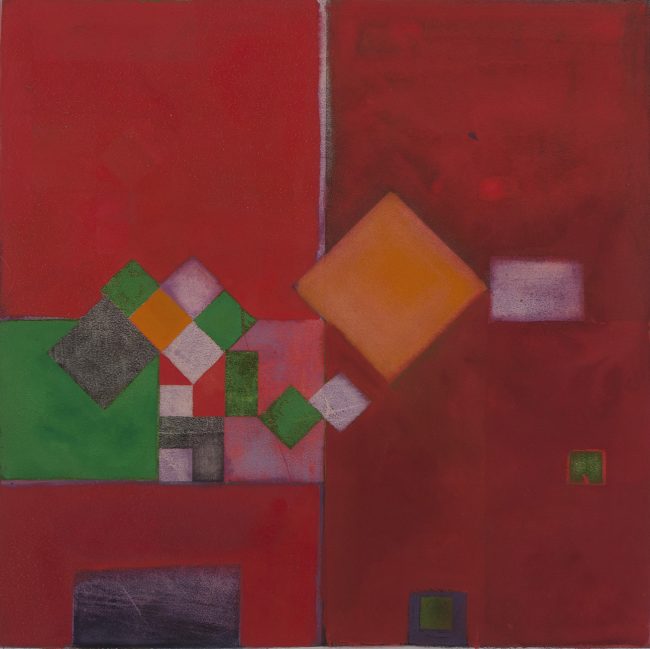 Squares in Movement is the new installation in the ongoing annual series of displays of Wilhelmina Barns-Graham's paintings at the Penwith Gallery St Ives. From the late 1940s and her ground-breaking series of works that drew inspiration from visiting the Grindelwald Glacier in Switzerland, and throughout the 1950s, Barns-Graham developed a painting practice which was increasingly abstract, but always inspired by the close observation of landscape and natural forms. In contrast, from around 1961 until the second half of the 1980s, her prime focus was creating what might be described as 'purely abstract' works; focused on form, movement and colour on the painted picture surface, with little or no obvious reference to the natural world.
The series Things of a Kind in Order and Disorder represents the mid-career of Barns-Graham and is a major study of ideas that absorbed her attention for the next decade. The paintings explored colour interacting with simple geometric forms – the square and the circle. Offsetting shapes and colours created visual movement which was then disrupted through introducing irregular rhythms, making disorder out of order; Barns-Graham herself referred to  'things of a kind in order and chaos'.
The organisation of squares and circles was, though, by no means randomly made. The arrangements are carefully crafted in quite complex constructions, relying on invisible underlying mathematical frameworks. However, unlike Op Art that was being so thoroughly investigated at that time, Barns-Graham's painting is not so painstakingly repetitive in its formal configurations. She was much more interested in the breakdown of structure. When combined with her use of primary colours, offset against complementary secondaries, the paintings contained a different, yet vital kinetic energy.
The background panels play an important part in defining space and position, as well as direction. They define the nature of the spaces in which the shapes move; those from 1965 to 1970 are, broadly speaking, much flatter and two dimensional where those of a decade later which are more like expansive voids. But in each case there is no suggestion of a frame that holds the shapes within a given space, alluding to a continuation of that space well beyond the visible picture plain.
The paintings of Order and Disorder are part of an ongoing thread that passes throughout Barns-Graham's career, leading up to the abstract expressionism of her final decade. There is no doubt that the paintings from this period played a vital role in the development of her future art and that without her intense focus on investigating Order and Disorder, her last exciting work, as we know it, may never have materialised in the manner in which it did.
This year the display is on for a short term only, ending 30th November.