Out of an Abstract Shadow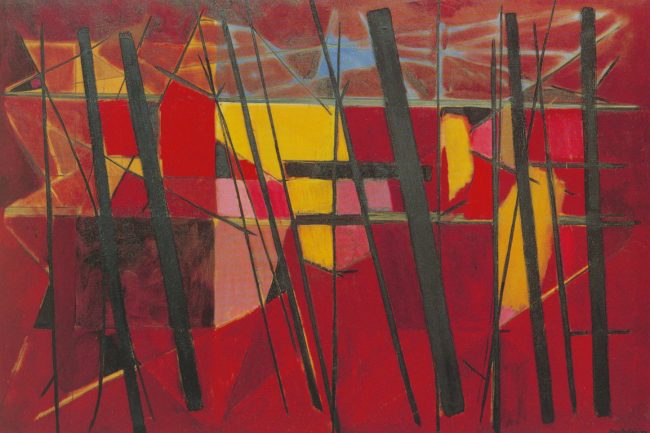 Out of an abstract shadow                                                   
By Simon Tait
A series of exhibitions in Yorkshire devoted to the work of, in her time, Britain's foremost woman abstract painter is recording the importance to her work of her stay in Leeds.
Wilhelmina Barns-Graham – Willie – was an inventive force within the influential St Ives group of painters and sculptors, but who let herself remain in their shadow. It was only towards the end of her life – she died in 2004 aged 91 – that her real importance was fully recognised.
There were key points in her long life when her talent could shine, however, and one was a short two-year period in the mid-1950s when she worked, taught and exhibited in Yorkshire, discussing and developing new ideas which created a vital blossoming in her own techniques.
Born in St Andrews, Scotland, in 1912 Willie went to the Edinburgh School of Art – against the wishes of her father, a patrician but unwealthy Fife landowner – graduating in 1937, just as a group of modernist Hampstead artists had decamped to Cornwall, crystalising on the fishing town of St Ives around Christopher Wood, Barbara Hepworth, Naum Gabo and Ben Nicholson.
When she graduated Willie's principal, Hubert Wellington, advised her to join them – as much for her health, which had been poor, as for her art – and she settled there near to Gabo in Carbis Bay in 1940, where her distinctive elegant, lyrical precision developed.
Although she is most often compared with Nicholson – their geometric approach was mutually informative and their draughtsmanship was easily the best of the group – the constructivist Gabo was the greater influence on Willie through his exploration of outer form, space, and structural planes. Gabo left Cornwall in 1947, however, just as a steady flow of younger artists to St Ives began, including Peter Lanyon, Patrick Heron, Trevor Bell, Terry Frost, Roger Hilton, and the group became known as the St Ives School.
She was a progressive within the group, siding with the modernists led by Hepworth and Nicholson. Her work explored the commonplace about St Ives, such as the patterns of seaweed on the shore or the colour and shape contrasts of the contents of a rubbish dump, and in 1948 a critic on the local paper commented on a particular painting in which she "paints without compromise or fuss. She has found the foam lipped breakers, that grey light, nearly crumbling walls and rusted junk, she has found the soul of St Ives in her visionary Sleeping Town".
In the late 1940s and early 50s her abstract painting developed, carrying her acute perceptions into new uses of space as well as form, of rocks, glaciers and landscapes, using a much freer hand. She had found, in the words of the author of the definitive biography of Willie, Lynne Green (W Barns-Graham A Studio Life, Lund Humphries, 2001, updated 2011) "the beginnings of a personalised abstract language".
Yet she did not see herself as purely an abstractist. "I am interested in using abstract forms mainly insofar as they are derived directly from natural sources by means of simplification within the movement of the picture itself". Her reputation began to grow through group exhibitions in Cornwall and London, one of the few female artists to be singled out by critics for special mention.
She and her husband, the poet David Lewis whom she married in 1949, began to travel, to Paris, Switzerland and Italy in particular, and when David decided on a change of career and enrolled at Leeds School of Architecture in 1956 Willie went with him, teaching life drawing and painting at the Leeds School of Art under the influential head of the school of painting Harry Thubron.
There were already strong links between the St Ives artists and Yorkshire – Leeds was in a vibrant cultural passage. The critic Herbert Read, a great champion of the St Ives group, Hepworth, Bell and Patrick Heron were all Yorkshire born. The art publisher Eric Gregory had started the Gregory Creative Fellowships in painting, sculpture, poetry and music, and Willie's friend Frost had been the painting fellow from 1954 to 1956.
Willie loved to teach and her lessons, mostly in the evening so that she could paint during the day, are still remembered. And she exhibited – in 1957 the Yorkshire Post's art critic W T Oliver noticed that the influence of the St Ives School was becoming evident in the work of their Yorkshire fellows. Frost and Willie were also profoundly impressed by the Yorkshire landscape, and Oliver enthused that her work "will show those who doubt the validity of abstract painting that here at least there is an abstractionist who can draw a landscape exquisitely". In the winter dales, moors and drystone walls she found new shapes and forms, and a fresh boldness in colour use.
It was in that Wakefield City Art Gallery exhibition, Modern Art in Yorkshire, that Oliver would have seen one of the most important paintings in Willie's development, Red Painting, a Gabo-esque construction dominated by plangent and threatening reds described by the curator Douglas Hall (later founding director of the Scottish National Gallery of Modern Art) as "large, explosive" for which none of her earlier work could have prepared viewers. "Anger has seldom had so direct an expression and nothing quite like it was to reappear" he wrote.
Her two years in Leeds were marked by startling contrasts: a period of discovery and development in her work, and personal upheaval as her marriage collapsed (she was eventually divorced in 1963). Willie and other artists and teachers were trying out geometric harmonies, colour interactions and what was described as the "dynamic symmetry" exemplified in classic architecture. She found that practices in the mathematical division of space, known as the "golden section", with which she had been experimenting were familiar to her new friends and colleagues with whom she could discuss techniques, a liberating experience for her.
After just two years in Leeds and her marriage irretrievably broken, Willie returned to St Ives and a "very tough" period, she said, in which "gradually I became a lone wolf & with my head down… got on with my work". She inherited a house near her St Andrews birthplace and divided her years between there and Cornwall up to the day she died. Here, some of the freedom she had found in colour and form in her Leeds days returned, and her reputation found its proper place. She was given an honorary doctorate in 1992 by the University of St Andrews, made an honorary member of the Royal Scottish Academy in 1999, and in the year of the publication of Lynne Green's magisterial monograph, 2001, she was made a CBE.
"In my paintings I want to express the joy and importance of colour, texture, energy and vibrancy, with an awareness of space and construction" she said towards the end of her life. "A celebration of life — taking risks so creating the unexpected."
This article was published in Museum Crush on 14 February 2019