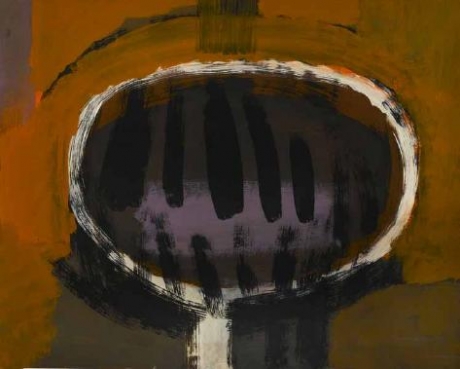 Seeing Round Corners: The Art of the Circle
Opening Saturday 21 May an exhibition at Turner Contemporary, Margate, includes a gouache painting on paper by Wilhelmina Barns-Graham selected from the British Council collection. The Trust holds similar works to Lilac and Amber in its collection.
Turner Contemporary presents the first major exhibition to explore the centrality of the circle in art. Featuring more than 100 works – from 3000BC to the present day – Seeing Round Corners: The Art of the Circle brings together artworks and artefacts that reflect a vast range of themes and ideas from roundness, rotation and visual perception to wonderment and cycles of time. The exhibition encompasses sculpture, film, painting, design, installation, performance and photography, with works by leading historical and contemporary artists including Leonardo da Vinci, Paul Nash, Barbara Hepworth, JMW Turner, Theaster Gates, Rebecca Horn, David Shrigley and Bridget Riley.
The exhibition considers the ways in which artists have gravitated to this universal and recurring form. From the globe of the earth and the rotation of the planets, to the shape of the human eye or the smallest atomic particle, the circle – as a form and as an idea – is at the heart of our relationship to the world. Seeing Round Corners: The Art of the Circle explores the significance and symbolism of the circle and sphere in art and culture; architecture and engineering; astronomy and geometry; optics and perception; religion, spirituality and everyday life.
The exhibition was conceived and co-curated by artists David Ward and Jonathan Parsons. In partnership with Turner Contemporary, they have sought to achieve broad cultural and historical scope across the exhibition. The result is a once-in-a-lifetime opportunity to view Leonardo da Vinci juxtaposed with Barbara Hepworth and Alison Turnbull; William Blake with Wolfgang Tilmans and Carl Andre; ancient Egyptian sculpture with Anish Kapoor and Nancy Holt. The exhibition makes connections across eras and disciplines, creating a breadth and richness conceived to ensure fresh inspiration on every repeat visit.
Sat 21 May – Sun 25 Sep 2016
Further information at www.turnercontemporary.org/exhibitions/seeing-round-corners