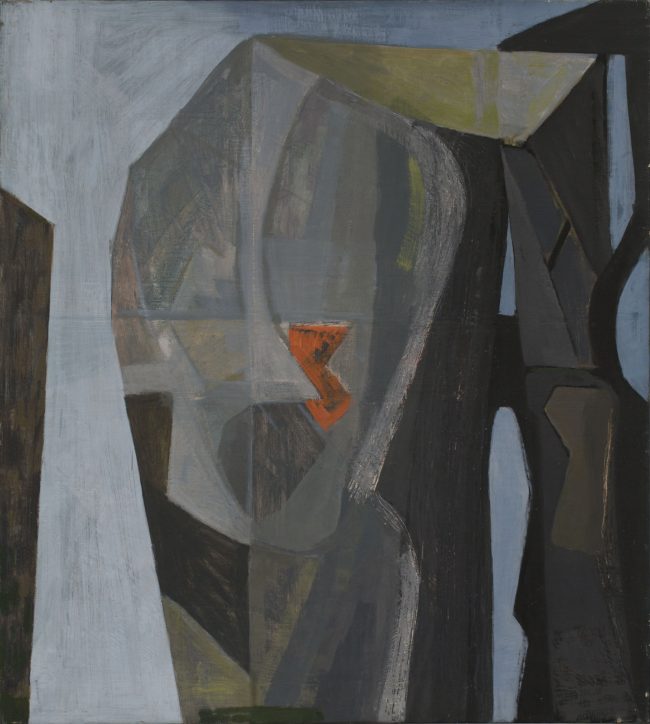 The exhibition Wilhelmina Barns-Graham: Sea, Rock, Earth and Ice seen earlier this year at the Jerwood Gallery, Hastings has now opened at Graves Gallery, Sheffield.  Originally curated by Lara Wardle the show has been extended due to the Graves larger space, with further examples of Barns-Graham's wider explorations into the structure of, and forms found in, landscape.
A full article about the exhibition at the Jerwood Gallery was published in June –  read here . The starting point is a series of glaciers that includes Glacier Painting, Green and Brown, 1951 from Graves Gallery's own collection before showing how the series developed away from having direct glacier references to one of rock forms. This includes two significant paintings from 1952 that have rarely been seen – Cliff Face (BGT385) and Rock Forms (BGT6215) – not seen at Jerwood. Other additional  works here that extend the theme to other locations are two collage paintings inspired by Orkney – Warbeth I (BGT754) and Birsay II (BGT1182). Even if you were able to see the exhibition in Hastings there are half the number of pictures more to see in Sheffield.
The exhibition runs until 16 March 2019. See http://www.museums-sheffield.org.uk/museums/graves-gallery/exhibitions/current/wilhelmina-barns-graham-sea-rock-earth-and-ice for further details.