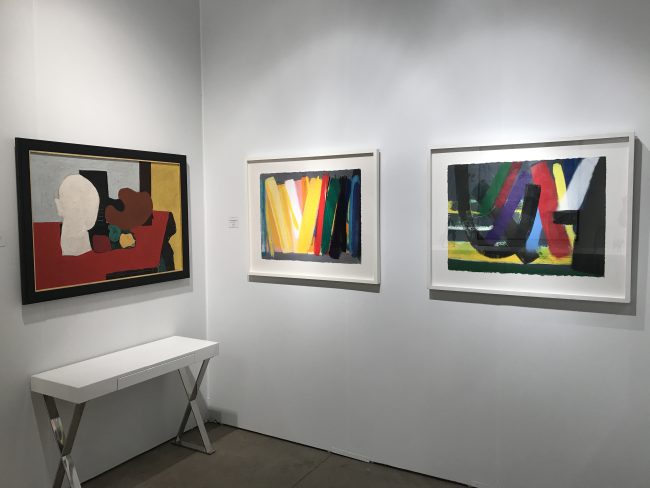 The review for 2017 provides a glimpse into the Wilhelmina Barns-Graham Trust's activities. As usual the Trust continues to work with public organisations across the UK, and this year has seen more of a focus on projects in St Ives.
Edinburgh
The Trust's biggest accomplishment for 2017 was finally being able to move into new premises in Edinburgh. Having moved out of Balmungo House in July 2014 it took three years, almost to the day, to move the art collection, library, photo archive, office, into a new home that provides the security that it deserves. 77 Brunswick Street is centrally located towards the top of Leith Walk, a mere ten minute walk from St Andrew Square. This makes it very accessible for people not only from the city itself but for those coming in from much further afield. Although visits are by appointment only we invite all those studying, researching and writing on modern and contemporary art to arrange to come and see Wilhelmina (Willie) Barns-Graham's legacy. The Trust has a new team in place – Rob Airey, formerly Keeper at University of Newcastle's Hatton Gallery , is our Director and Ross Irving, formerly Curator of Collections for Fife Cultural Trust, is our Art Collections Manager.
Sponsorship
The Trust's largest single sponsorship this year is with Tate St Ives, to assist with their education programme, for one year, following the re-opening of the gallery with its impressive new additional exhibition space. The money funds the daily talks, their Lates programme, and a Schools programme, a series of school teacher resource days, training the Tate teams to work with schools and supporting schools visiting the gallery. Part of this funding also went towards a special week –the week after opening, where the gallery dedicated the whole week to welcoming children from St Ives schools into the newly opened galleries. The new display is called Modernism and St Ives and features three paintings by Willie, one of which is on loan from the Trust – Rock Theme St Just. (1953). We wish Tate the same success that the National Galleries of Scotland had following the support that the Trust provided for their education programme set around the Modern Scottish Women Painters and Sculptors 1885-1965 exhibition of 2015/16.
The St Ives School of Painting also received some funding for their new out of hours schools club which offers art sessions for local school children. The Trust's contribution went towards a summer event, called Culture Camp, for young people aged 13-18 working in collaboration with Leach Pottery. They were offered a cultural experience every Sunday in August with a celebration/ showcase of their work at the end, and included a Bronze Arts Award qualification.
Sponsorship comes in different forms. In 2017 the Trust agreed to pay shipping costs to enable Willie's paintings to be included in two exhibitions at the Otter Gallery, University of Chichester (see below), and for twelve prints to be framed and shipped to Patricia Cain's exhibition Seeing Beyond the Immediate at Gracefield Art Centre and Dumfries/Robert Scott Gallery, Hawick.
It was another successful year for the 2017 Summer School. Organised and directed by Fife Contemporary (formerly Fife Contemporary Art and Craft) the event is aimed at senior Fife school pupils who have a specialist interest in art and design. For the second year it took place at Cambo Estate outside St Andrews. This was the fifth iteration of the event which was held from 2012-14 at Balmungo House. All 15 available places were taken up by pupils from 12 different schools across all of Fife (11 local authority and 1 private). The Trust co-sponsors this event with the Cookie Matheson Charitable Trust.
Exhibitions/Displays
The Trust is working with a new gallery in London. Waterhouse & Dodd have taken on the role of representing Willie's work. Her first outing with them was at the London Art Fair (January), quickly followed by Art Wynwood Miami (February), and TEFAF Maastricht (March). The first solo exhibition in London (June) was very well received, and the gallery has gone on to include Willie's work at the 20/21 British Art Fair (September) and Art Miami (December). Sales to US collectors has been particularly exciting.
A Different Way of Working: the prints of Wilhelmina Barns-Graham was installed at the Burton Art Gallery, Bideford, Devon in the early Spring. Elsewhere, Willie's pictures were included in exhibitions across the length of the country, from the Pier Arts Centre (Portraits of Stromness) to Otter Gallery, University of Chichester (Women Artists: Power and Presence and Coastal Connections) and Modernism and St Ives at Tate St Ives. At the end of the year her work was still viewable in at least nine different venues.
One of these venues is the Penwith Gallery in St Ives. The Trust approached the gallery three years ago with the concept that, given Willie's constant support since being a founding member, she have a permanent presence on their walls. This was finally agreed this year and so an initial selection of paintings and drawings from Willie's early years in St Ives (1940-1947) has now been installed. The display will change annually and focus on periods or themes in her work.
Four of Willie's paintings were on display at Bute House, Edinburgh, the official residence of Scotland's First Minister. Selected by the National Galleries of Scotland, who were asked to organise the display, these paintings have been on long term loan to NGS since 1995 when negotiated directly from Willie.
Bursaries
The grants, scholarships and bursaries disbursed each year are an especially important activity for the Trust. Beyond those who benefit from the Study Aid support, ten students studying at six colleges/universities received grants or scholarships, with £27,500 disbursed overall. Currently the Trust works with ten art colleges and universities. The programme has been running since 2007 and is reviewed every three years.
The Trust also supports two artist residencies. The Royal Scottish Academy administers one on behalf of the Trust (established in 2012) and this year a new three year commitment was made for an annual three month residence at Porthmeor Studios in St Ives.
Katie Schwab started her three month stay in St Ives in April which she was lucky enough to have extended until September. In her report she says "My five months at Porthmeor Studios have been spent weaving, sewing, dyeing and writing. In the studio I produced A Portable Mural, the 2017 Architecture Family Pack for the Serpentine Pavilion. The printed work was composed of a strip of indigo fabric and cyanotypes made from a woven tapestry, and was designed and produced in St Ives. I also worked with designer Sarah Johnson on a collection of indigo dyed mats for the Pavilion, which we dyed at our home, Chy an Creet, and stitched at Porthmeor Studios.
I spent the summer experimenting with designs for patchwork fabrics, which have developed into a new curtain for mima's atrium in Middlesbrough. Drawing on these patchwork techniques, I also composed a collaged text for a reading and walk in London with Up Projects in June. Finally I have been researching local textiles practices in Cornwall and next year will be undertaking a Design Residency at Plymouth College of Art where I hope to produce a new body of fabric works responding to the patterns and dye samples of the historic St Ives Cryséde silk works." A very positive experience.
Gifts & Loans
In 2017 the Trust continued its policy, established in 2012 as part of Willie's centenary celebrations, of gifting pictures to selected institutions.  An untitled 1968 oil on canvas was presented to Lillie Art Gallery, Milngavie, while a 1950s Strung Forms painting was accepted by Aberdeen Art Gallery. A late work on paper Easter Series no.3 (2001) is now in the collection of the Royal West of England Academy who elected Willie as an honorary member in 2002. As with the Royal Scottish Academy there was no expectation for an honorary artist to donate a work to the academy, unlike new, ordinary members. The RSA received a painting in 2013. Each gallery/museum is very much involved with the selection process to ensure that they receive the painting that is right for their collection. The Trust is grateful to the Art Fund for their assistance with this programme.
In addition, a set of six screen prints has been gifted to Plymouth College of Art, and a copy of 8 Lines (etching) now adorns the central stairwell of the Porthmeor Studios.
Initially lent for an exhibition Fun Day, Kites and Balloons St Ives (1988) is on a two year loan to Saïd Business School, University of Oxford. The aim of introducing art around the building is to …."delight and inspire students, faculty and the wider community and to create an active dialogue between business and art.  Art is being placed around the building to integrate with the architecture and the lives of the students and the wider school community."
Other
The number of films to view on the Trust web site has increased considerably this year. First to be added was the recording of A Different Way of Working: the Prints of Wilhelmina Barns-Graham, filmed while installed at Burton Gallery, Bideford. The second new film was of the exhibition at Waterhouse & Dodd in June. In addition to these is a new series of short films called Up Close – Series One consists of eight paintings from Wilhelmina Barns-Graham: A Scottish Artist in St Ives while Series Two takes a close up look at six paintings at Waterhouse & Dodd. Being able to see the surface of the paintings so closely draws the eye to details and textures that can easily escape notice on more casual viewing, giving us a better understanding and appreciation of her art.
Finally, we saw a remarkable cross fertilisation between different creative disciplines when art and fashion came together in the October collection of Seasalt, one of Cornwall's leading fashion companies. After asking if they could work with examples of Willie's imagery, identified from the Trust's web site, the designers assimilated this through their own processes to bring us designs inspired by her but not by her. It is only a shame that this collection was only available for that one month, making this a very limited edition indeed! The collection was part of Seasalt's Cornish Arts Club, inspired by women artists in Cornwall, that featured throughout the year.