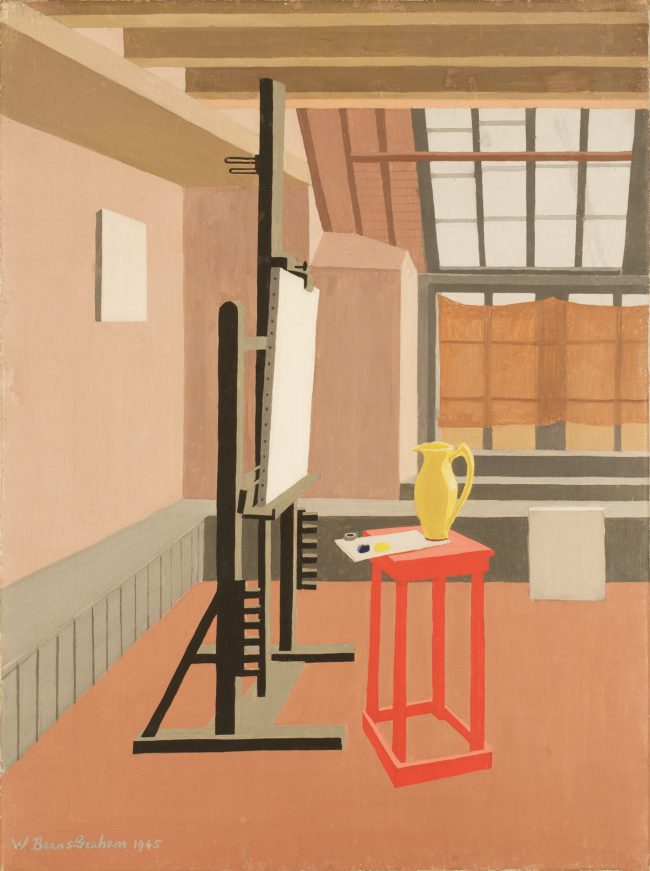 Beyond the solo exhibitions which are currently on view – Watermill Art Gallery, Aberfeldy; Charing Cross Hospital, London; Graves Gallery, Sheffield –  Wilhelmina Barns-Graham's work can also be seen in two public venues, in Falkirk and London.
FALKIRK
Snow [Scene] St Ives (1947; BGT6400) is in the exhibition Drawn from the Past – The Museum Mind of Tessa Asquith-Lamb hosted by the Park Gallery run by the Falkirk Community Trust.
This is a truly unique exhibition which explores how the artist uses museum collections as inspiration for her own lyrical and detailed etchings and paper-cuts. Tessa Asquith-Lamb has always loved museums, making her own in the porch of her house as a child. This love of the past has stayed with her and now has its perfect fulfilment in the curation of her own show at Callendar House, Falkirk. The artist was invited to choose objects and paintings from the region's collections and has created new work based on these items including intricate paper-cuts and a new etching featuring the House.
Exhibition runs until 13 January 2019
The Park Gallery, Callendar House, Callendar Park, Falkirk FK1 1YR
LONDON
Meanwhile in London, Studio Interior (aka Red Stool, Studio; 1945; BGT6408) forms part of 50/50: Fifty Women Artists 1900-1950. Curated by Sacha Llewellyn, the exhibition marks the 100th anniversary of the Representation of the People's Act. This will be the inaugural exhibition at the newly restored Ambulatory at the Worshipful Company of Mercers (City of London) and then travel to The Stanley & Audrey Burton Gallery at the University of Leeds.
Through a heterogeneous collection of painting and sculpture by fifty artists, the exhibition pays tribute to the extraordinary cultural production of women in Britain during the first half of the twentieth century. Despite the inequality of opportunity, patronage and critical attention, many female artists skilfully navigated careers in the art world, producing powerful works that reflected their daily lives and experiences.
Including portraits and self-portraits, landscapes and cityscapes, industrial scenes and images of war, the exhibition considesr the ways in which 'feminine' virtues and values were shifting and contested in 20th century visual culture. Indeed, the purpose of the exhibition is not to try and impose a false homogeneity on women artists, but to explore the diverse range of traditions and styles in which they worked. By addressing the long-undervalued contributions of women to the art of 20th-Century Britain, Fifty Works by Fifty British Women Artists 1900 – 1950 pays tribute to artists who not only created remarkable artworks but also generated a momentum towards a more egalitarian art world.
The Ambulatory at The Mercers' Company
6 Frederick's Place, London, EC2R 8AB
Until 23 March 2019
And then at
The Stanley & Audrey Burton Gallery at the University of Leeds
Parkinson Building Woodhouse Lane, Leeds LS2 9JT
9 April 2019 – 27 July 2019