Linear Meditations/Lines from Scotland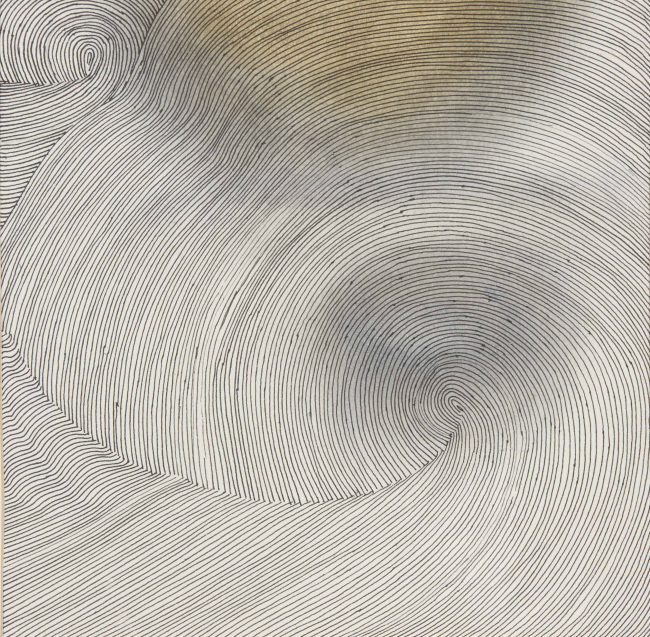 Linear Meditations/Lines from Scotland
In November 2018 the Wilhelmina Barns-Graham Trust, Imperial Healthcare Charity and Paintings in Hospitals launched an exhibition of Willie's extraordinary line drawings centred around mindfulness. Linear Meditations focuses on Willie's representations of water in drawings executed between 1975 and 2002. Capturing water in a variety of forms, from glaciers to seascapes, the exhibition explores not only the meditative qualities of Willie's drawing process but also the power of water to both calm and captivate.
Having spent the majority of her life near the sea, from her St Andrews home to the beaches of St. Ives, Willie was well acquainted with the ebb and flow of tidal waters. In these highly compressed line drawings, described by Mel Gooding as 'meditative abstractions and reflective imaginings', she explored the myriad of ways in which energy finds its forms. As Gooding continued, 'This contemplation that leads to astonishment is akin to the mystic's meditation, the concentrated repetition of word or action, which has its climax in the ecstatic release of the spirit.' They are the outcome of years of observation.
To date the exhibition has been seen in three hospitals in London where Imperial Healthcare Charity manages the visual arts programme – Charing Cross, St Mary's and Hammersmith. The exhibition is now on its way to Milton Keynes University Hospital under the direction of Paintings in Hospitals. Shortlisted by Design in Mental Health Awards in the category for Art Installation of the Year 2019 the exhibition has been hugely successful with a series of activities including mindful drawing, mindful listening and yoga coordinated by the exhibition curator Briana Oliver.
Three more of these drawings are included in a new exhibition Lines from Scotland that opens at St Andrews Museum on 9 November. Curated by Amanda Game for Fife Contemporary Lines from Scotland explores some of the many, varied ways that Scottish artists work/have worked with drawing and physical acts of mark-making as a way of developing and communicating thoughts and ideas.  It is designed to reveal something of the ever-evolving depth, diversity and richness of thinking in the arts in Scotland through linking works that spring from distinct disciplinary traditions, across media. Animation; archaeological records; botanical drawing, landscapes, portraits and designs for objects are just some of the lines that will be included.
The exhibition will be seen in Fife at St Andrews Museum (9 November 2019-22 February 2020) and touring to Dunfermline Carnegie Library & Galleries (7 March-10 May 2020) and Gracefield Arts Centre, Dumfries (16 May-25 July 2020). Wilhelmina Barns-Graham will sit alongside a small host of well known Scottish artists including Elizabeth Blackadder, Ian Hamilton Finlay, Andy Goldsworthy, John Houston and Frances Walker.
Lines from Scotland: https://www.fcac.co.uk/event/lines-from-scotland/