Katie Schwab, Artist in Residence at Porthmeor Studios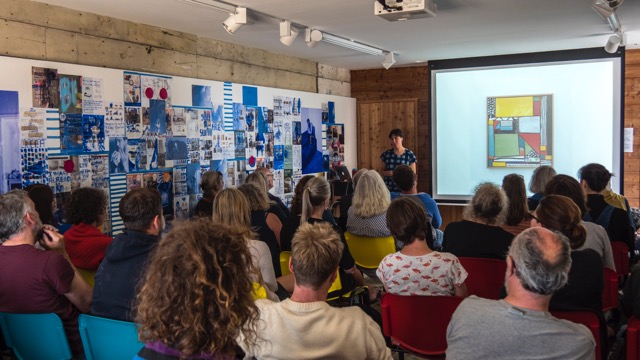 Katie Schwab spent a succesful few months this year, from 1 September until 31 August, as artist in residency at Porthmeor Studios St Ives, supported by the Wilhelmina Barns-Graham Trust. She has written to the Trust to say:
The studio was a beautiful and inspiring place to work and the generosity of the residency award has given me the time and the space to expand my practice in new and exciting ways. My five months at Porthmeor Studios have been spent weaving, sewing, dyeing and writing, and I made a number of ceramic works at the Leach Pottery.  I spent time in the St Ives Archives and the Penlee House Archives where I have been researching Cryséde, a local factory that produced wood-block printed silk fabrics and garments in the 1920s and 30s.
In the studio I produced A Portable Mural, the 2017 Architecture Family Pack for the Serpentine Pavilion, London. The printed work was composed of a strip of indigo fabric and cyanotypes made from a woven tapestry, and was designed and produced in St Ives. I also worked with designer Sarah Johnson on a collection of indigo dyed mats for the Pavilion, which we dyed at our home, Chy an Creet, and stitched at Porthmeor Studios. 
I spent the summer experimenting with designs for patchwork fabrics, which have developed into a new curtain for mima's atrium in Middlesbrough. Drawing on these patchwork techniques, I also composed a collaged text for a reading and walk in London with Up Projects in June. Finally I have been researching local textiles practices in Cornwall and next year will be undertaking a Design Residency at Plymouth College of Art where I hope to produce a new body of fabric works responding to the patterns and dye samples of the historic St Ives Cryséde silk works.
I want to thank you once again for the generous support from the Wilhelmina Barns-Graham Residency Award- it has allowed me to experiment and push my work forward and has also inspired me to stay on in St Ives longer, so I am excited to see what happens next. A huge thank you for everything!
The Trust is delighted that Katie had such a fruitful experience in St Ives and looks forward to supporting the next residency at Porthmeor Studios in 2018.