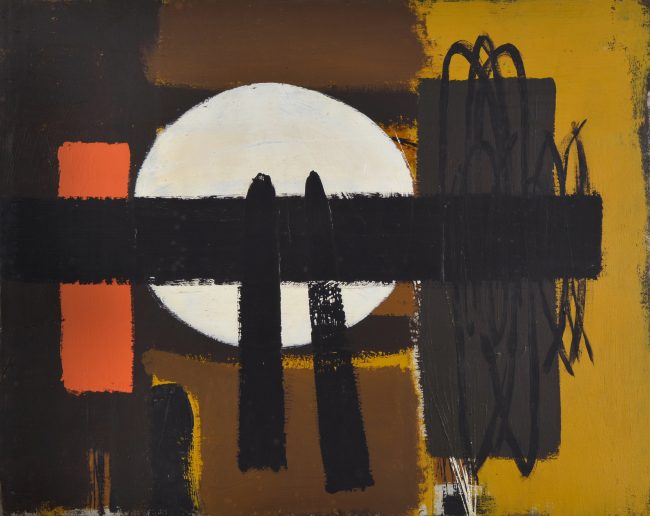 WILHELMINA BARNS-GRAHAM (1912 – 2004)
Artist Wilhelmina Barns-Graham's 'Inspirational Journeys' touring exhibition first opens at The Granary Gallery, Berwick-upon-Tweed,
26 October 2019 – 23 February 2020
For immediate release:  The Wilhelmina Barns-Graham Trust launches a new touring exhibition called 'Inspirational Journeys' based on the prominent 20th century British artist and St Ives group member, Wilhelmina Barns-Graham's travels in Europe.  Opening at The Granary Gallery, Berwick-upon-Tweed on 26 October the exhibition outlines the importance of her trips to Switzerland, Italy, Spain, Orkney and Lanzarote, revealing how they provided a significant impact on her wider practice and led to new perspectives, themes and stylistic changes in her work over a period of 45 years.
Rob Airey, Director of the Wilhelmina Barns-Graham Trust, who has curated the exhibition, says: "This is a very exciting addition to our Barns-Graham touring exhibitions, and we're delighted that the Granary Gallery will be the first to show it.  This show will look at Willie's regular trips into Europe, sometimes specifically to work, but more often for holidays.  However, as she worked almost daily, every new experience and place would feature in new work made at the time and back in her studio. This exhibition highlights the importance that travel had for her and is reflected both in the detailed figurative depictions of specific landscapes and colourful abstract paintings."
Head of Visual Art at Berwick Visual Arts, of which the Granary Gallery is a part, James Lowther explains: "We are delighted to be working with the Wilhelmina Barns-Graham Trust to launch the 'Inspirational Journeys' exhibition in Berwick. Barns-Graham was a true pioneer of modern British art in the late twentieth century, and we look forward to learning more about how her travels to Europe informed the development of her work."
A fully illustrated catalogue is available with a new essay focusing particularly on Barns-Graham's journeys to Switzerland and Italy, by independent curator Dr Rachel Rose Smith. Following the Granary, Inspirational Journeys will travel to the Royal West of England Academy, Bristol, The Atkinson, Southport and Pier Arts Centre, Orkney.
Note to Editors
The Wilhelmina Barns-Graham Trust was established by the artist Wilhelmina Barns-Graham CBE HRSA HRSW in 1987. The Trust exists to enhance the reputation and understanding of Wilhelmina Barns-Graham as one of Britain's most significant 20th century artists and through her legacy, supports young people and other individuals to fulfil their potential in the visual arts through its programme of bursaries and residencies.
Bursaries: The Wilhelmina Barns-Graham Trust supports students at select art colleges and universities around the UK. Arising from the significance of Wilhelmina Barns-Graham's own travels the awards provided include travel scholarships for fine art students at Falmouth University (for Italy), Edinburgh College of Art and University of Highlands and Islands. In addition, a travel scholarship is also provided through the Royal Scottish Academy.
See more at https://www.barns-grahamtrust.org.uk/
Wilhelmina Barns-Graham's work is represented by Waterhouse & Dodd in London, The Scottish Gallery, Edinburgh and The Belgrave Gallery, St Ives.
Facebook: https://www.facebook.com/barnsgrahamtrust
Linkedin: https://www.linkedin.com/in/barnsgrahamtrust
Pinterest: https://uk.pinterest.com/wbarnsgraham/
Twitter: https://twitter.com/WBGTrust1
For more information about the artist Wilhelmina Barns-Graham and the Wilhelmina Barns-Graham Trust, please contact:
Rossanne Lee-Bertram   01823 413 388 // 07885 422 323
https://www.barns-grahamtrust.org.uk/