Inspirational Journeys at Royal West of England Academy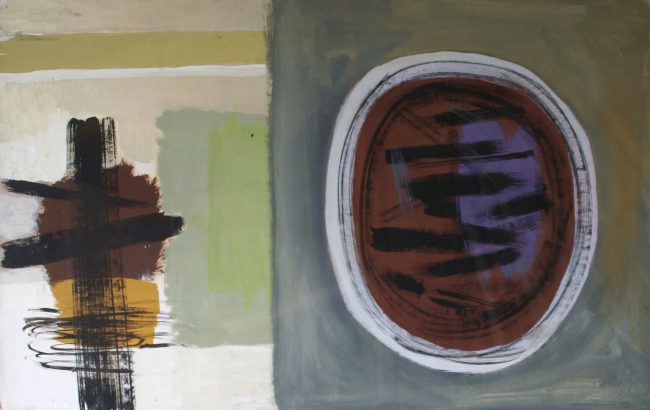 The Wilhelmina Barns-Graham Trust's touring exhibition Wilhelmina Barns-Graham –  Inspirational Journeys opens at the Royal west of England Academy (RWA) on Saturday 14th March. Curated by the Trust's Director Rob Airey the premise of the exhibition is the impact that Barns-Graham's travels had on her studio work. Barns-Graham's first trip to Europe was to the South of France in 1937 but due to WW2 and her personal circumstances she was not able to travel abroad again until 1949 when, at the invitation of the Brotherton family, she visited Switzerland's Grindelwald Glacier. In terms of her art this was a defining moment. The resulting Glacier Series of paintings, drawings and prints were critically acclaimed and are regarded as the first highlight of her career. Her reputation soared, leading to her work to be exhibited and purchased by London collectors, including the British Council.
Barns-Graham did not travel with the intent to work. Her journeys started out as holidays but she always became fascinated by the places she stayed in. In the 1950s she made four journeys to Italy before travelling to Spain in 1958. In the same decade she also went twice to the Scilly Isles and spent time in Yorkshire. In later years she made two visits to Orkney and five to Lanzarote. On each occasion the experience brought new elements to her art. UPDATE – paintings and drawings from the show can be seen on this web site here.
Details of these journeys are outlined in the well-illustrated exhibition catalogue (available in the Trust's web site shop!) which contains an introduction by Dr Rachel Rose Smith who focuses on Barns-Graham's times in Switzerland and Italy. Dr Smith has also curated an exhibition for the RWA that runs concurrently with Inspiration Journeys. St Ives: Movements in Art and Life explores the creative inspiration offered by St Ives, its surrounding landscape and its people to a generation of artists whose lives and careers were impacted by mid-twentieth-century conflict. Artists include Wilhelmina Barns-Graham, Sandra Blow, Terry Frost, Barbara Hepworth, Patrick Heron, Peter Lanyon, Margaret Mellis, Ben Nicholson, Victor Pasmore and more. The show includes works from Barns-Graham's personal collection lent by the Trust.
Lastly the RWA is presenting a selection of Barns-Graham's late screenprints in their Academician's Gallery. All were made by Barns-Graham in collaboration with Carol Robertson of Graal Press and represent the extraordinary flowering of her late work. Made between 1998 and the artist's death in January 2004 they reveal her joie de vivre through colour and gesture.
Wilhelmina Barns-Graham: Inspirational Journeys  and St Ives: Movements in Art and Life
Royal West of England Academy, Bristol
Sat 14 March until Sun 24 May 2020.
Wilhelmina Barns-Graham Prints
Royal West of England Academy, Bristol
4 March to 12 April (note earlier closing date)