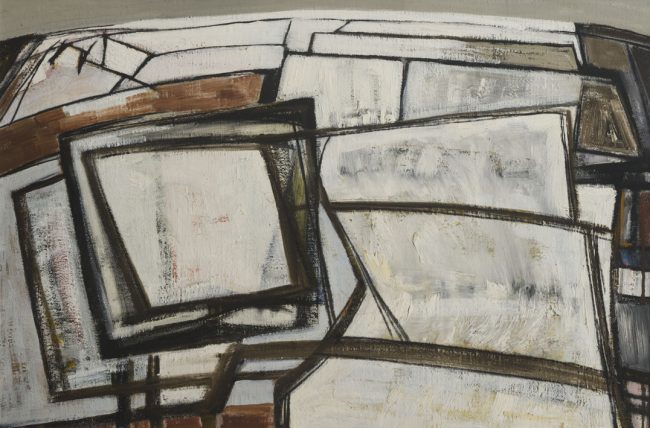 Gifts to Pallant House Gallery and Abbot Hall Art Gallery & Museum 2015
Since 2012 the Barns-Graham Charitable Trust has been gifting artworks by Wilhelmina Barns-Graham to selected public galleries and museums. In 2015 we were delighted to donate three paintings; two to Pallant House Gallery, Chichester and one to Abbot Hall Art Gallery & Museum, Kendal. The Trust is very grateful to the Art Fund which manages the process. It is intended that Wilhelmina Barns-Graham is properly represented in collections where there is an active interest in post war British modernist painting, and where there is a context in which her work can be exhibited and seen.
Elsewhere, prints that had been on long term loan to Borders Hospital, Melrose, and to Musgrove Park Hospital, Taunton were also donated. The Trust has over sixty Barns-Graham prints installed in hospitals around the UK, via Paintings in Hospitals (England) and Art in Healthcare (Scotland). Barns-Graham's strongly coloured images are popular and very successful in livening up hospital walls. It is well proven that improving the hospital environment makes people get better quicker, and it is good to know that Barns-Graham's prints are a part of this.
And thinking of prints……a reminder that a selection of the collection of 86 prints donated to the Scottish National Gallery of Modern Art, Edinburgh, in 2013 is currently on show at SNGMA2 until 26 June, alongside the Modern Scottish Women Painters and Sculptors 1885 – 1965 exhibition for which the Trust is a sponsor.