Earth, Ice, Rock and Sea – the art of Wilhelmina Barns-Graham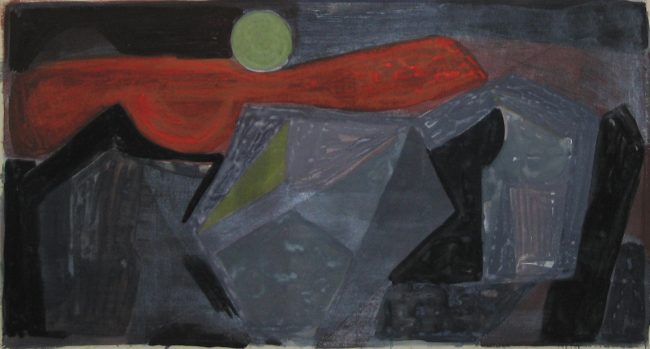 Earth, Ice, Rock and Sea – the art of Wilhelmina Barns-Graham has been selected to compliment the exhibition Wilhelmina Barns-Graham: Sea, Rock, Earth and Ice currently on display at Graves Gallery, Sheffield (until 16 March) The theme is the same, investigating Barns-Graham's fascination with rocks and the way in which their formations both shape and intrude in the landscape, from Cornwall and Italy to the Balearics and Lanzarote.
The 108 Fine Art  exhibition starts with a drawing of English Island, Scilly Isles which is relatively representational in style, and contrasts the curvature of the man-made walls with the natural curvature of the bay behind. This is followed by a very fine example of her Grindelwald Glacier (offset) drawings from a significant body of work that established her as  British Modernist artist to be admired. Indeed, her work on this theme is still highly sought after and prized by collectors of Modern British art. The way of depicting the glacier's interior and exterior forms/shapes within a single image she described as seeing "all angles at once, from above, through, and all round, as a bird flies, a total experience."  This is accompanied by a couple of gouaches from her rock series that follow on from the glacier series, which show how rock studies came to be developed in her painting.
Continuing with her journeys, those she made to Italy between 1951 and 1955 are represented by two drawings of Chiusure, Tuscany in which she focuses on the sculptural nature of the ravines, crevices, and hilltop towns that make up this countryside.  The drawings reveal her intention of describing not just what is visible above ground but the underlying structure beneath it.
Such passionate response to a landscape is not experienced again until she made her first of four journeys to Lanzarote in 1989. Lanzarote's extraordinary lava strewn landscape is rough and fascinating, in a one of the few areas on earth where the land is, in geological terms, very new. Here she made numerous drawings that are not just studies of the diverse shapes and character of lava but that this rocky chaos is offset against the smooth, rising slopes of the volcanic cones behind.
Barns-Graham always felt herself closely aligned with the natural world. The manner of the drawing in her studies of Lanzarote's lava is echoed in a group of small drawings in which the invisible energies that shape and move our world are described by a multitude of tightly described parallel lines swirling together, as in wind and water, or set in juxtaposition with hard edge shards that allude to the brittleness of ice. In these small works she captures the essence and physicality of Nature's forces.
Exhibition 2 – 23 February 2019
108 Fine Art, 16 Cold Bath Road, Harrogate HG2 0NA
T: 01423 709108