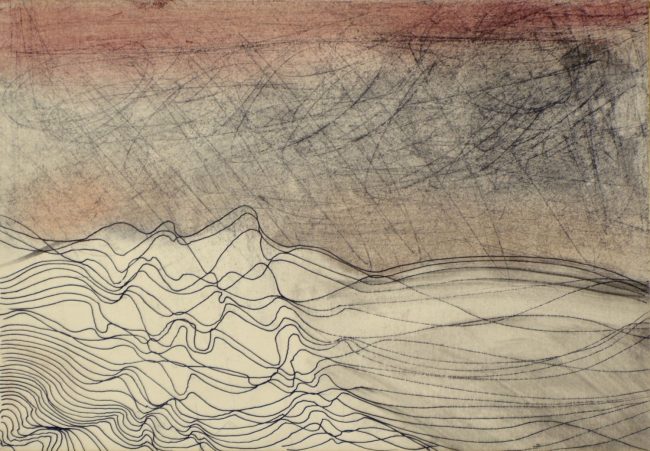 Art First Gallery in London is holding an exhibition on the subject of drawing, inspired by the work of gallery artists including: Eileen Cooper, Margaret Hunter, Simon Lewty, Helen MacAlister, Bridget Macdonald, Will Maclean, Kate McCrickard, Karel Nel, Richard Penn and Partou Zia.
In the press release Clare Cooper, one of the gallery's directors, says:
"….the breath-taking small line drawings by Wilhelmina Barns-Graham, created as part of her private investigative practice reflecting on wind energies and their impact on water or land, and the rhythms of wave formation. There are two aspects to her line drawings: one takes inspiration from D'Arcy Thompson, whose influential book On Growth and Form, which investigates morphologies in nature as form or matter and attributes all change or growth to the action of force, continues to influence artists and architects today.
The second aspect is more philosophical, and as Mel Gooding put it, These extraordinary descriptions of sea forms might better be described as meditative abstractions and reflective imaginings. They derive from deeply sensed knowledge of the ways in which energy finds its forms: in the curve, swell, surge, arabesque and linear parallels seen in rings of tree grain, in geological strata, in ploughed fields, in lava flow, in river currents and land forms.
The sea forms are those observed from the Fife or Cornish shores, in particular those close to her studio of sixty years, in St Ives. The concentrated element of repetition induces a meditative state and acts as a release, akin to something musical. These responses are shared amongst all the artists in this exhibition, for drawing is an intense, all absorbing form of visual thinking which commands total concentration and seldom tolerates errors."
Click to see full image.