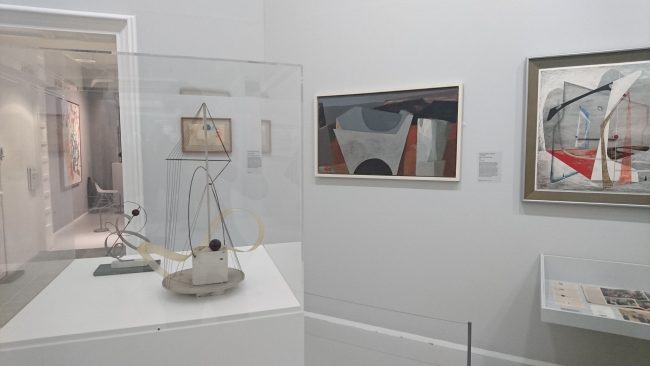 As we approach the end of the year here is a roundup of exhibitions where Willie Barns-Graham's pictures can be seen now and in the coming weeks. In no particular order:
BELGRAVE GALLERY St Ives has included two prints in its 'Winter Exhibition 2017' – Millennium Red (Book) and Summer (Yellow). Runs until 8 January 2018.
BOHUN GALLERY Henley on Thames is exhibiting Dialogue between Land and Sea II (BGT213) in 'Round the World : A Christmas Festival of Small Paintings & Sculpture'. Runs until 27 January 2018.
WATERHOUSE & DODD are taking five late paintings to ART MIAMI (5-10 December) to hang alongside works by Alexander Calder, Frank Stella, Robert Rauschenberg and Willem de Kooning.
CRANE KALMAN GALLERY London have A View of St Ives (1940, BGT3271) in 'Two Points Atlantic – St Ives & Provincetown'. Runs until 16 December.
Snow in Wharfdale II (1957) and Expanding Forms (Entrance) Touch Point Series No.1 (1981), gifted by the WB-G Trust to PALLANT HOUSE Chichester in 2015, are on display in their current collection hang.
TATE ST IVES is showing Rock Theme – St Just (1953, BGT339) in the new display 'Modern Art and St Ives' that continues until Autumn 2018. There are three WBG works in the exhibition.
The painting Upper Glacier (1950) from the British Council collection can be seen in 'A New Era – Scottish Modern Art 1900-1950' that has just opened at the SCOTTISH NATIONAL GALLERY OF MODERN ART Edinburgh, running until 10 June 2018.
A new display of Willie's work from the 1940s (1940-1947) has recently been installed at the PENWITH GALLERY St Ives. There are ten works including Snow (Scene) St Ives (1947, BGT6400) and Grey Sheds St Ives 2 (1947, BGT603). Until November 2018.
A work by Willie is also in the exhibition 'LAND | SEA | LIFE: a British Art Collection' at ABBOT HALL GALLERY Kendal. The exhibition is on loan from the Ingram Collection and runs until 17 February 2018.
Please do let us know if you come across any of her works elsewhere and we will add it to this not inconsiderable list!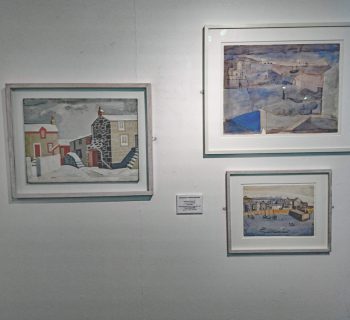 Snow (Scene) St Ives, BGT6400
at Penwith Gallery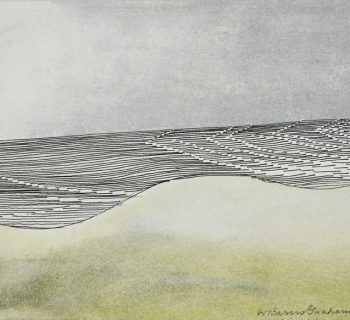 Dialogue between Land and Sea II, 1981, Mixed media on card, BGT213
at Bohun Gallery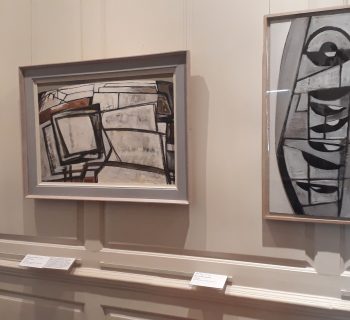 Snow at Wharfdale 2, 1957, Oil on canvas, Pallant House Gallery
at Pallant House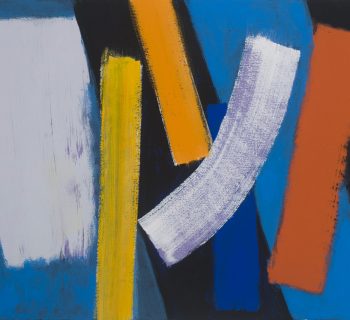 Untitled (Scorpio Series), 2002, Mixed media on paper, BGT3194
at Waterhouse & Dodd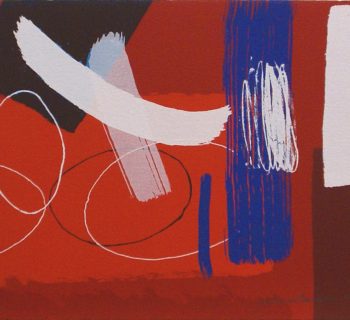 Millennium Red (Book), 2000, screenprint, ed of 100
at Belgrave St Ives