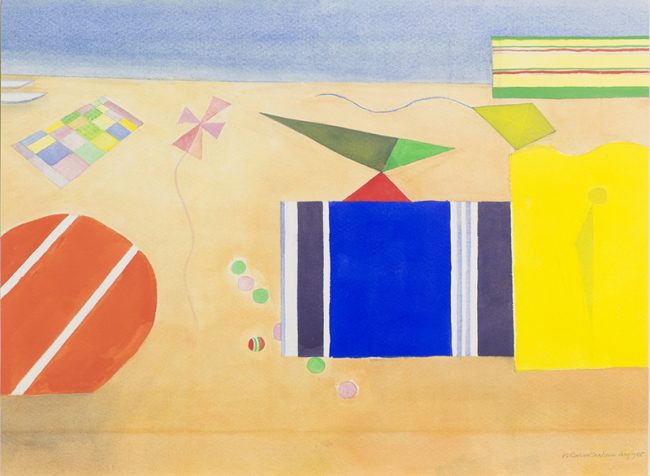 Although best known for a disciplined, highly abstracted imagery, initial ideas often have more mundane origins. Barns-Graham's environment provided her with a limitless inspiration. The beaches, north and south, look out over very different seas (eastwards to the North Sea and westwards to the North Atlantic respectively) and have their own characteristics – their colour, shapes, and movements.
Barns-Graham's drawings describe the curve, swell and surge of sea currents and waves. The series Movement over Sand reveals deeper abstractions of these observations. The Summer Paintings evoke still lifes combining the multitude of colours and patterns of beach ephemera spread along the beach outside of her St Ives studio.
The coast contributed greatly to Barns-Graham's late paintings The images are less directly descriptive of the actual, and more illustrative of her emotional responses, distilled through the act of her painting.  The late flourish extended into making prints, a practice that she found particularly exciting for its flexibility and creative opportunities. The Eight Lines and Six Lines etchings, inspired by her observations on walking along St Andrews' East Sands, recall the earlier line drawings.
The exhibition catalogue can be downloaded from Publications.
Click to see full image.