Barns-Graham Inspires a Composition for Clavichord
A visit to St Ives in 2020 rekindled the interest of composer, Hugh Collins Rice, in the work of Wilhelmina Barns-Graham and led to him writing a four-part composition for the clavichord reflecting on her work. The piece, Four Abstracts (2021), received its world première performance at the de Jager auditorium at Trinity College, Oxford on 20 November, performed by Terence Charlston.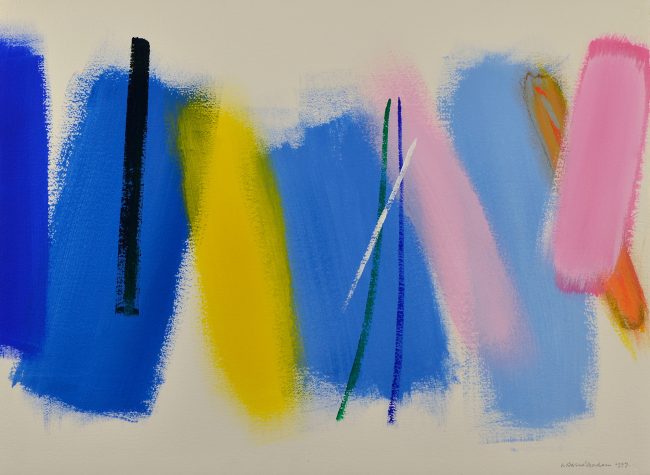 Hugh Collins Rice says about his pieces: 'The title Four Abstracts invokes the relationship between abstract visual art and music, and the practice of giving pictorial titles to (abstract) musical compositions. The four movements – Glacier (Prelude), Six Lines (Fuga), Connected Forms (Siciliano), Scorpio (Fantasia) – are named after abstract works, or rather series of works, by Wilhelmina Barns-Graham. The relationship between abstract art and music is intriguingly close. Music's ability to create a world of non-representational expression influenced many artists from Kandinsky to Barns-Graham. The Four Abstracts take ideas of shape, proportion, line and colour from the Barns-Graham pictures, but are also abstract musical compositions, with subtitles that could come from any keyboard work written during the era of the clavichord's flourishing.'
Terence Charlston has kindly shared a recording of fourth movement of Four Abstracts, Scorpio (Fantasia). The performance was originally recorded live on 14 January 2022 for the Boston Clavichord Society by Zen Grisdale. A recording of the full recital is available here.
We hope to bring you a record of all movements of Four Abstracts in the future.