Artist and Printmaker: Part One
As part of the ongoing project to develop the Trust's archive, our Archivist, Tilly Heydon, has been conducting Oral History Interviews with those who knew and worked with Barns-Graham in both Cornwall and Scotland. She is collecting interviews with printmakers, photographers, artists, gallerists, friends and neighbours, to gain a better understanding of Barns-Graham's work and life. It has been an incredibly fruitful and enlightening process so far, as collecting memories of Barns-Graham allows us to understand how she and her work were perceived by others.
The first part of this two-part blog post focusses on Barns-Graham's explorations in printmaking in the 1980s and early 1990s, particularly her work in 1995 with Rachael Kantaris from Porthmeor Print Workshop, St Ives.
An Experiment in Printmaking
Throughout her career as an artist, Barns-Graham experimented with printmaking, working with various printmakers and experimenting with a variety of processes between the 1950s and 1980s. Workshops included Porthia Prints in 1955, Curwen Prints in 1958, Penwith Print Workshop and Edinburgh Printmakers in the 1970s, and Dundee Printmakers Workshop in the 1980s.
However, it wasn't until the 1990s that Barns-Graham began to explore the possibilities that printmaking had for her practice in earnest.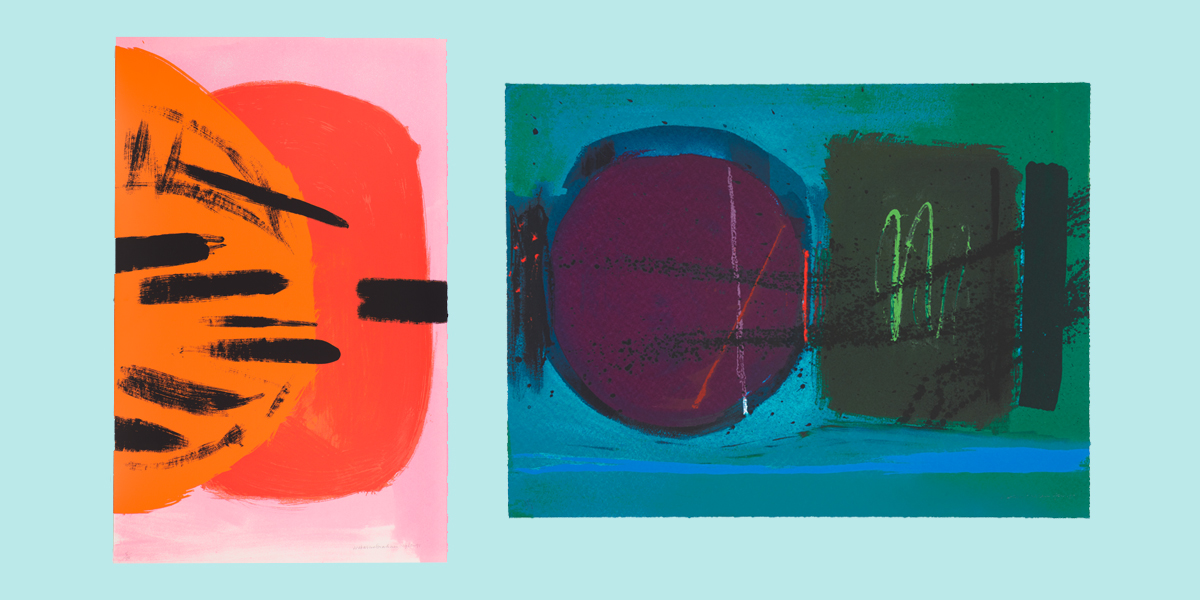 By the 1990s, Barns-Graham's abstract painting was expanding in size, she desired to take up more space than she had done before, but was finding the physicality of painting at such a large scale too demanding to keep up with the rate of her ideas. In an interview on Women's Hour from July 1992, she touched on these concerns:
---
"My fear is that something will happen. One's ears. Or one's sight or one's hands become incapacitated, and whether I have the spiritual growth in me to deal with it, I don't know."
---
Printmaking seemed to offer a viable alternative. A year before this, Barns-Graham had begun working with Kip Gresham, a printmaker at Curwen Studio in Cambridgeshire, directed by Stanley Jones. Together they produced screenprints and lithographs including Orange and Red on Pink, 1991, and Untitled April 1991.  She continued to work with Gresham (later running his own studio) until the mid-1990s, when she decided she needed to find a print studio closer to St Ives.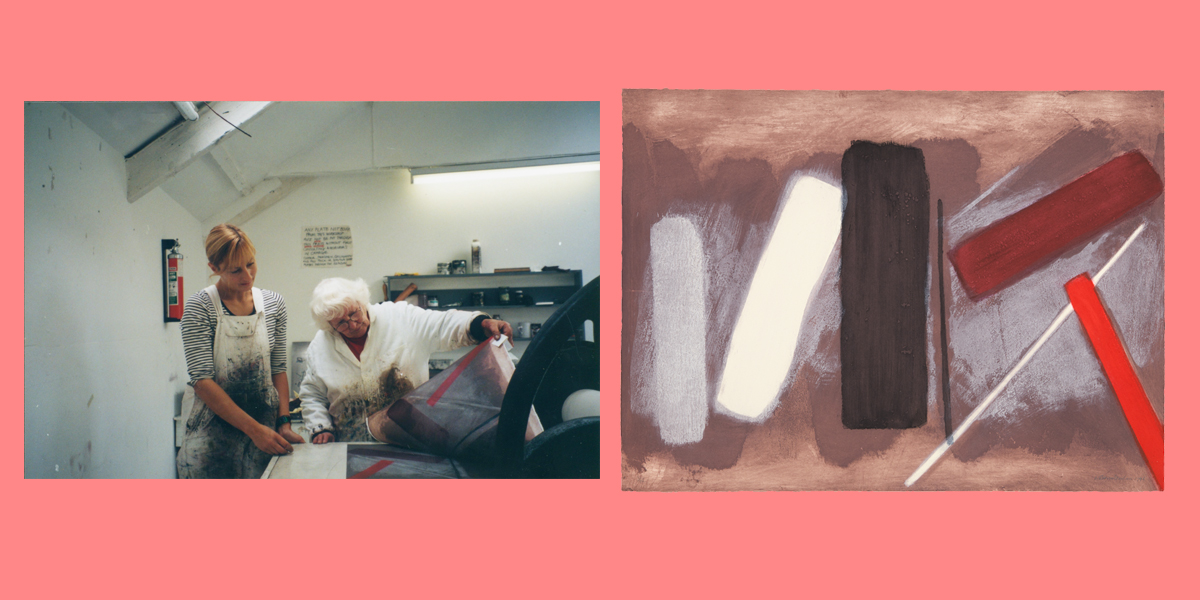 Porthmeor Print Studio
In 1995, Barns-Graham began working with Rachael Kantaris, at Porthmeor Printmakers in St Ives. In the interview, Kantaris describes how Barns-Graham went against advice to work with a more experienced printmaker, choosing instead to work with Kantaris who was 28 at the time. She did so because she admired Kantaris' own work so much. This mutual respect seems to have been an incredibly solid foundation for what was to be a prolific printmaking partnership.
In these clips, Kantaris describes various aspects of her working relationship with Barns-Graham:
Highly collaborative
Kantaris describes the process of working with Barns-Graham to choose the perfect gouaches from which to make the prints.
A physical process
Although for Barns-Graham one of the appeals of printmaking was that it would be less labour-intensive for her, Kantaris describes how she was keen to teach Barns-Graham about the physical processes of printmaking. Kantaris talks us through photographs that were taken of them both in the print studio. She describes the process of burnishing one of the plates in order to get the brilliant white that Barns-Graham was after.
For another print, Kantaris asked Barns-Graham to make the marks on the etching plate that would become Eight Lines. She describes Barns-Graham's anxiety to make the perfect mark, and how she was concerned about her physical ability.
Printmaker and Artist
Because Barns-Graham spent half of the year in St Andrews, it was necessary for a lot of the communication between artist and printmaker to take place via letter. Kantaris describes how this remote process necessitated her becoming extremely familiar with the physical nature of Barns-Graham's painting, to ensure the prints remained true to Barns-Graham's hand.
Barns-Graham was also very specific about colour, down to granular level. This necessitated the send back and forth of colour swatches. The colour had to be perfect, and it wasn't deemed perfect until the print "sang", the colours vibrating together.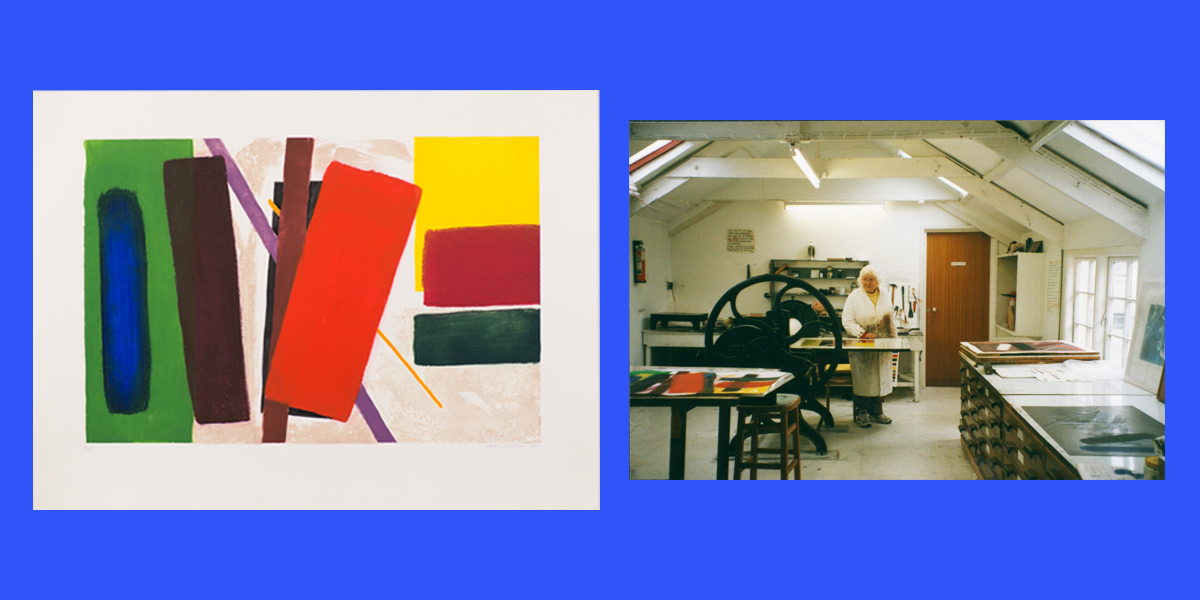 The close working relationship that Barn-Graham developed with Kantaris allowed her to understand the extensive possibilities that printmaking held for her artistic practice.
In Part Two, we will explore how this developed when Barns-Graham began to work with Carol Robertson and Robert Adam of Graal Press.
More About Prints and Printmaking