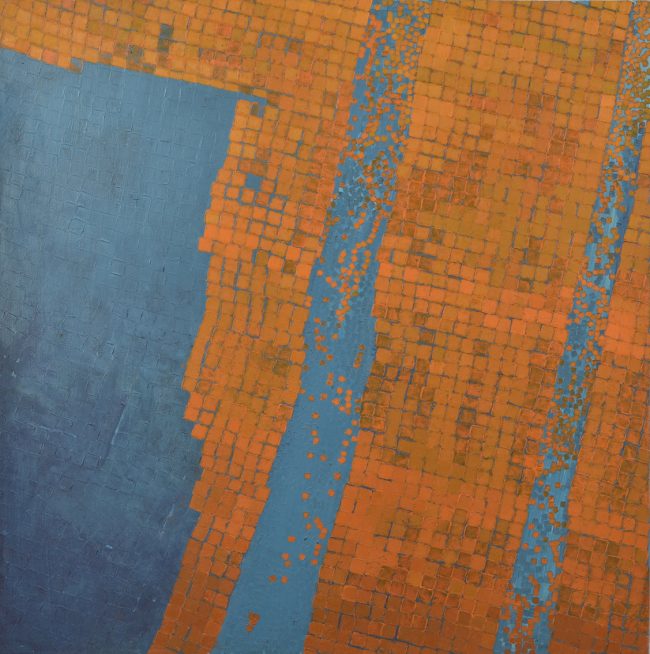 Waterhouse & Dodd are taking paintings from Wilhelmina Barns-Graham's Order & Disorder Series to Palm Beach Modern + Contemporary Art Fair at West Palm Beach, Florida (10-13 January). The paintings explore the interaction of squares or circles which was a primary focus of Barns-Graham's art throughout much of the 1960s and 1970s. The paintings' starting point is the organisation of simple geometric forms which are disrupted through the introduction of irregular rhythms, to create disorder out of order. Barns-Graham referred to 'things of a kind in order and chaos' in talking about these works.
Unlike the Op Art being explored by other artists in this period, Barns-Graham's painting is less painstakingly repetitive in its formal configurations when compared to artists like Bridget Riley. She was much more interested in the breakdown of structure itself. When combined with her use of primary colours, offset against complementary secondaries, she could endow the paintings with explosive energy, releasing into pictorial space small clusters of circular discs or tilted squares, in a joyful escape from their linear sequences.
Three further examples from the Order & Disorder Series can be found with Waterhouse & Dodd the London Art Fair (16-20 January) installed alongside a rare 1940 gouache – Minack Cliff Theatre, Porthcurno – and a significant rock painting from 1953 – White Cone. Barns-Graham's interest in rock formations had been sparked by her earlier experience on Switzerland's Grindelwald Glacier, and as both series progressed, so the degree of abstraction increased. White Cone reflects this while also revealing her indicating her appreciation of Cubism with its treatment of the picture surface as a single plane. The flattened geometry of White Cone sits on the picture surface, the illusion of space provided though her use of colour, the earthier hues sitting well to the front while the yellow shape at the top of the image strongly suggests some form of background 'horizon'. An idea of place is more clearly defined in this painting than usually found in this series, but so is the sense of serenity that the painting exudes. The scratched marks and fluid application of the paint are characteristic of her painting at this time.
Look out also for the Scottish Gallery stand at London Art Fair who are taking a group of early Wilhelmina Barns-Graham drawings. See previous News item for details.
Palm Beach Modern + Contemporary Art Fair, West Palm Beach's Tent Site, 825 South Dixie Highway + Okeechobee Boulevard, West Palm Beach
10-13 January 2019        www.artpbfair.com
London Art fair, Upper Street, Islington, London
16 – 20 January 2019      www.londonartfair.co.uk