Abstract, Issue 9
Welcome to Abstract the quarterly newsletter from the Wilhelmina Barns Graham Trust.  Find out what we have been up to and read about upcoming projects and exhibitions.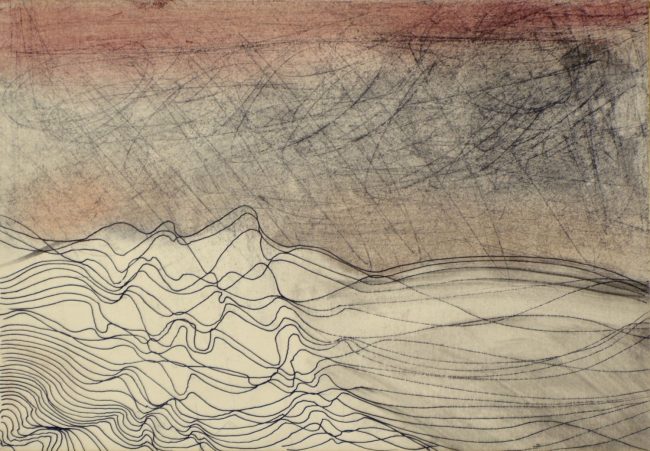 Drawings at The Watermill Gallery
The Watermill Gallery Aberfeldy will be displaying a collection of Wilhelmina Barns-Graham's small energy drawings this Spring. These have proven to be very popular recently with the exhibition Linear Meditations curated by Briana Oliver for Paintings in Hospitals (currently on display at the Antenatal Day Assessment Unit and Obstetric Ultrasound area at Milton Keynes University Hospital until 30 April) and three included in the travelling exhibition Lines from Scotland curated by Amanda Game for Fife Contemporary.
Barns-Graham began this body of work in 1975, expanding and experimenting the drawings over the next twenty-five years. In them she attempts to capture the energy of elemental forces inherent in the landscape – the wind movement on a crop field; tidal movement over sand; rhythms and vortices of  the sea; the dialogue of wind, sea and sand; the flurry of a snowstorm. They are small meditations on the forces of nature. Composed of tightly bound lines, the concept is not dissimilar to the lines on a weather chart where closely aligned isobars indicate the strong winds of a low-pressure system.
Described as meditative abstractions and reflective imaginings these drawings illustrate Barns-Graham's ongoing connection with the world around her.
Nature's Energies – Drawings by Wilhelmina Barns-Graham   
Watermill Gallery, Aberfeldy 3 May – 28 June 2020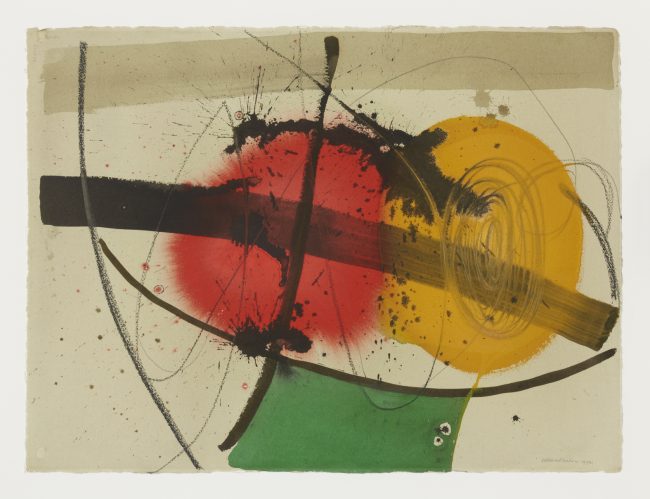 Inspirational Journeys at Royal West of England Academy
Following on from its very successful first showing at the Granary Gallery, Berwick-upon-Tweed, the touring exhibition Wilhelmina Barns-Graham: Inspirational Journeys will open at the Royal West of England Academy in Bristol on Sat 14 March, 2020 where it will be shown until Sun 24 May.
Similarly to previous touring exhibitions drawn from the Wilhelmina-Barns-Graham Trust's Collection the aim was to curate a show which would focus on a specific aspect of her practice, but also include works from wide time-span so different periods of her long career are represented. Inspirational Journeys focuses on Barns-Graham's travels across Europe over a 50-year period and the impact these trips had on her work.
From her visit to Switzerland in 1949 to her final trip to Lanzarote in 1993 and other journeys in between to Italy and Spain in the 1950s and Orkney in the mid-1980s, works in the exhibition range from remarkable on-the-spot pencil drawings to bold and colourful abstract paintings. Another important element of the show is to foreground a very positive relationship with Europe and the possibility of inspiration though travel and cultural exchange.
In addition, running parallel to Inspirational Journeys at the RWA is another new exhibition – St Ives: Movements in Art and Life, curated by Dr Rachel Rose Smith. Looking at how in 1939 St Ives became a temporary home to some of Britain's most forward-thinking abstract artists fleeing the dangers of the Second World War, Barns-Graham is included alongside Barbara Hepworth, Terry Frost, Ben Nicholson and many more.
Finally, if that wasn't enough, also on display is Wilhelmina Barns-Graham Prints (14 March – 12 April) presenting a collection of her vibrant, colourful late screenprints made between 1998 and 2003.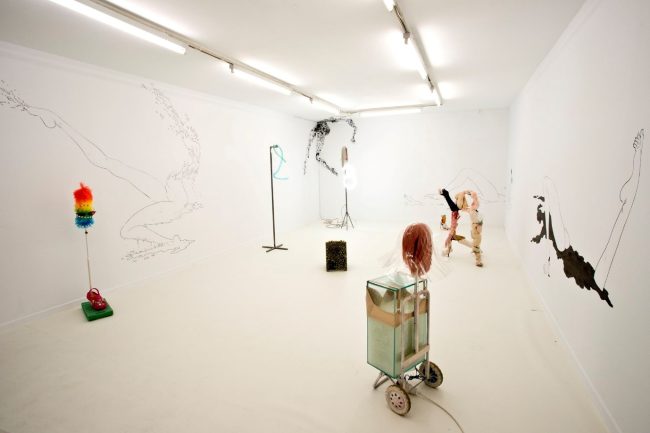 Saelia Aparicio selected for new Porthmeor Studio Residency
Artist Saelia Aparicio (www.saelito.com) has been selected for the 3-month emerging artist residency opportunity at St Ives' Porthmeor Studios – funded by the Wilhelmina Barns-Graham Trust. Saelia will undertake her residency May-July 2020.
Saelia follows in the footsteps of three successful previous WBGT funded residents – Katie Schwab,  Amelie Blendl and Daniel Sinsel. For this residency, previous guest artists at the Studios were asked to nominate emerging artists and Jonathan Baldock put Saelia's name forward saying: 'I first saw Saelia's work in 2016 in Bloomberg New Contemporaries. It stood out to me and stayed in my head. I then continued to notice her work in group shows, going on to follow her on social media where I had become a bit of a fan…I know she would really benefit from the time and support of a residency at Porthmeor. It was such a brilliant and inspiring time for me, and I know she would feel the same.'
Following a first degree in Spain at the Universidad de Castilla la Mancha, Cuenca and then an MFA in Sculpture at the Royal College of Art, London in 2015, Saelia has undertaken residencies at The Bluecoat in Liverpool, UK and in 2016 at Sema Nanji (Seoul's contemporary Art Museum). As well as a number of exhibitions in Spain, in 2017 The Tetley in Leeds presented the solo show Your Consequences Have Actions.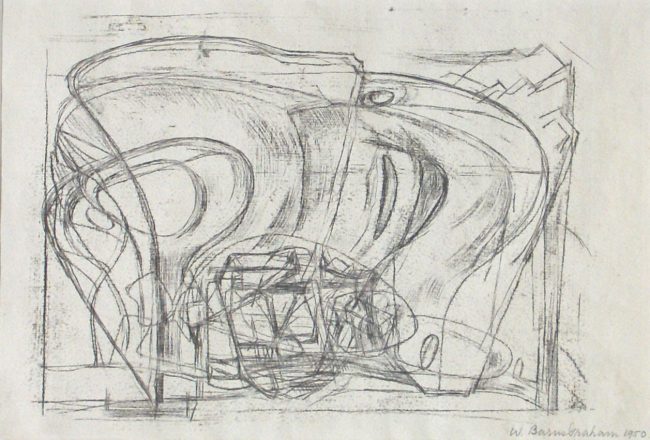 Wilhelmina Barns-Graham and Naum Gabo
A major exhibition of Naum Gabo is being hosted by Tate St Ives (on until 3 May). Gabo, one of the pioneers of constructivism, lived in St Ives between outset of World War II in 1939 and November 1946. Many of the artists working in St Ives came to know Gabo, including Wilhelmina Barns-Graham. She liked Gabo very much and was aware of his artistic credo. Nonetheless, while he was in St Ives there is no evidence of his vision influencing her work – her paintings continued a progression from her Edinburgh College of Art background and indicate nothing of his ideas on rhythm, movement, time and structural force. However, Barns-Graham's visit to the Grindelwald Glacier, Switzerland in 1949 changed all that. This was a transformative experience, the glacier in her eyes a physical embodiment of Gabo's theories.
Barns-Graham's subsequent glacier series was widely acclaimed and is still considered as the first highlight of her career. There is no doubt that Gabo opened her eyes to the possibilities of constructivism but she was not an artist whose natural proclivity led her down that theoretical road. Her work was tied to the world she observed around her, not to a purely intellectual abstraction. Nonetheless, without Gabo it is highly unlikely that she would have made the connection while up on the glacier. To read the full article visit our website.
As part of the Gabo celebration Tate St Ives are organising a special event for which Wilhelmina Barns-Graham Trust is primary sponsor. Based on a detailed entry in Wilhelmina Barns-Graham's diary for 25 March 1940, Easter Monday, which describes a sherry party hosted by Adrian and Margaret Stokes, attended by the Gabos along with Barns-Graham and others, Tate are commissioning an original piece of writing inspired by her text, culminating in two public performances. Details are yet to be confirmed but it is intended that these will take place on Saturday 2 and Sunday 3 May. Contact Tate St Ives for further information.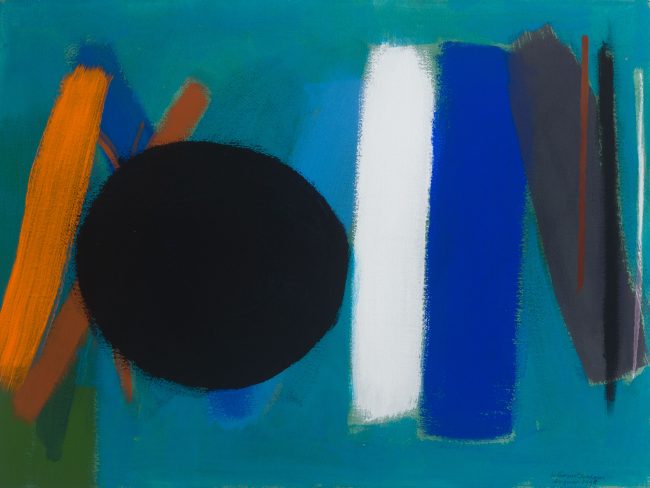 Picture of the Month
Cassia Pennington, new Art Collection Manager at the Wilhelmina Barns-Graham Trust chooses Picture of the Month for this edition:
Black Sun is one of the many examples of where a bold streak of saffron orange livens the composition.  In the examples I've seen, it's almost always added towards the end and appears at the periphery of the image.  As a person with synesthesia, I can't help but wonder what the colour felt like for Willie and why she included it in so many of her works!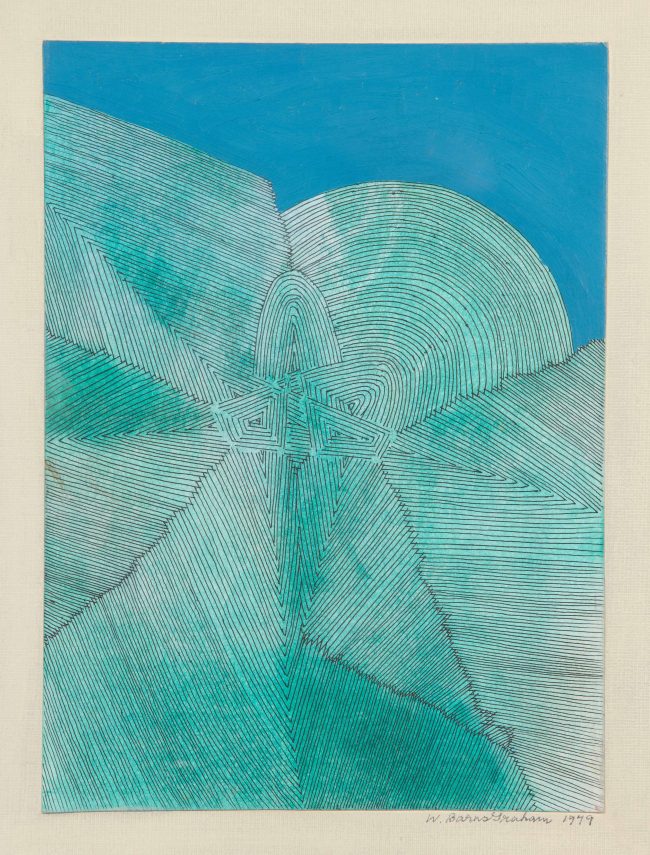 Where to see Willie
Willie's work is being exhibited all over the country, with her work featuring in permanent displays and exhibitions, as well as loans from the Wilhelmina Barns-Graham Trust.
Our touring exhibition Wilhelmina Barns-Graham: Inspirational Journeys will open at Royal West of England Academy in Bristol opening 14 March 2020 (until 24 May).  Works by Willie can also be seen in two accompanying exhibitions at the Royal West of England Academy, St Ives: Movements in Art and Life (14 March to 24 May 2020) and Wilhelmina Barns-Graham Prints (14 March to 12 April 2020).
Lines from Scotland, an exhibition by Fife Contemporary, moved to its second venue, Dunfermline Carnegie Library and Galleries from 7 March 2020.  The exhibition features three pen and ink line drawings by Willie and will travel to a third venue, Gracefield Arts Centre in Dumfries from 16 May 2020.
At Leeds Art Gallery, Sara Barker has selected Barns-Graham's Three Rocks to be displayed as part of her exhibition, All Clouds are Clocks, All Clocks are Clouds.  The work was acquired by the Gallery in 1952, the same year it was painted. On until 31st May.
Cornwall as Crucible – Modernity and Internationalism in Mid-Century Britain at The Barber Institute includes Winter Landscape by WBG from the Jerwood Collection.  The exhibition is open until 17 May 2020 with an accompanying display of St Ives books featuring Wilhelmina Barns-Graham: A Studio Life by Lynne Green.
Looking Ahead
We are delighted to be lending to The Expressive Mark, an exhibition explore post-war abstraction in British art at The Stanley and Audrey Burton Gallery at the University of Leeds.  The exhibition will run from 29 April to 1 August 2020.
At The Watermill Gallery in Aberfeldy Nature's Energies – Drawings by Wilhelmina Barns-Graham will run from 3 May to 28 June 2020.  The exhibition will present a collection of pen and ink small energy drawings.