Abstract, Issue 8
Welcome to Abstract the quarterly WBG Trust newsletter. Find out what we have been up to and read about upcoming projects and exhibitions. See below for the full story.
Gifting Programme Update
The Trust's gifting programme (often in partnership with the Art Fund) of Wilhelmina Barns-Graham works to public museums, galleries and other institutions across the UK has been mentioned before in Abstract, with galleries such as Pallant House, City Art Centre, Edinburgh and the Pier Arts Centre regularly showing their gifted Barns-Grahams.
It is particularly satisfying to be able to report and show two of our most recent recipients utilising their gifts in new collection displays – The Hepworth Wakefield currently have both Green Skull Form I, 1951 and Glacier, 1977  shown next to each other, alongside one of Barns-Graham's close artist friends, John Wells.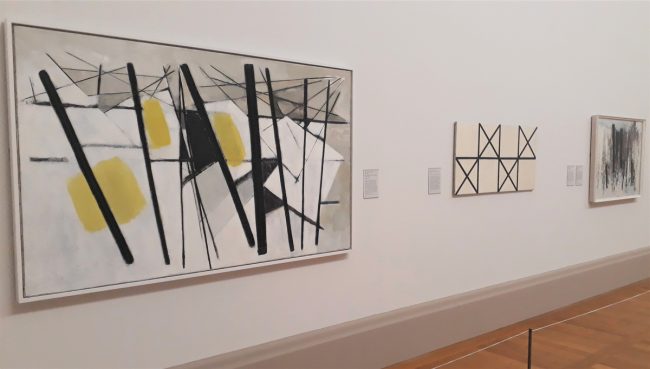 In 2018 the Trust gave the Tate two important works, Rock Theme, St Just which is currently on show at Tate St Ives and White, Black and Yellow (Composition  February), 1957 seen here in the 1950s room of Tate Britain's Walk Through British Art display. This is a particularly good opportunity to see Barns-Graham in a wider context of artist contemporaries including Anthony Hill and Paul Feiler (pictured) and Victor Pasmore, Adrian Heath, Gillian Ayres and Barbara Hepworth amongst others.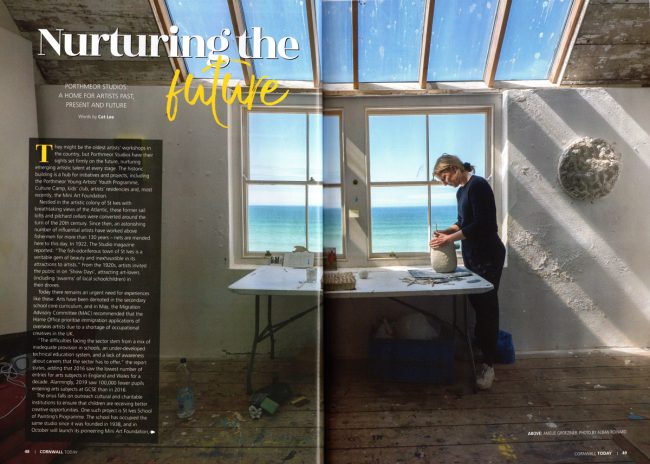 WBGT in Cornwall
As reported in our last issue the Wilhelmina Barns-Graham Trust (WBGT) is supporting St Ives School of Painting's Culture Camp, which launched in October. A new initiative, the Camp aims to improve cultural engagement, particularly with the visual arts, to targeted Cornish 13-18 year olds. The good news is that this story was picked up and published in November's issue of Cornwall Today, Cornwall's most widely circulated lifestyle magazine. The article, Nurturing the Future, can be read on the WBGT web site.
Since Wilhelmina Barns-Graham's death in 2004 the trustees have made concerted efforts to contribute to and financially support programmes and institutions in Cornwall, particularly in St Ives, for example at Porthmeor Studios and students at Falmouth School of Art. This support, provided in her name, comes in recognition of not only what she contributed to the community but also what she received from it in the development of her career as an artist. The full story outlining the Trust's activities over the past fifteen years is also viewable on the WBGT web site.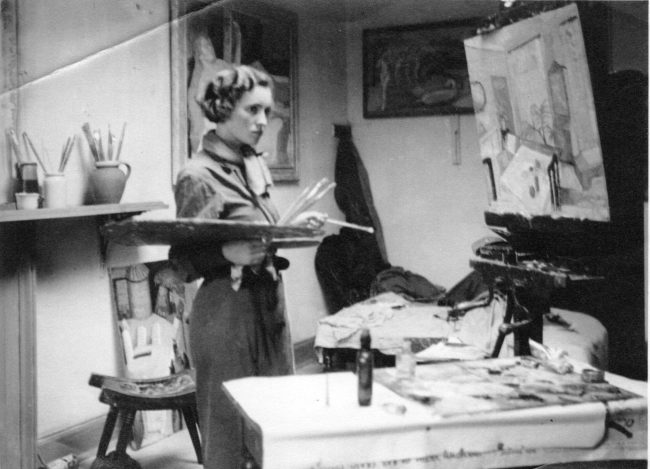 New Scottish Society of Artist Prize
In the 1935, while Barns-Graham was still studying for her Diploma at Edinburgh College of Art, the Scottish Society of Artists offered the artist her first opportunity to exhibit in a public exhibition – a landscape in oils. She would continue to show in the annual exhibitions through the 1930s. While at the ECA Barns-Graham also benefitted from the award of a number of scholarships and bursaries. It is particularly appropriate therefore that the Wilhelmina Barns-Graham Trust should support a new £2,000 prize for an artist, while the joint 2019 Scottish Society of Artists and Visual Arts Scotland Open exhibition is being held in Edinburgh.  To celebrate the new prize a Barns-Graham painting Edinburgh Interior, 1937 (seen on the easel in this photograph of the artist in her Alva Street studio) will be included in the exhibition alongside some of the best contemporary art from Scotland.
OPEN SSA+VAS, will take place at the Royal Scottish Academy on Edinburgh's Princes Street from 22 December 2019 – 30 January 2020.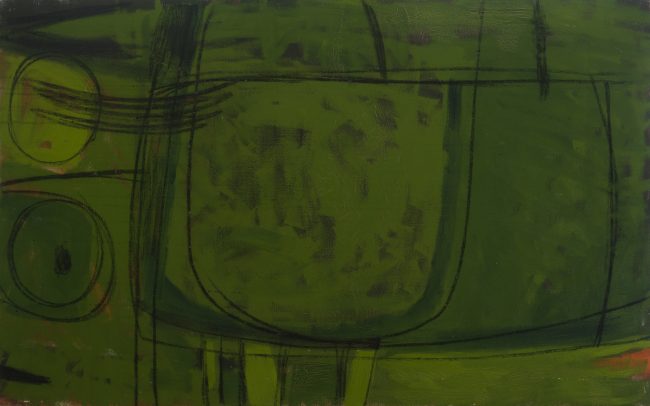 London Art Fair
Each January the London Art Fair takes place at the Business Design Street on Upper Street in Islington, London. The Fair is a much-anticipated fixture on the London art market, something to look forward to at the start of the year. Wilhelmina Barns-Graham is always represented there, and we are delighted that Waterhouse & Dodd will again be doing the honours. For this occasion, we have selected two works from the 1950s:  Motive in Green – Spanish Island is an oil on canvas from 1959, and Underwater No.1 (For Winifred N), a 1958 gouache. These represent the painterly qualities in her paintings of the late 1950s which is a period of her work yet to be fully investigated. One cannot say that her work at this time was transitional but there is an increase in the rate of ideas being explored. There is no doubt that her travels to Spain in 1958 made an impact on her. This latter point is also made in the current touring exhibition Wilhelmina Barns-Graham: Inspirational Journeys  on  now at the Granary Gallery, Berwick-upon-Tweed (until 23rd February).
London Art Fair opens on Wednesday 22nd January and runs until end of the afternoon of Sunday 26th.  Details at www.londonartfair.co.uk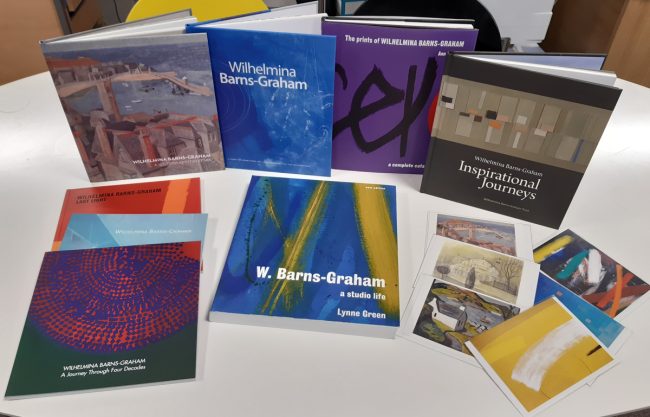 WBGT Online Shop
There are a lot of great Wilhelmina Barns-Graham related items available in our online shop found on our main website – https://www.barns-grahamtrust.org.uk/The-Art/The-Shop.html, including books (eg Lynne Green's essential monograph W.Barns-Graham  a studio life) and exhibition catalogues new and old, from the just published Inspirational Journeys, accompanying our new touring show to rarer publications from the 1990s. You will also find available a range of greetings cards, our superb tote bag, original screenprints and a link to the ArtUK shop, where Barns-Graham reproductions are available. There's something for everybody and all purchases go towards supporting the charitable work of the Trust.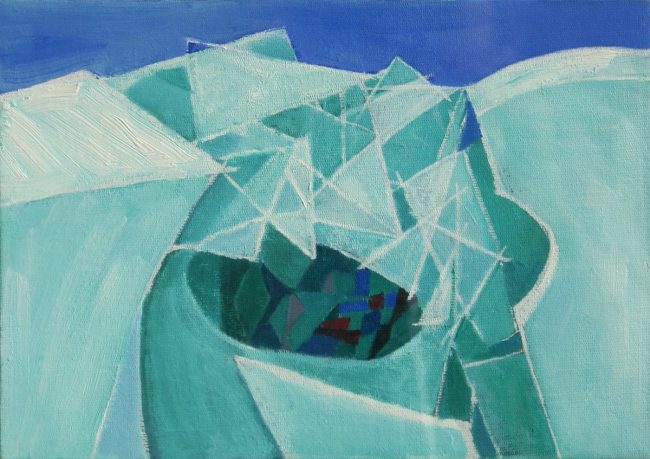 Picture of the month
For this edition of Abstract Tommy Zyw, Director of Edinburgh's Scottish Gallery chooses a favourite work. He writes, 'a recurring theme in Wilhelmina's career was to revisit particular subjects from her past. The Geoff and Scruffy series was an important group of artworks made in the 1950s featuring rhomboid and semi-circle forms (the title inspired from her friend Geoffrey Tribe and his dog Scruffy).  Wilhelmina revisited the subject in the late 1980s but applied the paint with a freer, bolder handling. This work Variation on a Theme (Suspended Ice) dates from 1987 but like her Geoff and Scruffy works, harks back to her important Glacier subjects from the early 1950s. The painting, small in scale with jewel-like qualities of colour is beautifully balanced and more tightly controlled from her earlier Glacier works.'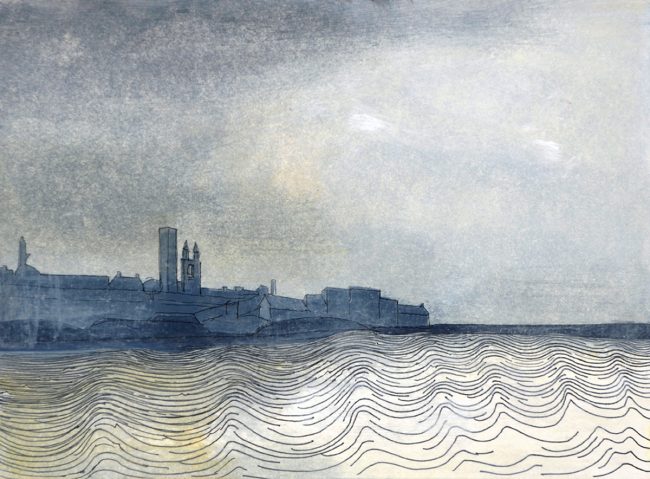 Where to see Willie
Willie's work is being exhibited all over the country, with her work featuring in permanent displays and exhibitions in many public museums and galleries.  Our new touring exhibition Wilhelmina Barns-Graham: Inspirational Journeys is now open at its first venue, the Granary Gallery in Berwick-upon-Tweed where it continues until 23 February 2020 (gallery closed Mon & Tues), it will then go on to the Royal West of England Academy in Bristol opening 14 March 2020.
We are delighted to be lending three of Willie's pen and ink line drawings to Lines from Scotland, an exhibition organised by Fife Contemporary, curated by Amanda Game and including many leading Scottish contemporary artists – now on display at St Andrews Museum until 22 Feb 2020. The show then tours to Dunfermline Carnegie Library and Galleries and the Gracefield Art Centre in Dumfries next year. Tate St Ives' wonderful ongoing 'Modern Art and St Ives' display also includes three important works by Willie, including 'Rock Theme, St Just', 1953, donated to the Tate collection by the Trust.
In Dundee at the The McManus, three WBG works from their permanent collection are on display as part of 'As We See It: Twentieth Century Scottish Art' – on throughout 2019. At the Scottish Parliament you can see five spectacular, colourful late works on display outside the downstairs committee rooms, which are publicly accessible.