Abstract, Issue 5
Welcome to Abstract the quarterly WBG Trust newsletter. Find out what we have been up to and read about upcoming projects and exhibitions. See below for the full story.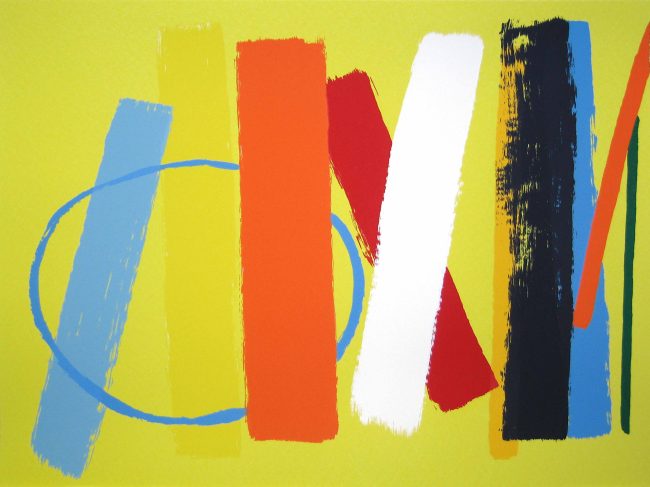 Wilhelmina Barns-Graham in Healthcare
Placing good art in healthcare environments is recognised as having a positive effect on all people experiencing hospitals and centres of well-being. Hospitals used to be grim places, wards and corridors unalleviated by visual distractions. However, in recent decades this situation has changed enormously, the 'grot spots' replaced with colourful paintings and prints which can radically alter the atmosphere of a building. All those within a hospital – patients, staff and visitors – find the institution more welcoming. Most importantly, it is proven that having good art in a hospital helps patients get better quicker, with the result that there is a speedier turnover of beds.
The Wilhelmina Barns-Graham Trust has been working with Art in Healthcare (AiH), Edinburgh since 2007 and Paintings in Hospital (PiH), London since 2009, lending dozens of prints for healthcare purposes. PiH have had Willie's prints placed in several London hospitals as well as others in Birmingham, Bath and Bristol, while AiH installed theirs in hospitals in Edinburgh and Dunfermline. Further, prints initially lent to Borders Hospital, Melrose and Musgrove Park Hospital, Taunton have subsequently been gifted. That Willie's prints are vibrant, full of colour and joie de vivre, makes them very popular for these settings.
More recently the Trust has supported a collaborative exhibition project with Imperial Health Charity and PiH, Linear Meditations curated by Briana Oliver, which opened at Charing Cross Hospital, London in November 2018. Capturing water in a variety of forms, from glaciers to seascapes, the exhibition explores not only the meditative qualities of Willie's drawing process but also the power of water to both calm and captivate. The exhibition is a focus for activities around mindfulness.
Linear Meditations is currently at St Mary's Hospital, London until July from when it will go to Hammersmith Hospital, followed by a tour to regional hospitals courtesy of PiH. More about this exhibition can be found on the Trust's web site https://bit.ly/2TXxwHQ.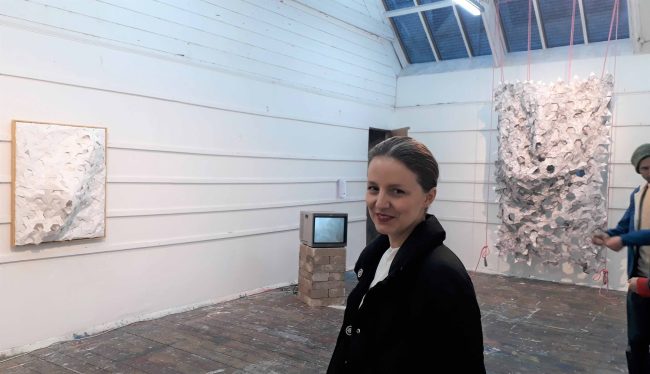 WBGT funded residency at Porthmeor Studios, St Ives
In June artist Daniel Sinsel (b.1976) will begin his 3-month residency at the historic Porthmeor Studios in St Ives. He will be the third 'emerging' artist to benefit from this 3-year partnership programme between the Studios (managed by the Borlase Smart John Wells Trust) and the Wilhelmina Brans-Graham Trust, who have funded the residencies.
The first artist selected for the residency in 2017 was Katie Schwab. Her broad practice employs elements from 20th century craft and design, including textiles and ceramics, alongside their associated cultural histories, resulting projects and installations often include direct engagement with audiences.
Her Porthmeor residency lead to This Interesting and Wonderful Factory at Tate St Ives, looking at the local Cryséde textile works which manufactured wood-block printed silk fabrics in a former pilchard works between 1925-39 and exploring accounts of labour conditions and the impact of colonialism on the factory's signature designs. "The residency has been wonderful, both as inspiration for my work and for adjusting my working practices. I have had many interesting conversations with artists, makers and designers around sustainability, natural resources and minimal impact making processes, making me reflect more on the materials and making processes I employ in my practice."
Her latest exhibition project in Plymouth – A Working Building (until 16 March) evolved during an 18-month Design Residency at Plymouth College of Art, which immediately followed her time in St Ives. Centred around recreational, educational and civic designs in Plymouth, it also links back to and includes fabrics produced at Cryséde.
Berlin-based Amelie Grözinger was the second emerging artist invited by the programme in 2018. Interaction, collaboration and exchange are important parts of the ethos of the Studios, so it was great to see that following a successful summer spent in Studio 9 developing new work, Amelie recently returned to St Ives and the Studios for a short collaborative residency and exhibition project with Studio resident Jonathan Michael Ray, called Moor Forms, which will also be shown in Berlin later this year.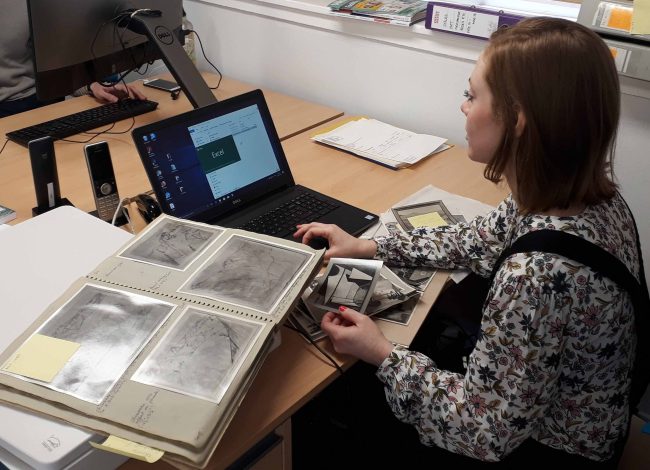 Archival work by St Andrews student placement
This year has seen the first of a hopefully continuing programme of students from the University of St Andrew's MLitt Museum and Gallery Studies course coming to the Trust in Edinburgh, to undertake a 20-day professional placement. This is a wonderfully mutually beneficial arrangement, with important project work being undertaken in exchange for the opportunity to gain useful work experience.
This year Aren Ehman from Austin, Texas has been developing and implementing a major long-term project to digitally record information about Barns-Graham's oeuvre beyond those held in the Trust's own extensive collection. Beginning with works made in the 1940s and 50s Aren's starting point has been the artist's own record books from the period and volumes of previously uncatalogued B&W photographs held in the Trusts' archive.
Recording all the available information about each work alongside rigorous cross-referencing and additional research into relevant exhibitions from the period, as well as private and institutional collections will help us build up a more complete picture of Barns-Graham's practice and astonishing output over many decades.
Aren has also been the recipient of this year's Wilhelmina Barns-Graham Trust Museum and Gallery Studies Award at St Andrews, she comments – 'It has been a pleasure to work on this particular documentation project. Not only have I learned practical skills regarding digital documentation, but through this unique, hands-on experience, I have also gained a valuable understanding of Barns-Graham's body of work. My time spent at the Trust has been valuable and inspiring and continues to fuel my excitement for working in this field. It is rewarding to know that my contributions will be useful as the Trust continues to share Barns-Graham's story.'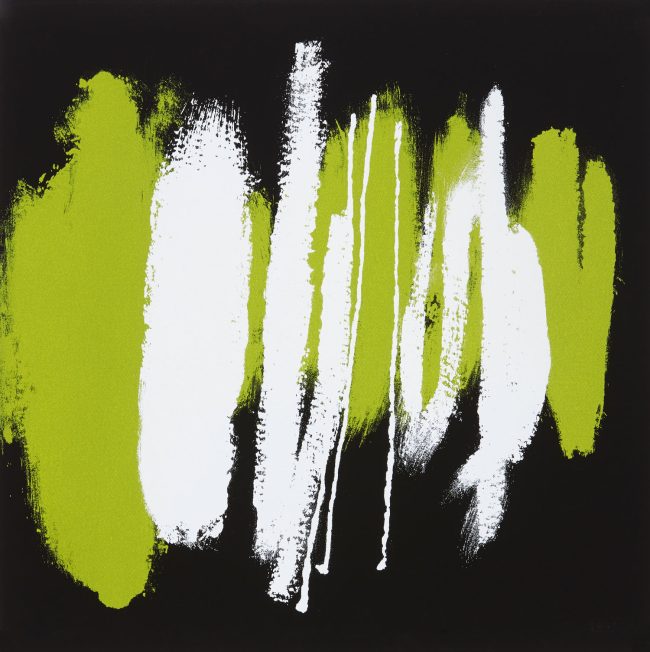 Print and Book Sale – May 2019
The 2018 Print Sale proved to so popular that we have decided to do it again. For 2019 there is a theme – 'Squared Off' – as all nine prints selected for the Sale are in a square format. Prices have been reduced by 35%! All these editions are limited in number so get yours quickly before they go.
Alongside the Print Sale we are having a Book Sale. All publications in the sale have had their prices slashed by 50%. There is a huge choice of exhibition catalogues, from 1992 to 2018, filled with amazing paintings from throughout Willie's career, many containing well written introductions by leading art critics and writers.
The Print and Book SALE will launch on Wednesday 1st May and run until Sunday 19th May.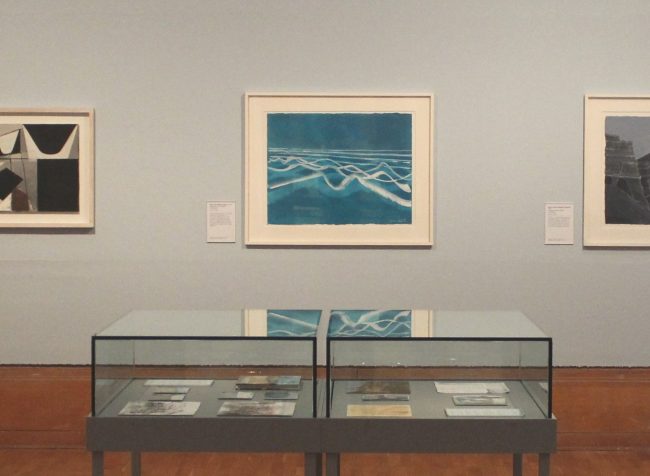 Picture of the Month
Liz Waring, Curator of Visual Art, Museums Sheffield chooses the Picture of the Month for this edition: Out of all the beautiful paintings and drawings in the exhibition Sea, Rock, Earth and Ice this has to be my absolute favourite. To me this work encapsulates everything that is so impressive about Wilhelmina Barns-Graham's practice: her ability to capture the force and movement of nature in a few lines and her intuitive use of colour. She has reduced the magnificence of a vast ocean to eight single lines and while this is in essence abstract, it is also immediately recognisable. This painting is certainly testament to her draughtsmanship as well as her understanding of the natural world.
The exhibition Wilhelmina Barns-Graham: Sea, Rock, Earth and Ice at the Graves Gallery, Sheffield continues until 16 March.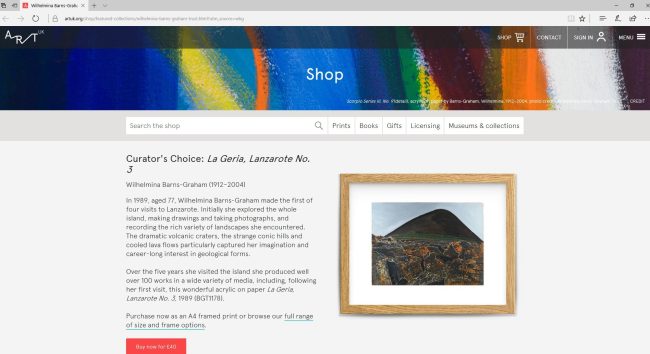 WBG 'print on demand' now available at ArtUK
ArtUK is an amazing resource that developed out of the Public Catalogue Foundation's initial project to photograph oil paintings in public collections and publish them in county-by-county physical catalogues.  This has developed into an online resource that takes the original intentions of the PCF into the digital future and to which is now being added sculpture and works on paper.
The Trust has been a long-term supporter of and participant in ArtUK's overall project and has now extended this partnership, so that the 277 Barns-Graham paintings from the Trust's collection which are featured on the site are now available as 'print-on-demand'. In a range of sizes and either framed or unframed you can buy high quality prints of these original paintings, prices range from £12.95 for A4 size unframed to £300+ for an A0 sized print in a substantial frame. Please visit the ArtUK shop – artuk.org/shop/wbg – to see the full range. All sales ultimately benefit the charitable aims of the Trust.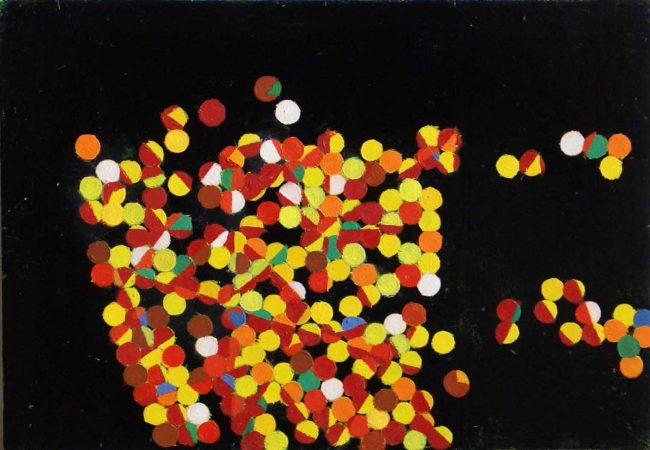 Where to see Willie
Willie's work is being exhibited all over the country, with her work featuring in permanent displays and exhibitions, as well as loans from the Wilhelmina Barns-Graham Trust.
In London there is still time to catch Studio Interior (Red Stool, Studio) on display as part of 50/50: Fifty Women Artists 1900-1950 at the Mercers Hall (until 22/3/19). Also in London, you can see the Tate's renowned Glacier Crystal, Grindelwald, 1950 at Tate Britain. The touring exhibition with Linear Meditations has moved to a new venue, St Mary's Hospital, where you can see a selection of Willie's line drawings. This show will then travel on to Hammersmith Hospital later in the year.
Last chance to catch Wilhelmina Barns-Graham: Sea, Rock, Earth and Ice at the Graves Gallery, Sheffield before it closes on 16 March. This exhibition showcases Barns-Graham's lifelong fascination with ice and rock forms in the landscape including the stunning Glacier Painting, Green and Brown 1951 from Sheffield Museum's collection.
In St Ives the current display at the Penwith Gallery is Cornish Coasts featuring a range of paintings and drawings reflecting Willie's love of the coastline that she lived on for most of her life and was inspired by. Tate St Ives' wonderful ongoing Modern Art and St Ives display also includes three important works by Willie, including Rock Theme, St Just, 1953, recently donated to the Tate collection by the Trust.
Also in Cornwall we have a Barns-Graham's Fireworks 1972 on display as part of the exhibition A Good Night: Nocturnes for Night Owls at Falmouth Art Gallery, (until 30 Mar 2019) inspired by a night time display.
In Oxford at Newham College the work Purple Painting 1968 has gone on display, on loan from the Arts Council Collection and in Cambridge you can see some of Willie's early print editions made with Kip Gresham. The exhibition Kip Gresham | The Art of Collaboration is on at the Heong Gallery (1 March – 19 May).
In Henley-on-Thames, several works by Willie have been included in the Bohun Gallery's final show The Last Hoorah which is on until 30 March. We are delighted to be included in the final show of this gallery, a celebration of their success over the last 45 years.
In Edinburgh at the Scottish Parliament you can see 5 spectacular, colourful late works on display outside the committee rooms which are publicly accessible.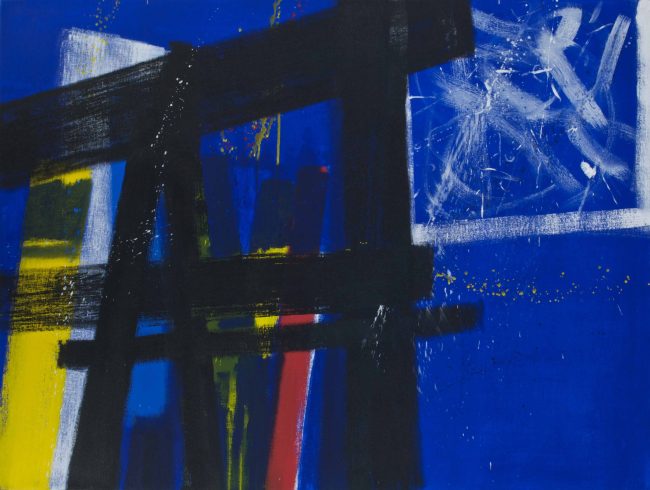 Looking Ahead
As we head from spring into summer, we have lots of exciting loans and exhibitions coming up. 50/50: Fifty Women Artists 1900-1950 is moving north to the Stanley & Audrey Burton, Leeds (2 April – 20 July). At Falmouth Art Gallery we are delighted to be lending 3 works to the exhibition The World As Yet Unseen; Women Artists in conversation with Partou Zia (6 April – 15 June) one of which is pictured above Ultramarine II, 2000. At the RWA in Bristol the popular work Box Factory Fire 1948 is going on display as part of the exhibition Fire: Flashes to Ashes in British Art 1692-2019 in the latest of their element-themed exhibitions (15 June – 1 September).
At Manchester Art Gallery the exhibition Get Together and Get Things Done (17 May – 29 Sept 2019) will feature the painting Protest 1966, on loan from Aberdeen Art Gallery. In St Ives, four works will feature in the Belgrave Gallery's flagship St Ives Moderns exhibition from the 29 April – 22 May.
Also at the Belgrave Gallery we are excited to announce a major solo show A Distant Isle – Wilhelmina Barns-Graham in Lanzarote. 2019 marks the 30 anniversary of Willie's first trip (of four) to Lanzarote in 1989, an island that she became fully engaged with for its remarkable volcanic landscape. The exhibition illustrates her responses to the island in both painting and drawings, and suggests how the experiences influenced her primary painting activities.