Abstract, Issue 3
Welcome to Abstract the quarterly WBG Trust newsletter. This autumn sees the WBG Trust busier than ever with exciting projects and exhibitions across the country. See below for the full story.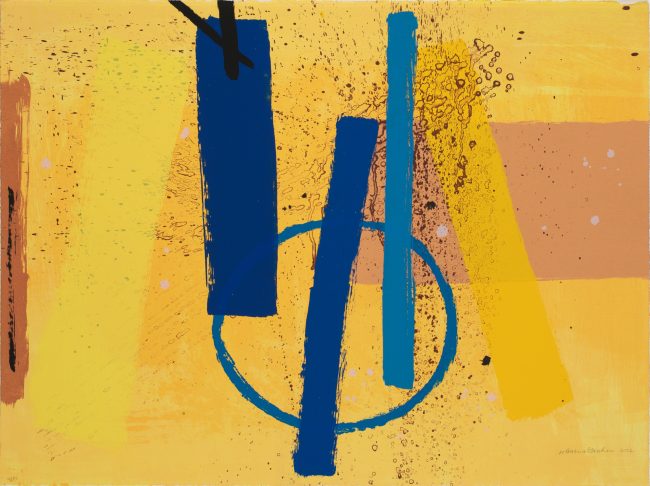 Prints to the Fore
There are two new opportunities to see Wilhelmina Barns-Graham's wonderfully vibrant screenprints, with exhibitions at the Watermill Gallery, Aberfeldy and at Gallagher & Turner, Newcastle opening this month. Prints, primarily the screenprints made in collaboration with Carol Robertson of Graal Press, comprise a significant element in Willie's late work, all the more remarkable that the bulk of the prints were produced within the last five years of her life.
Much has been written about the vivacity and joie de vivre of Willie's late work, the intense colour and bold design that belie the work of an artist in her eighties. She was active daily in her studio, driven to work while she was able to, thinking that each day could be her last. The consequent outpouring of paintings and prints are a tour de force, which continue to astound all those who come across them either for the first time, or on repeat encounters.
Wilhelmina Barns-Graham: Rhythms of Colour at the Watermill Gallery is supplemented by a group of late paintings made between 1997 and 2003, concurrent with the late prints, as well as a handful of her multi-line drawings that were first seen at the Gallery's 2016 exhibition.
Watermill Gallery, Mill Street, Aberfeldy, Perthshire, PH15 2BG. www.aberfeldywatermill.com. Exhibition catalogue available. Exhibition opens 8 September and continues to 12 January 2019
The Late Prints of Wilhelmina Barns-Graham is at Gallagher & Turner, 30 St Mary's Place, Newcastle upon Tyne NE1 7PQ. www.gallagherandturner.co.uk. Exhibition opens 28 September and continues until 17 November.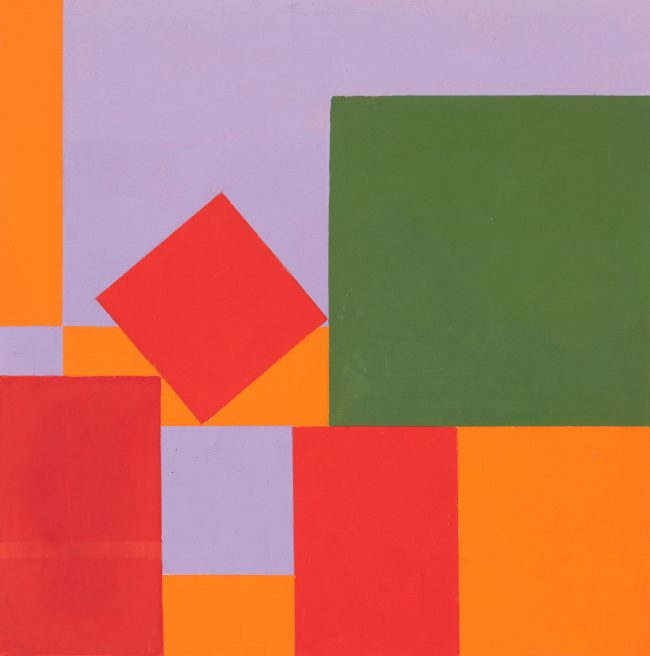 Shared History
An exhibition with a very different theme opens at Waterhouse & Dodd on October 3. Shared History presents the work of three artists who, at different times in their work, applied a strict geometry to their painting – Wilhelmina Barns-Graham, John Wells and George Dannatt. Barns-Graham and Wells were close friends, both being founder members of the Crypt Group in 1947 and of the Penwith Society of Artists in 1949. Dannatt's relationship with Wells began in 1963, both often exhibiting together in following years, particularly at the Penwith Society. Dannatt was as much a collector as an artist, purchasing works by both Wells and Barns-Graham.
The exhibition focuses on the comparative neglect of these artists within the story of St Ives and sets about exploring both their place in that history and why their achievements are not more widely recognised. Such a re-assessment is long overdue, and Waterhouse & Dodd's Jamie Anderson has written a thoughtful catalogue introduction that points out that Willie was not the only artist who for significant periods has been unjustly airbrushed from the story of St Ives art. The reason for this is partly to do with the artists working against prevailing trends and working on comparatively modest scales, as much as the critical 'put downs' by some of their peers – attitudes that have been hard to shake off until relatively recently.
Waterhouse & Dodd, 47 Albemarle Street, London W1S 4JW. www.waterhousedodd.com. Exhibition catalogue available. Exhibition runs 3-26 October.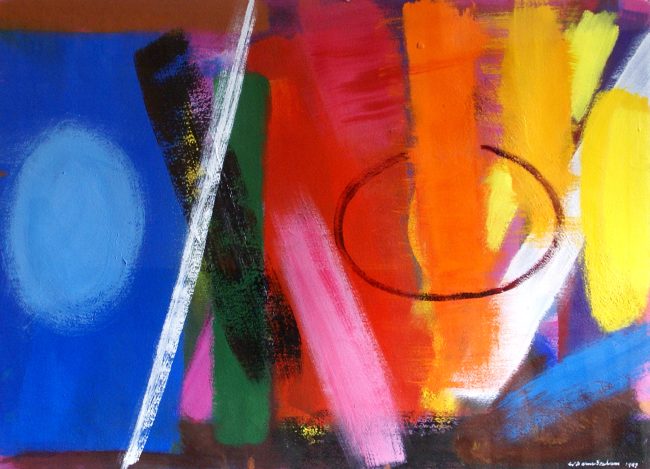 Scottish Parliament
Spanish architect Enric Miralles (1955-2000) described his design for the extraordinary Scottish Parliament at Holyrood as for a building "growing out of the land". Inspired by the surrounding landscape, flower paintings by Charles Rennie Mackintosh and upturned boats on the seashore, the intention was that the building should embody the unique spirit and character of the Scottish nation. Similarly, the key themes behind the art collection displayed in the building are described as 'the impact of humanity and politics on the landscape, our relationship with the sea, and our identity and history as people living in Scotland'.
It is into this incredible crucible of Scottish art and life that this September the Trust will lend eight late Barns-Graham paintings as part of a new long loan agreement with the Scottish Parliament. Displayed in two locations, five works will be hung in the publicly accessible Committee Room Circulation Area alongside works by the Boyle Family and Will Maclean from the permanent collection, with others by David Mach and Ian Hamilton Finlay also very nearby. Three further pieces will be hung in the Presiding Officers' Dining Room.
It is very exciting to have Willie given such significant presence at the heart of Scottish life. Furthermore, three of her paintings adorn the walls of Bute House, Edinburgh, the formal residence of Scotland's First Minister – two from the Trust and one from the Scottish National Galleries.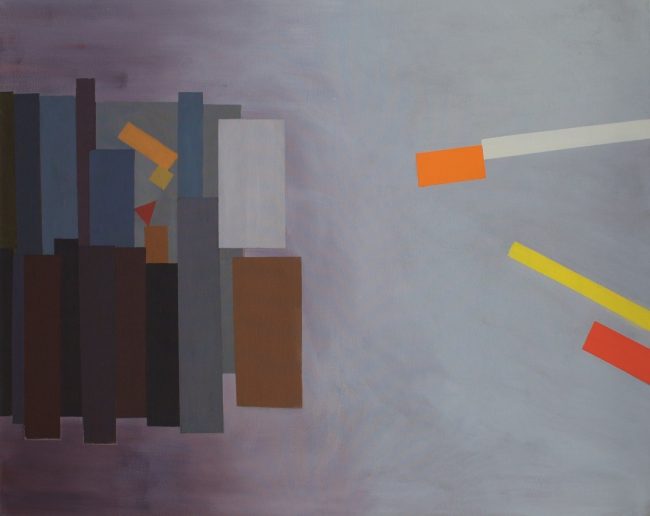 Getting Barns-Graham 'Out There' – Picture Loans
One of the less recognised activities that the Wilhelmina Barns-Graham Trust engages in is providing long term loans to public institutions. The Trust regularly lends paintings to temporary exhibitions, which are often highlighted in Trust news, but there are other situations where pictures go out on loan for longer periods, for example to public buildings like the Scottish Parliament (see above), as well as universities and healthcare organisations around the UK.
We are delighted to have a significant painting hanging within the renowned New Hall Art Collection of women artists within Murray Edwards College, University of Cambridge; while another is on the walls of the Saïd Business School, University of Oxford. A late painting hangs in the foyer of University of St Andrews Library.
However, it is the collections of prints loaned to healthcare organisations that more directly impact on the wider public. It has been shown that having art on hospital walls does make a difference to patients' wellbeing as well as that of staff and hospital visitors. The Trust has been working with Paintings in Hospitals (England) and Art in Healthcare (Scotland) for more than a decade. The positive feedback from them is a wonderful validation of this practice. This has led to a project with Imperial Health Charity/Paintings in Hospitals that will take a Barns-Graham exhibition to St Mary's Hospital London and regional hospitals around England, starting later this year.
The Trust also works with institutions such as the British Academy in London whose members come from around the world, and who see the wonderful art collection on the Academy's walls. Three of Willie's paintings are currently on long term loan and we see such loans as benefitting her profile and reputation, bringing her to the attention of many whom she would not otherwise be introduced to.
The Trust is always open to discussing opportunities, conditional on available pictures and the suitability of the location. For more information, contact Trust Director, Rob Airey on 0131 209 7870.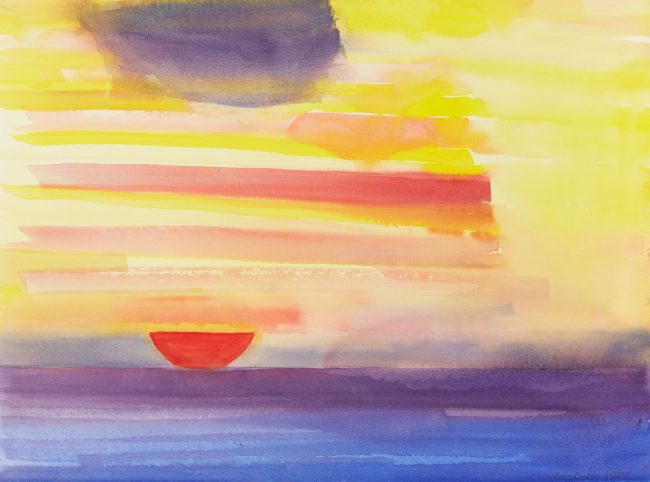 Cornish Coasts, Penwith Galleries
In May 2017 the Trust was delighted to announce that its proposal that 'In recognition of Willie's long standing relationship with and support of the Penwith Society of Artists she is permanently represented on the walls of the Penwith Gallery' had been accepted and over the last year the first annual display in the Gallery, focusing on St Ives in the 1940s, has proved a tremendous success.
On Thurs 4 October the second display titled 'Cornish Coasts' will open to the public and remain on display for a full year alongside the Gallery's changing exhibition programme. This group of works develops the theme of the first display, demonstrating how from the 1940s onwards the Cornish coast both in and beyond St Ives was a continual source of inspiration for Barns-Graham. Both the built and natural environment caught her attention, with earlier pieces tied to specific places depicting harbours and coastal buildings, while later works often look to the sea for inspiration with generally more abstract results.
Penwith Gallery, Back Road West, St Ives, TR26 1NL. https://penwithgallery.com. Exhibition opens from 4 October.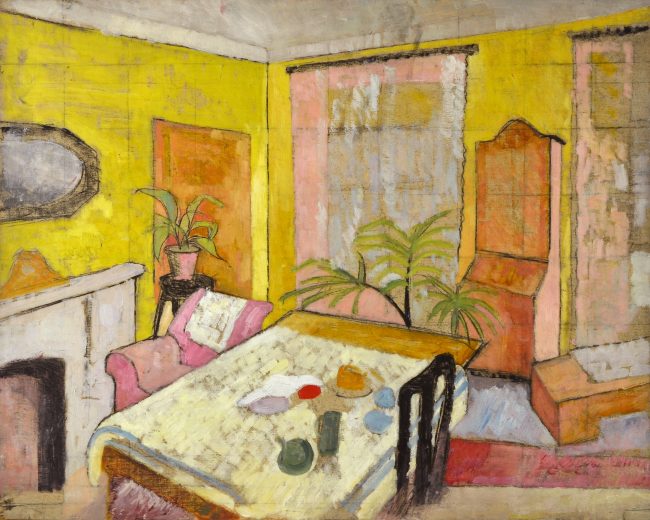 Picture of the Month
For this edition, Trust Director Rob Airey picks Edinburgh Interior, 1937 (oil on hardboard, 60.5 x 76 cm). This painting always catches my eye whenever I see it, the acid yellow, orange and pink hues really stand out. Painted in the year she received her Drawing and Painting Diploma from Edinburgh College of Art, at this time Barns-Graham also had her own studio at 5 Alva Street, which this painting may well depict. A relatively early and unusual work, it nevertheless exudes confidence and a heightened sense of colour that she would return to later in her career.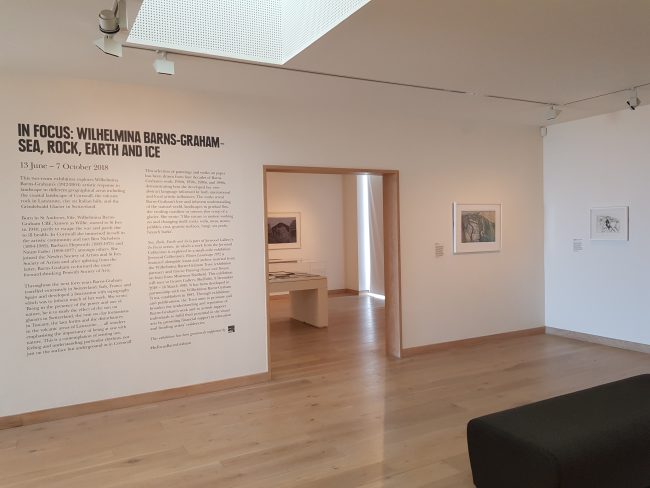 Where to see Willie
Wilhelmina Barns-Graham: Sea, Rock, Earth and Ice at the Jerwood Gallery in Hastings (14 June – 7 October) is still on. This exhibition showcases Barns-Graham's lifelong fascination with ice and rock forms in the landscape including the stunning Winter Landscape 1952 from the Jerwood Collection. This goes on to the Graves Gallery, Sheffield opening 8 December.
In St Ives the substantial group of Barns-Grahams on display at the Penwith Gallery, will remain until early September, before being changed in October. Currently the focus is on images of St Ives in the 1940s, with the new display looking at Cornish Coasts (see above). Tate St Ives' wonderful ongoing Modern Art and St Ives display also includes three important works by Willie, including Rock Theme, St Just, 1953, recently donated to the Tate Collection by the Trust. Also in Cornwall, at the Royal Cornwall Museum, Truro until September included in Hireth – A Cornish Landscape are View of St Ives, 1947 and Sea Forms, 1958.
At Pallant House, Chichester the fantastic group show organised by Tate St Ives Virginia Woolf – an Exhibition Inspired by Her Writings (26 May – 16 September) features four works by Willie, two lent by the Trust; Cliff, 1952 and Blue Stone El Golfo, 1989. This moves on to the Fitzwilliam, Cambridge at the start of October.
At the Pier Arts Centre in Stromness, Orkney, their permanent collection display features three Barns-Graham works including a relief depicting rock formations at Warbeth.
In London you can see the Tate's renowned Glacier Crystal, Grindelwald, 1950 at Tate Britain and finally at the newly refurbished Leeds Art Gallery you can see Willie's Three Rocks, 1952 in their Rock, Pebble, Quarry display.
Looking Ahead
Two new selling exhibitions will open in September. The first, at The Watermill, Aberfeldy opening on September 8 is Wilhelmina Barns-Graham: Rhythms in Colour. Late Paintings and Prints (until 27 January 2019), closely followed by Wilhelmina Barns-Graham. The Late Prints (28 September – 17 November) at Gallagher & Turner in Newcastle upon Tyne. We also have Barns-Graham works going into an exhibition Trees Observed at the Fen Ditton Gallery, Cambridge (21/9 to 28/10) and a new Waterhouse and Dodd show 'Shared History' exploring the work of Barns-Graham, George Dannatt and John Wells (3-26 October), details above. Waterhouse & Dodd are also featuring Wilhelmina Barns-Graham at the revamped British Art Fair taking place at Saatchi Gallery, London (20-23 September). Also in London, Studio Interior (Red Stool, Studio) will feature in 50/50: Fifty Women Artists 1900-1950 will be at the Mercers Hall (27/11 – 22/3/19).