Abstract, Issue 21
Welcome to our Spring newsletter bringing you news of current exhibitions and loans, stories of recent Trust activities and our usual updates:
Two exhibitions in Newcastle upon Tyne
News from the Cornwall x Scotland Residency
Recent student projects at the Trust
An exciting find from the Archive
Where to See Willie in the rest of the UK
A picture highlighted by Hatton Gallery curator, Amy Pargeter
WBG in Newcastle upon Tyne
If you find yourself in Newcastle during the next month or so, or as we would highly recommended, you choose to make a special visit, there are two excellent, contrasting Barns-Graham exhibitions to see.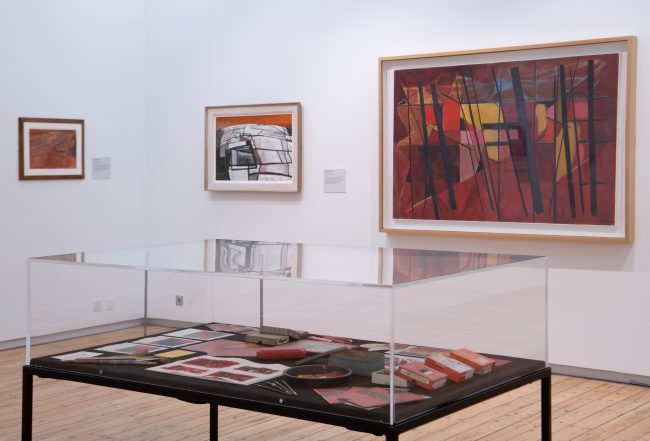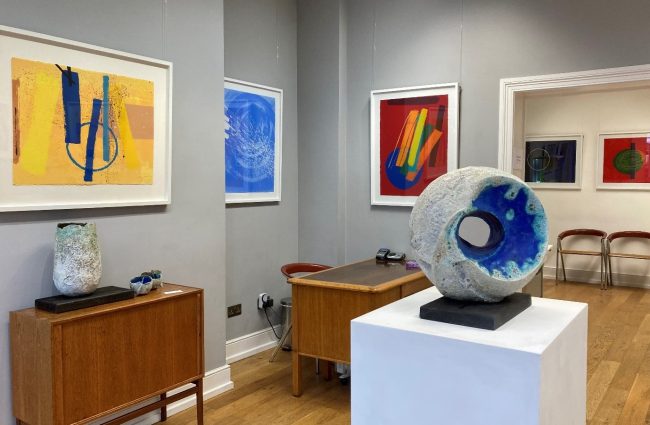 Wilhelmina Barns-Graham: Earth, Wind & Fire, Gallagher & Turner – until May 5th
Bursting with energy and vibrant colour, this exhibition focuses on the screenprints Barns-Graham made towards the end of her career, mostly with the Midlothian based printers Carol Roberson and Robert Adam of Graal Press. Developing a productive relationship with Robertson, together they established a collaborative process using pioneering water-based inks. Barns-Graham's acute sense of colour pushed the medium to its extremes, sometimes using fifteen layers of colour to achieve the right tone.
During her final decade, whilst in her eighties, Barns-Graham produced an astonishing number of prints. For her, making prints was a liberating experience. With her characteristic brush marks captured on acetate, she could experiment with these as 'slow paintings' – related to but different to her late painting style. She came to work so swiftly, outpacing the printers with whom she collaborated, that several 2003 editions were unsigned at the time of her death while other images remained unprinted. These latter prints, all strictly mapped by the artist, came to be editioned posthumously.
For more information visit the Gallery website.
---
'From One to Another – Cornwall x Scotland' Residency 2022
The 'From One to Another' Residency, funded by the WBG Trust in collaboration with Visual Arts Scotland and the Borlase Smart John Wells Trust, arranges for a Scottish artist to spend a month working in the historic Anchor Studios in Newlyn and a Cornwall-based artist to spend the time at (for the last two years) Marchmont House in the Scottish Borders. The artists are encouraged to make contact with each other and the new artistic community in which they find themselves. In 2021 Rachel Duckhouse and Andy Harper were the first artists to undertake the exchange, below the 2022 artists Clare Wardman and Siobhan McLaughlin comment on their experience.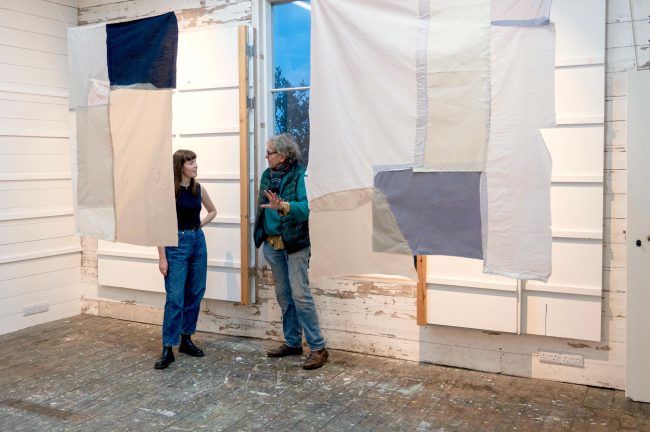 Glasgow-based Siobhan McLaughlin spent time in Cornwall, she reported that she 'felt grateful every day to be living and working in Anchor Studios, it really was inspiring. The garden, views out to the sea and immense space of the studio felt so uplifting to my practice. The studio itself made me want to create. It was also a fantastic base to explore from, and having four weeks to walk, draw and read was exactly what I needed to open myself up to new ideas…Most importantly the residency gave me dedicated time to focus and reflect on my practice away from everyday distractions. This sustained research and exploration period has been crucial in developing the next stage of my work.'

Artist Clare Wardman is usually based at the historic Porthmeor Studios (where Barns-Graham also worked for the first 20 years she was in St Ives), she spent a month based in a cottage and separate studio on the estate surrounding Marchmont House.
Clare wrote that the residency at Marchmont '…gave me an opportunity to learn about and see different skillsets such as traditional furniture making, carving, plasterwork and embroidery which in turn stimulated ideas for the possibility of working more collaboratively, or for taking my own research into different forms…The impact of the residency embedded my practice in a new dynamic both location and unfamiliarity alongside different fields of active investigation by others, from the work of archivists to orientation towards craft and making, landscape ecology, historic built environment, culture, painting, sculpture, philosophy, and community, concentrated in one place – Marchmont. The residency afforded expansive physical, mental, and material space to operate in, alerting the intellect and senses to locate energy for continuing to explore the deeper layers of potential and dialogue within my art practice and thinking, and about its means of communication.
---
Recent Student Projects at the Trust
Over the last three months, the Trust has welcomed three students from Scottish universities to undertake placements working on the collection and archive. Sabrina Hall and Frida Henriksen joined us from the Masters degree course in Museum and Heritage Studies at the University of St Andrews and Luisa Hahn from the Masters degree course in History of Art at the University of Glasgow. You can discover more about their activities and research in their blogs.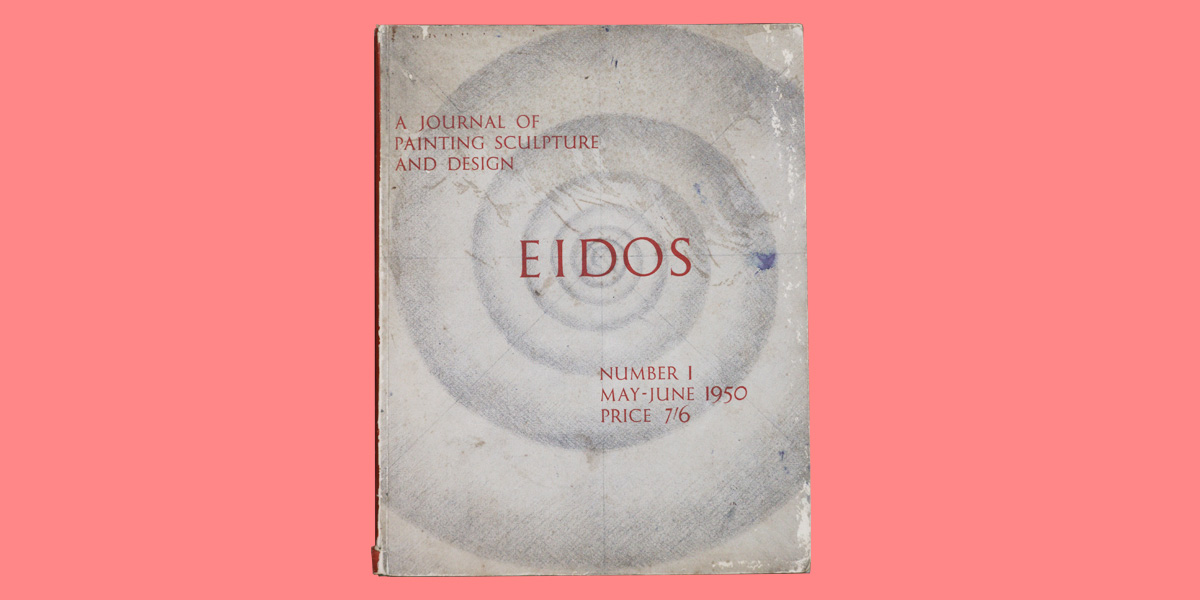 An Eidos Sketchbook from the Archive
We have uncovered a very exciting find in the Archive. From the outside, it appears to be a copy of Eidos: A Journal of Painting, Sculpture and Design, a periodical that ran for three issues in 1950, and was edited by W. P. Gibson, Bernard Ashmoll, Sir Leigh Ashton, and John Rothenstein. However, once opened, it becomes apparent that it is actually a proof copy that presumably was given to her husband, David Lewis, when he was preparing an essay on The Sculpture of Barbara Hepworth for Issue 2. The proof copy seems to have been adopted by Barns-Graham as a sketchbook, using the blank pages to experiment with abstract forms using blue ink, graphite, and orange and pink pencil. Thanks to their hiding place inside the pages of a facsimile magazine, the drawings have remained vibrant and lively.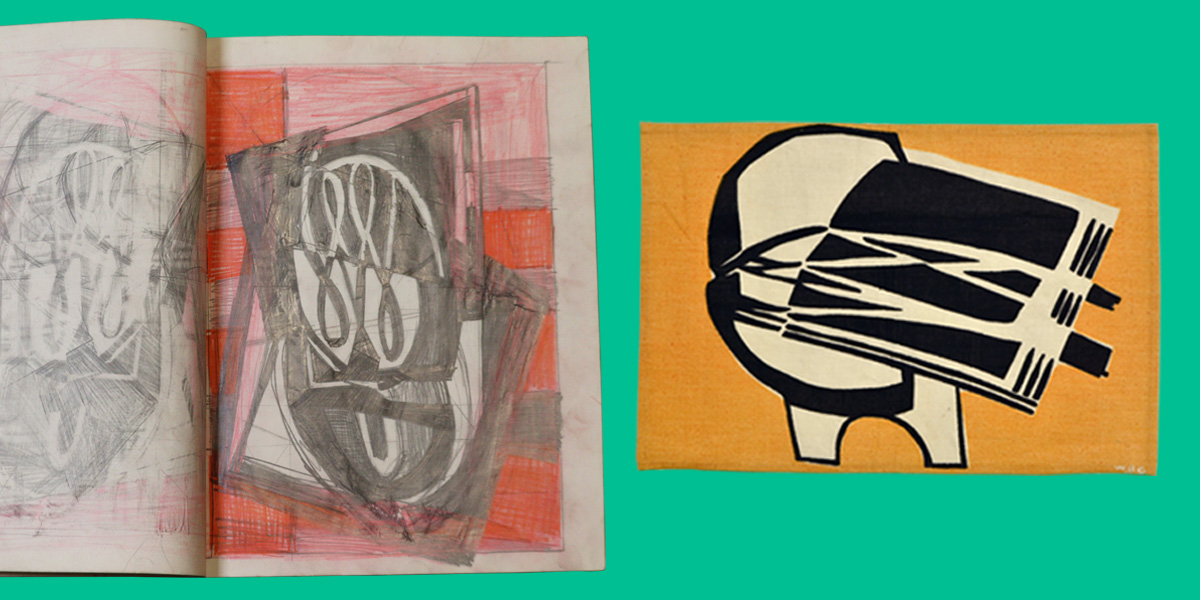 In fact, some of these sketches are likely initial designs byBarns-Graham for a series of silk-screen printed table mats produced by Porthia Prints in 1955. Barns-Graham also used the book to record a list of works to be exhibited for her 1956 exhibition at the Scottish Gallery, Drawings from Sicily, Italy and Cornwall by W. Barns-Graham, and years later, she used it to sketch out the arrangement of her 1968 exhibition at the Demarco Gallery, Edinburgh. The early 1950s were a financial struggle for Barns-Graham, and so it is unsurprising that she might have looked to save money on art supplies by repurposing the proof magazine as a sketchbook.
Read more about the sketchbook
---
Where to see Willie
From St Andrews to St Ives, there are many opportunities to see a Barns-Graham on display in museums and galleries across the country.
St Andrews Heritage Museum and Garden have borrowed two coastal line drawings for their Green Spaces Through an Artistic Lens exhibition. Open until 14 May.
Perth Art Gallery opened this week following their re-display with Modern Scots, an exhibition of influential modern Scottish artists and their contribution to 20th and 21st century art. We are delighted to have lent Scorpio Series II No.6, 1996, for the year.
Zennor Rock – Rose II, 1953, is now on display at the Scottish National Gallery of Modern Art One in their thematic hang, Conversations with the Collection. This small, but stunning painting is a must see! Elsewhere, another 1950's work, Orange Form, 1957 is on permanent display at York Art Gallery, and works can also usually be found on display in galleries such as Leeds Art Gallery, Pallant House, Chichester, Tate St Ives, Penwith Gallery, St Ives and Pier Arts Centre, Stromness.
---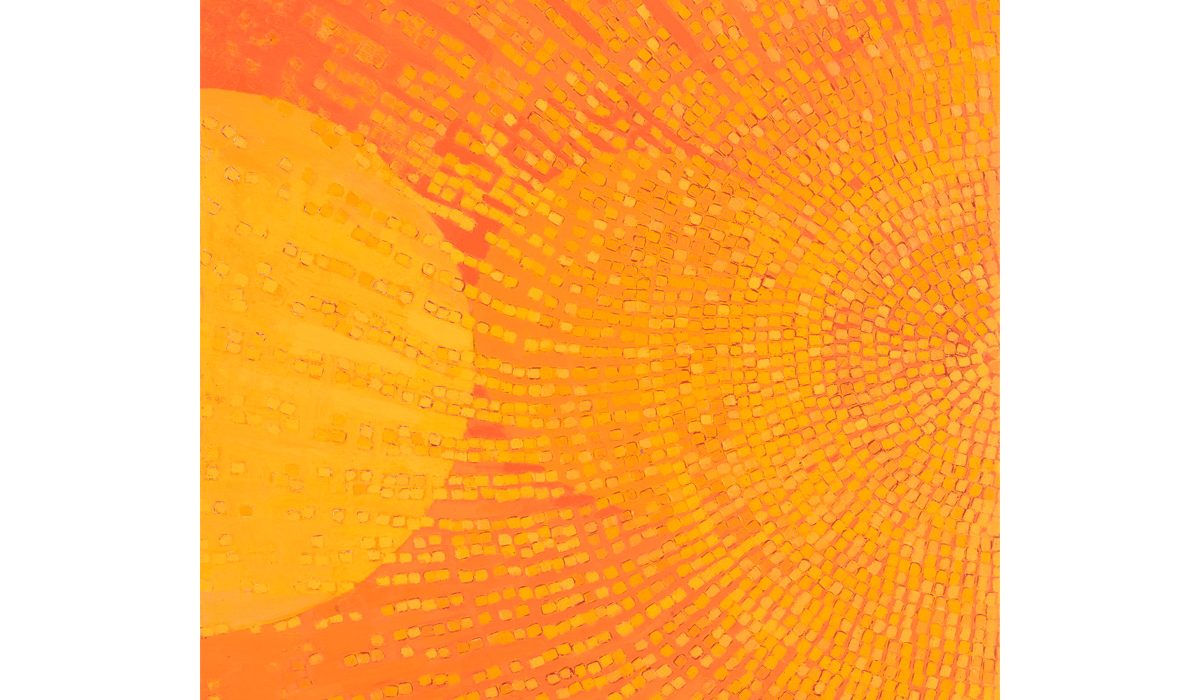 Picture of the Month
For this edition of Abstract, Amy Pargeter, Assistant Keeper of Art at Tyne & Wear Archives and Museums has chosen the Picture of the Month.  Amy was closely involved in the current Paths to Abstraction exhibition at the Hatton Gallery and has chosen a work that is included in the show.
'Throughout her career, Barns-Graham used colour as a means of expressing personal experience and emotion. Her neurological condition, synaesthesia, allowed her to interpret sensory information as colour, an ability that is particularly apparent in her Meditation Series.
Following a number of personal tragedies in the 1960s, she became increasingly interested in spirituality and religion. She attended yoga classes, was introduced to the Baha'i faith and was later confirmed in the Church of England.
A number of Barns-Graham's paintings from this period relate to spirituality and highlight the colour yellow, none more vividly than Meditation East No. 4, 1968. The vibrancy of the colour indicates an intensity of feeling and personal introspection, whilst the way in which the forms seem to radiate outwards in waves suggests, to me, a state of sheer joy, contentment and peace.'