Abstract, Issue 19
Welcome to our Autumn newsletter bringing you news of upcoming exhibitions and loans, stories of recent Trust activies and our usual updates:
Two works to be shown alongside the Lindisfarne Gospels
An installation by filmmaker Mark Cousins
Exhibitions not to be missed
Our visit to other artists' estates
Recent publications featuring Barns-Graham
Where to See Willie in the rest of the UK
A picture highlighted by our Director, Rob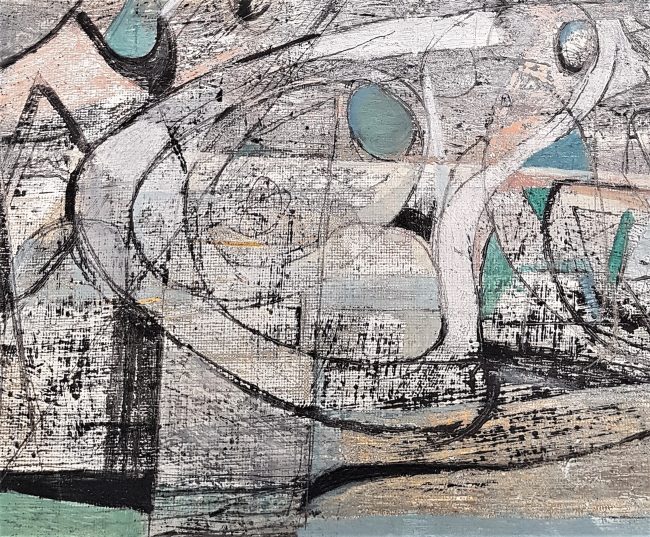 Like A Huge Scotland | Fruitmarket, Edinburgh, 5 – 27 Nov 2022
In November filmmaker and writer Mark Cousins will bring a new immersive installation to the Fruitmarket, Edinburgh. Like A Huge Scotland tells the story of a day of great inspiration in the life of Barns-Graham in an intense visual and surround-sound experience. In 1949 Barns-Graham walked to the Grindelwald glacier in Switzerland with some friends. As they picked their way across the frozen sea of ice and rock, she had an epiphany and later produced an extraordinary cycle of paintings inspired by what she had seen. More than 70 years after Barns-Graham, Mark Cousins climbed the same glacier filming what he saw – the glacier has retreated by a mile and is almost gone.
Mark Cousins has written "Wilhelmina Barns-Graham was a brilliant, free-thinking 20th Century artist. My work, Like A Huge Scotland, is electrified by her paintings in the way she was electrified by a climb up to a glacier in the Alps in May 1949. With composer Linda Buckley and sound designer Ania Przgoda, I will plunge people into the feeling of being inspired, of looking anew, of having your brain changed. What does inspiration feel like? What happened to Barns-Graham on that day?"
Shot on 8K cameras, the large-scale, enveloping, four-channel installation casts a forensic eye on Barns-Graham's glacier paintings, enlarging details to 10,000 times their original size to reveal their almost molecular structure, alongside footage of the glacier filmed on the recent visit. The installation at the Fruitmarket will be accompanied by a selection of Barns-Graham's glacier works selected and lent by the WBG Trust.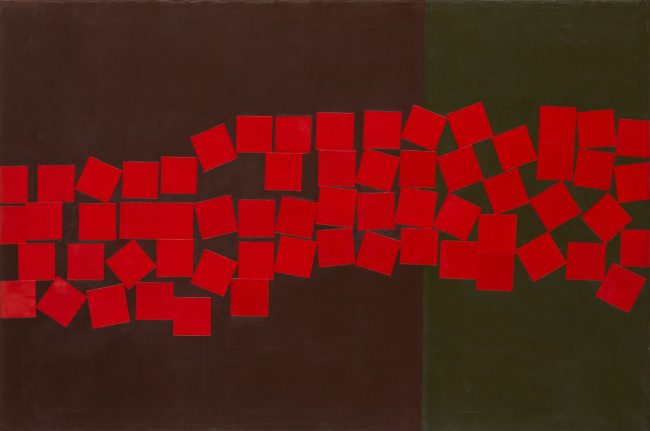 The Lindisfarne Gospels | Laing Art Gallery, Newcastle upon Tyne, 17 Sep – 3 Dec 2022
The Lindisfarne Gospels, the most spectacular manuscript to survive from Anglo-Saxon England, will be on display at the Laing Art Gallery from 17 September to 3 December 2022, on loan from the British Library. The Gospels was created on the Holy Island of Lindisfarne and represent the golden age of design and craftsmanship in Northumbria. Remarkably the book has survived in almost perfect condition for over a thousand years.
The Gospels manuscript will be contextualised within a broader exhibition examining its meaning in the world today and its relationship to themes of personal, regional and national identity; beginning with an immersive digital experience and a selection of early medieval treasures brought together from across Britain, representing both personal and collective religious experiences in the 8th century. Paintings, drawings, photographs and a new film by Turner Prize winning artist Jeremy Deller will further explore how art and spirituality have developed in the centuries since the Lindisfarne Gospels were created. We are delighted that this section of the exhibition will include two Barns-Graham works, West Sands, St Andrews July, 1981, and illustrated here, Pilgrimage, 1967.
Following the show at the Laing Art Gallery Pilgrimage will remain in Newcastle in preparation for a major new exhibition Wilhelmina Barns-Graham: Paths to Abstraction 1940-70 at the Hatton Gallery opening in February 2023 – watch out for more details in next edition of Abstract.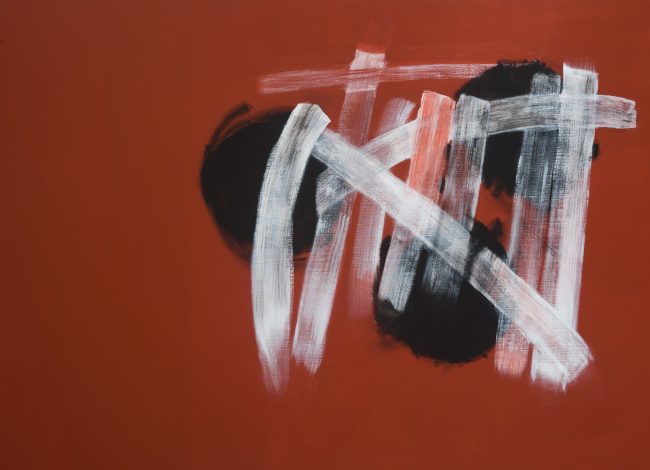 Last Chance to See!!
Three important exhibitions that have previously been covered in Abstract are closing in the coming few weeks – Living the Landscape – Barbara Hepworth, Ben Nicholson and the artists of St. Ives 1939-1975 at Museum Belvédère, Heerenveen-Oranjewoud (closes 20 September), features six Barns-Graham works in the context of her St Ives based contemporaries in the post-war period.
Wilhelmina Barns-Graham and Jonathan Michael Ray continues until 2 October at Tate St Ives, pairing seven works from the Tate and WBG Trust collections with new works by contemporary Cornwall based artist Jonathan Michael Ray and look at their shared interest in landscape; its abstract qualities, the histories it embodies and the structures that lie beneath the surface.
Finally, at Glasgow Print Studio is the solo exhibition Wilhelmina Barns-Graham: Painting & Printing 1991-2002 which has been extended for a week beyond the date we gave in the last newsletter to Saturday 1 October. This exhibition will for the first time examine the fascinating and dynamic relationship between these two distinct areas of Barns-Graham's practice, by showing related paintings, prints and overpainted prints together. Included is the magnificent late oil and acrylic on canvas Gaia Series (Mars) I. Barns-Graham was inspired to title this work after reading the ground-breaking 'Homage to Gaia' by James Lovelock, who recently passed away.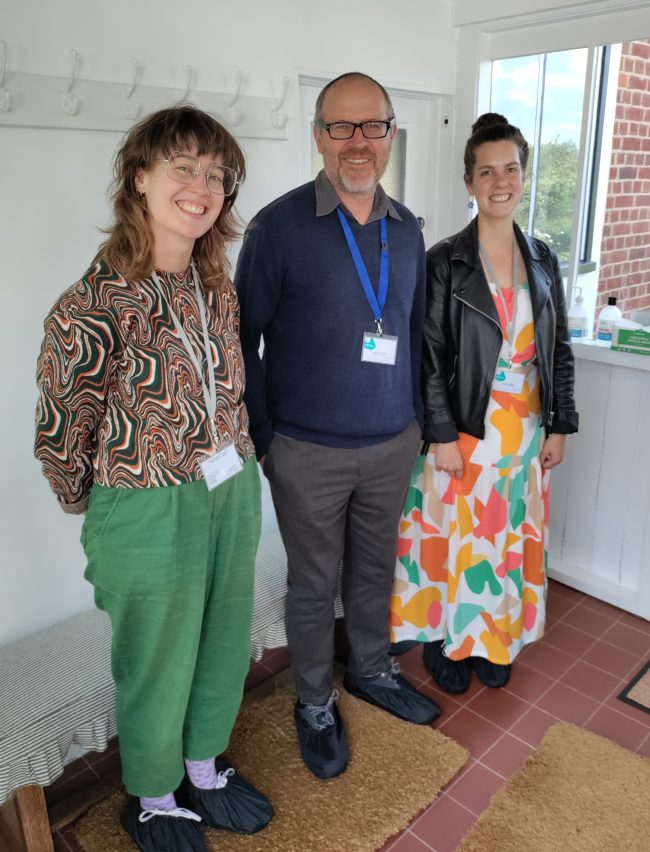 WBGT staff visit to the Henry Moore Foundation and Barry Flanagan Estate
A rare WBGT staff outing took us to the Henry Moore Foundation in rural Hertfordshire. There we met with archive and library staff to discuss shared areas of interest, focusing particularly on archive collections issues such as cataloguing, records-management, digitisation and developing access through online and digital resources. There was also time to visit to visit Hoglands, Moore's wonderfully restored home and his studios in the surrounding grounds and take a walk around the collection of Moore's sculptures situated around the estate. The following day we visited London and the offices of the Barry Flanagan Estate, closer in scale to the WBG Trust's archive collections compared to the HMF, we discussed the processes they went through in making Flanagan's detailed archive accessible through their excellent website.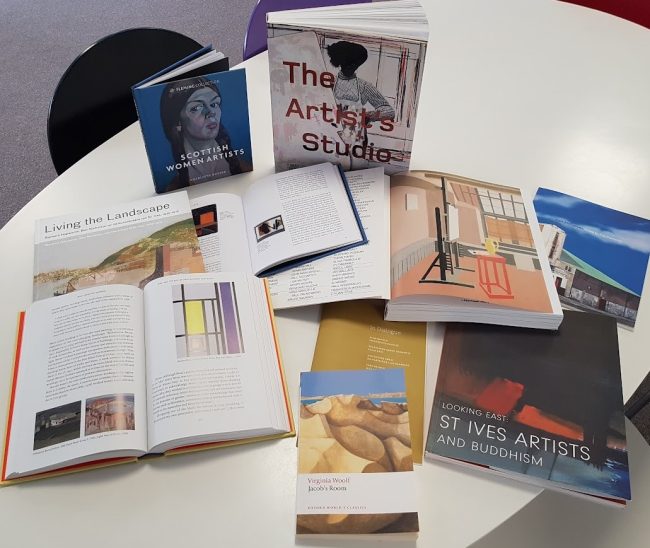 Recent Publications
Great to see Barns-Graham featuring in a wide-range of recent publications, included here; catalogues for recent exhibitions at Museum Belvedere, 3812 Gallery and Fen Ditton Gallery, Jock McFayden's Goes to the Pictures and the Whitechapel's fantastic The Artist's Studio featuring Studio Interior,1945 on the frontispiece. Oxford University Press' new edition of Virginia Woolf's Jacob's Room featuring the City Art Centre's magnificent painting Rocks, St Marys, 1953. New art history books include Charlotte Rostek's introduction to Scottish Women Artists via works in the Fleming Collection and most recently Katy Hessel's new historical survey The Story of Art Without Men.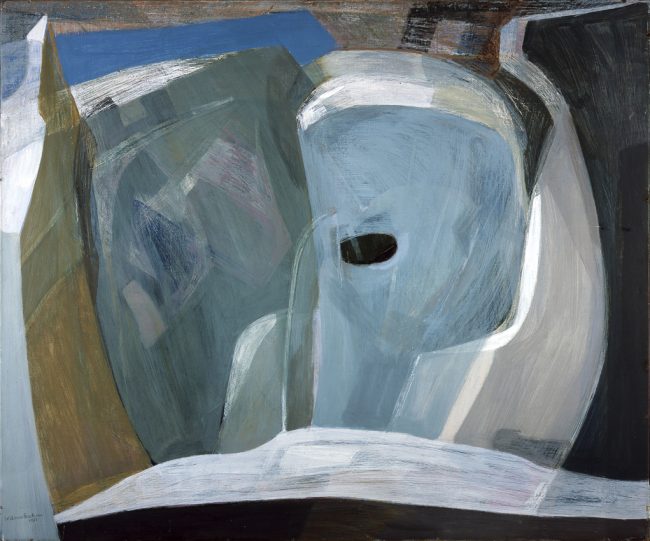 Where to see Willie
If you're looking for museums and galleries to head to this autumn, we've rounded up a selection of exhibitions and displays where you'll also get a chance to view a work by Wilhelmina Barns-Graham.
The Scottish National Gallery of Modern Art One is refreshing its permanent collection displays with a new thematic hang, Conversations with the Collection, including two works by Barns-Graham, Glacier Chasm, 1951 and Quick Time, 2006. Opens 24 September.
In November, The Scottish Gallery will host an exhibition of works inspired by Orkney including several created by Barns-Graham following her trips to the islands in 1984 and 1985. The exhibition runs from 3 – 26 November. Keep an eye out on their website for further information.
Elsewhere, Barns-Graham features in the collection displays at Aberdeen Art Gallery and Pallant House Gallery, Chichester. If you have any works on display in your gallery or museum – please do let us know!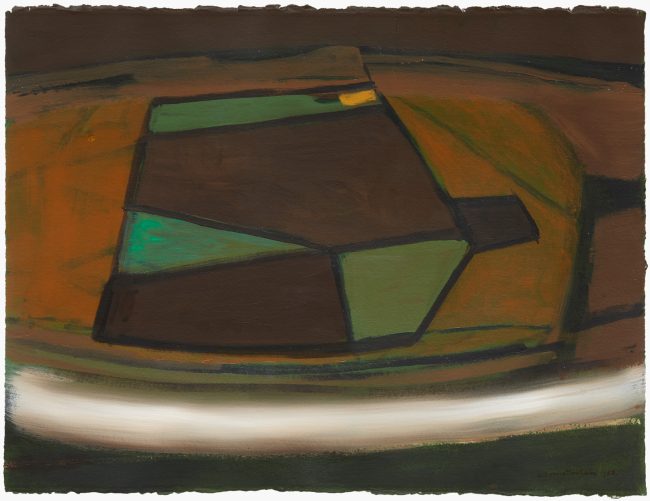 Picture of the Month
For this edition selected by Trust Director, Rob Airey.
It's been over 4 years and 15 editions of Abstract since I last selected a Picture of the Month, so I have taken this opportunity to highlight a favourite Barns-Graham Orkney related work, having been privileged to visit Orkney twice in the past year; filming for Mark Cousins' forthcoming Barns-Graham documentary A Sudden Glimpse to Deeper Things and for the installation and opening our of our touring show Inspirational Journeys at the Pier Arts Centre.
These opportunities to spend time in Orkney's unique landscape has helped underline both why Barns-Graham was so taken by it, drawing her back to working directly from the landscape after a gap of 25 years and how she used quite specific elements of what she observed to produce works that cover the range from naturalism to abstraction. Brown, Green and Ochre with White Line (Orkney) 1988, made 3 years after her second visit in 1985 sits somewhere in the middle of this spectrum. Colour and forms are clearly inspired by the wall and field systems of the island, though thick black outlines accentuate their angularity and abstract properties and the 'white line' could be a cloud seen from above, a seashore with breaking surf or simply what it is, a bold white brushstroke.