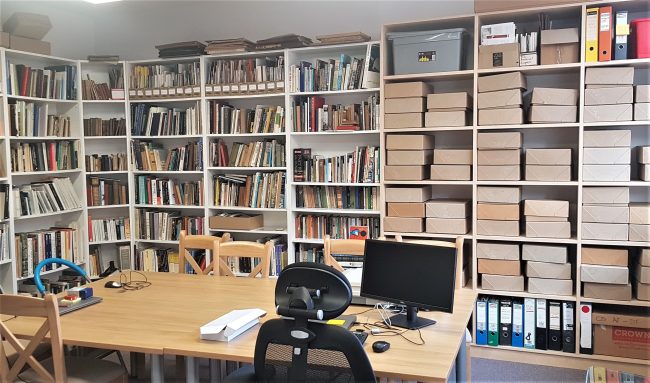 Archive and Library
Exciting new developments in the Archive and Library at the Trust's Edinburgh base. The main paper Archive has been on long loan with Special Collections at St Andrews University for over 15 years, where it has been boxed, catalogued and made accessible through their reading rooms. In February this material was returned to the care of the Trust where it will join Barns-Graham's book library, photographic records, studio material and art collection in a central information repository of her life and work.
Barns-Graham and her family seem to have been diligent collectors throughout their lives, as such the archive is thorough and wide ranging, and provides a rich insight into her life and practice. It is comprised of letters to and from Barns-Graham, exhibition documentation spanning the many decades of her long career, her personal notebooks and diaries, including reminiscences that she wrote later in life. It also contains documentation relating to Balmungo House and her time working with Rowan James, videos, audio, and photographs of her life and her work. In addition to the albums of photographs, there are about 140 boxes of papers in total.
In due course this material will be available for study and research and parts of the collection will be made available online.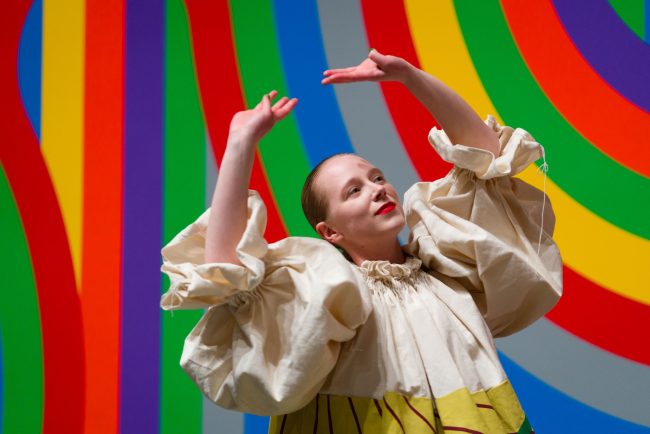 Alice Ellis-Bray – 'I am the Colour Wilhelmina saw you in' performance Tate St Ives, Nov 2021
With support from the WBGT, in November the Cornwall based artist Alice Ellis-Bray made four performances of her piece 'I am the Colour Wilhelmina saw you in' at Tate St Ives, in front of the Sol Lewitt wall-drawing currently installed there.
Alice noted – 'I wrote and created this performance to celebrate the life of Wilhelmina Barns-Graham. Her use of colour and line is profound and evocative. She often wrote in her diary what colour she saw people in when she met them, she lived with such an awareness of colour having synaesthesia. I was also enchanted by her spirituality, the fact she understood and connected to astrology, the planets, the sun, the moon and the celestial luminosity. A powerful, sensitive artist.    Thank you Wilhelmina Barns-Graham.'
'Weaving between Wilhelmina Barns-Graham's life, the environments she responded to and human experience; the spoken word becomes a trance like state to immerse you into a rhythmic portrayal of our interconnectedness with all things. Wilhelmina remembered people by their
'colours', the costume worn by the artist has been made by abstract paintings to embrace personifying colour itself.'
A film of Alice's 'I am the Colour Wilhelmina saw you in' performance will be available to view on the Trust website soon – please check social media for announcements.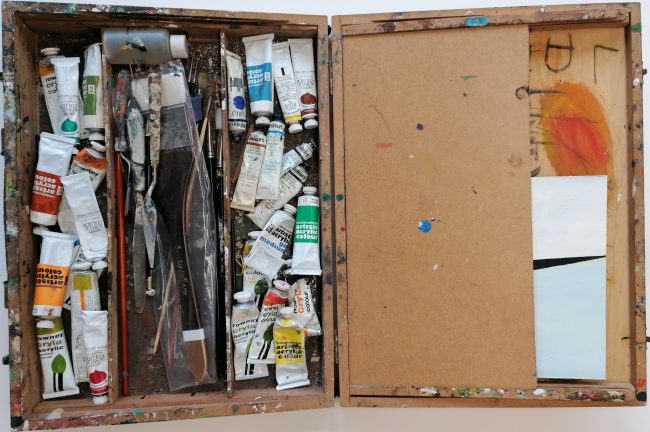 Paints, crayons, brushes, and a few unexpected items. Wilhelmina Barns-Graham's artist materials, once held in her St Ives and St Andrews studios, are unpacked from their boxes. The Trust has started an exciting new archive project, in collaboration with the Technical Art History course and the Kelvin Centre for Conservation and Cultural Heritage Research at Glasgow University, to catalogue and document the vast array of the artist's materials accumulated over many decades. Andy Hayes, a current student on the course undertaking a work placement and Amy Johnstone a recent graduate of the course are currently working on the project.   In amongst the many tubes and boxes of paint, rules, pencils and pots, we have found some small personal effects hidden away – dusty clip-on sunglasses, mysterious keys and coffee mugs.
With time, the database will act as a key tool to further understanding Barns-Graham's artistic practice and aid in their access for display, study and any required conservation treatments.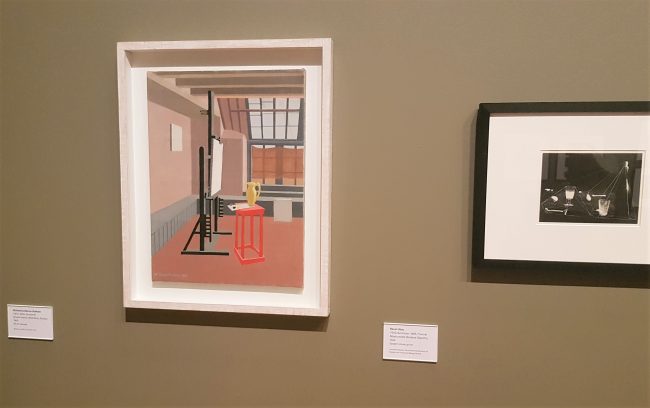 'Studio Interior' in 'A Century of the Artist's Studio: 1920-2020'
If you are in London between now and 5 June 2022 you will have the opportunity to see Barns-Graham's iconic 1945 'Studio Interior' beautifully displayed in the 'A Century of the Artist's Studio: 1920 – 2020' exhibition at the Whitechapel Gallery. Shown alongside the Barns-Graham is a small photograph by French photographer Raoul Ubac and on the same wall are wonderful paintings by Andrew Grassie and Paul Winstanley. This ambitious exhibition is a fantastic examination of the studio as a laboratory for ideas, creativity and contemplation over the last year 100 years, and is global in its scope. The exhibition has already had a 5* star review from Laura Cumming in The Observer, which picked out 'Studio Interior' for specific mention.
Art Historian, Alice Strang has written an introduction to Barns-Graham's studios, illustrated by paintings and photographs of these fascinating spaces – 'A Studio Visit: The Workplaces of Wilhelmina Barns-Graham' – which is available to read on the Trust website here – https://www.barns-grahamtrust.org.uk/The-Trust/articles/Article-14.html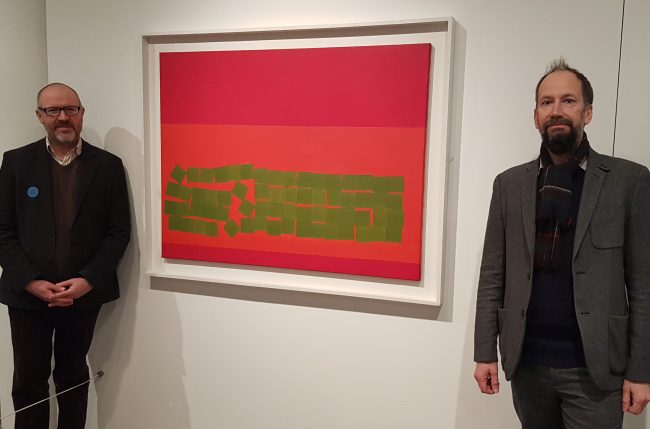 We are delighted to announce the latest in our annual gifting programme of Barns-Graham works to public collections. The dynamic 'Olive Green Squares on Vermillion' from 1968 has been presented via The Art Fund to the Sainsbury Centre for Visual Arts on the UEA campus, Norwich.
The painting is already on display in a brilliant group exhibition at SCVA – 'Rhythm and Geometry: Constructivist art in Britain since 1951' which celebrates the abstract and constructed art made and exhibited in Britain since 1951 and comprises over 120 objects across sculpture, reliefs, mobiles, painting, drawing and printmaking. Alongside the Barns-Graham work are an amazing array of artists including Rana Begum, Anthony Caro, Adrian Heath, Anthony Hill, Kenneth Martin, Mary Martin, Victor Pasmore, Jean Spencer, Mary Webb, Victor Vasarely, Gillian Wise, Li Yuan-Chia and Barns-Graham's close friend Robert Adams. Not to be missed! Visit the SCVA website for full info – www.sainsburycentre.ac.uk – exhibition continues until 17 July 2022.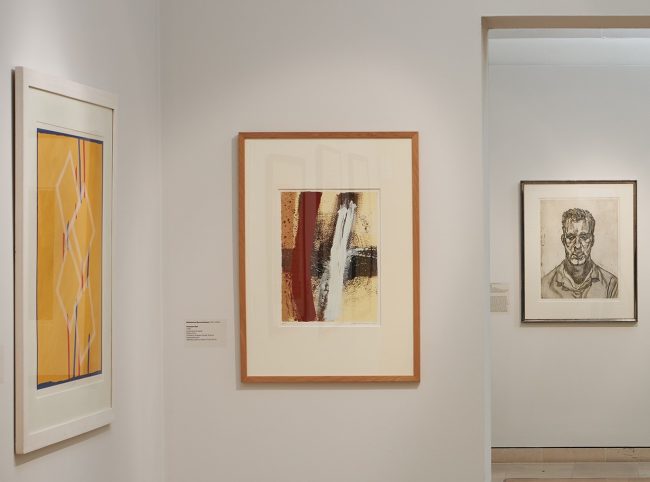 Where to See Willie
The Pallant House Gallery in Chichester's wonderful exhibition 'Hockney to Himid: 60 Years of British Printmaking' continues until 24 April 2022 and includes works by Peter Blake, Tracey Emin, Barbara Hepworth, Henry Moore, Lucian Freud, Grayson Perry and Sandra Blow. The exhibition features over 100 prints by 90 different artists and shows how printmaking enabled artists to expand their practice to explore new creative possibilities from the 1960s to now. Included is one of Barns-Graham's early screenprints, 'Venetian Red' 1995. (https://pallant.org.uk/whats-on/hockney-to-himid-60-years-of-british-printmaking/)
Also continuing is 'The Expressive Mark' at the Stanley & Audrey Burton Gallery in Leeds. Curated by Anne Goodchild, the exhibition highlights a period where the influence of Abstract Expressionism in America was filtering across the Atlantic, inspiring British artists to produced works on a new scale with signature mark-making techniques. Alongside Barns-Graham's 'Untitled' 1958 are amongst others Sandra Blow, Peter Lanyon, Roger Hilton, Gillian Ayres and Albert Irvin.  There will be a symposium related to the exhibition on Fri 18 March – tickets and information here – The Expressive Mark Symposium Tickets, Fri 18 Mar 2022 at 13:00 | Eventbrite