British Abstract: St Andrews to St Ives
We are delighted to be collaborating with CCA Galleries International in St Helier on their wonderful current exhibition British Abstract: From St Andrews to St Ives, which encompasses at least two significant Barns-Graham 'firsts' for which we are most grateful – it is certainly the first in-depth display of her work on Jersey and it is also the first time her late prints have been shown alongside her good friends and contemporaries in St Ives in their later years, Sandra Blow and Sir Terry Frost. Here we see three Barns-Graham prints Sunghrie III, 2002, White Circle Series I, 2003 and Millennium Series Brown, 2000, alongside Frost's Spring Spiral, 1996.
The exhibition continues until December 23rd and the Gallery is open 12-6pm Monday and Friday and by appointment outside these times.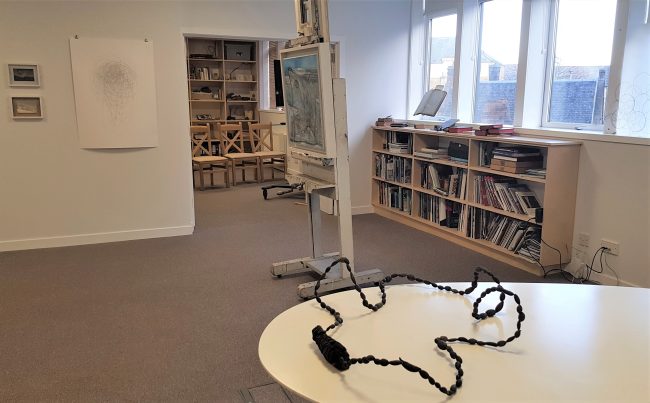 IN TIME – Harbour at the WBG Trust
The HARBOUR group of artists, mentioned in previous editions of Abstract, are currently showing at the Trust's offices in Edinburgh – IN TIME shows new work by artists Annie Cattrell, Leila Galloway and Gillian McFarland, they have selected works by Wilhelmina Barns-Graham, to highlight the current relevance and predictive nature of her vision and practice.  For IN TIME, the three artists will be exhibiting at the Trust their drawings, sculptures and time based work made in response to their research processes, and current understandings of the imminence and precariousness of climate change and geological deep time.
HARBOUR is an active research group of artists and academics, who have been in online dialogue during the recent Covid lockdowns. The initial aim of HARBOUR has been to focus on the variety of impacts of climate change and the passage of time on the physicality of landscapes and the commensurate emotional impact through considering actual places and historical archives.
A series of online lunchtime talks have been organised by HARBOUR, the next two are detailed below:
Thu 9 Dec, 13:00-14:00
Cat Dunn, freelance social justice researcher and producer, activist and artist, presents on Harbinger, a research project and exhibition she recently curated investigating the impact of the climate crisis on marginalised communities living in urban settings.
Thu 16 Dec, 14:00-15:00
Artist, Kate Downie, presents Safe Passage. 'The Art of Crossing, Migration, and Home-coming.' An exploration of the influence of the 20th century art of the journey through the eyes of Wilhelmina Barns-Graham as expressed by Kate Downie.
Follow @haar_bour on Instagram for more details.
To join us, please register via Eventbrite using the link below. Access to the event will be sent to you via Eventbrite and you must be signed into your Eventbrite account to join.
https://www.eventbrite.com/cc/harbour-presents-in-time-lunchtime-talk-series-24039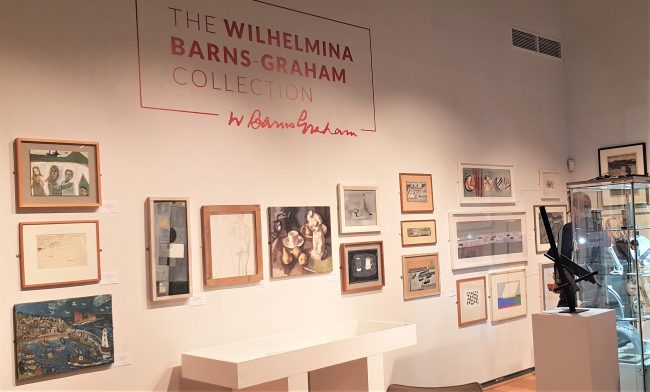 The sale with Lyon & Turnbull of Barns-Graham's Private Collection of works by other artists, detailed in the last edition of Abstract, took place on the 28th October at the Mall Galleries in London. It can only be described as a resounding success. All 72 lots were sold (just three post sale) including a world record for a Barbara Hepworth drawing, and with works by Alfred Wallis, Bernard Leach, Breon O'Casey, Robert Adams and Barns-Graham herself all reaching prices well beyond their original estimate.
A note of thanks to all at Lyon & Turnbull for organising the Auction and to everyone who bid, successfully or not. The funds raised by the auction will have a significant impact on the work of the Trust, allowing us to extend our charitable support for artists, undertake further conservation, photography and cataloguing of the Trust's art and archive collections and increase both physical and digital access to them.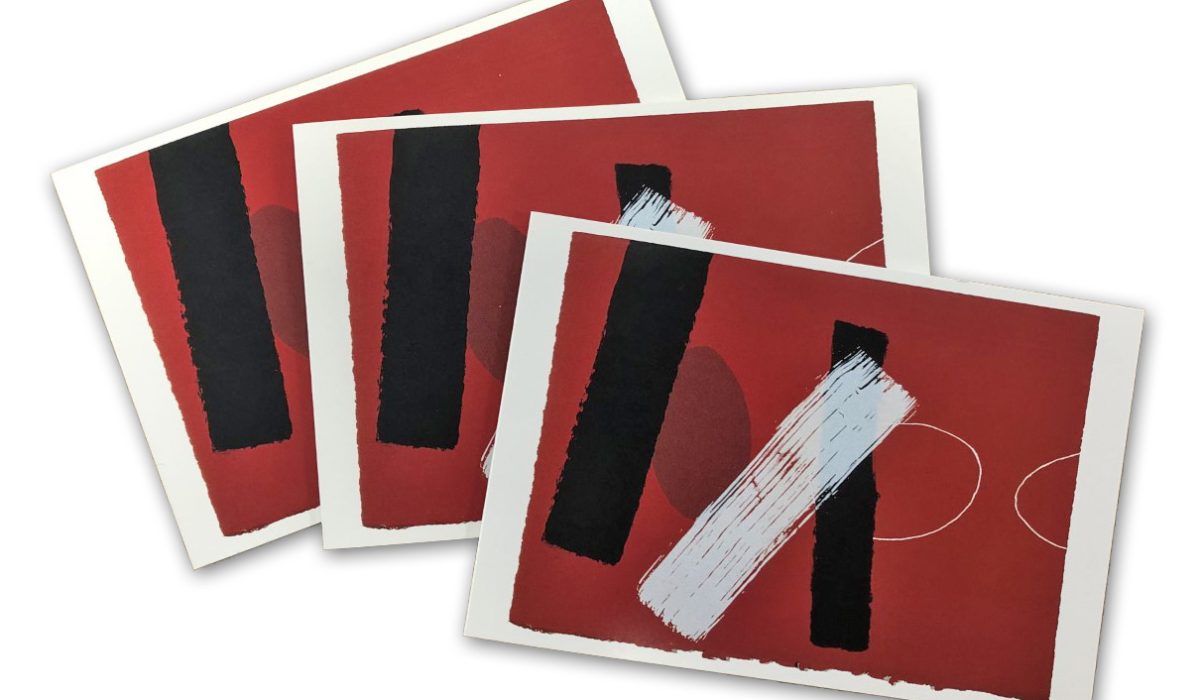 Support the Trust this Christmas
New to our shop this week, a set of 10 blank notecards featuring Barns-Graham's 2000 screenprint, Red Playing Games I. Recently discovered in our store, we're offering these at £5.00 per pack, including envelopes. Ideal for those looking for an alternative Christmas card this season!
Our partners, Art UK, have recently added some new items to the Wilhelmina Barns-Graham gift collection including some joyful abstract cushions featuring Creeping,1992 and Surprise Series No 3, 1998.
Tate have collaborated with Winsor & Newton to create limited edition sets of artists materials designed to introduce you to styles and techniques used by significant artists. The acrylics set features Barns-Graham's June Painting, Ultramarine and Yellow, 1996, presented to the Gallery by Tate Friends St Ives in 1999.
Loans from the Trust's Collection
This winter we are sending loans to exhibitions across the UK, from Leeds to London, providing lots of opportunities to see Barns-Graham works alongside works by her contemporaries.
In Leeds, The Stanley and Audrey Burton Gallery's The Expressive Mark exhibition is open until 2 April 2022 and we're delighted to have lent a gestural gouache painting from the late 1950s.
Also in Leeds, to coincide with The Expressive Mark, Leeds Art Gallery have selected a display of works from their collection on the same theme, including Barns-Graham's Progression, 1965, donated to the Gallery by the Trust in 2019.
This February, we're supporting the Whitechapel Gallery's A Century of the Artist's Studio 1920-2020 exhibition by lending Barns-Graham's seminal muted painting of her Porthmeor studio from 1945. Find out more about this work in short film with Alice Strang here.
The exhibition will run from 16 February to 29 May 2022. More information available soon from the Whitechapel Gallery's website.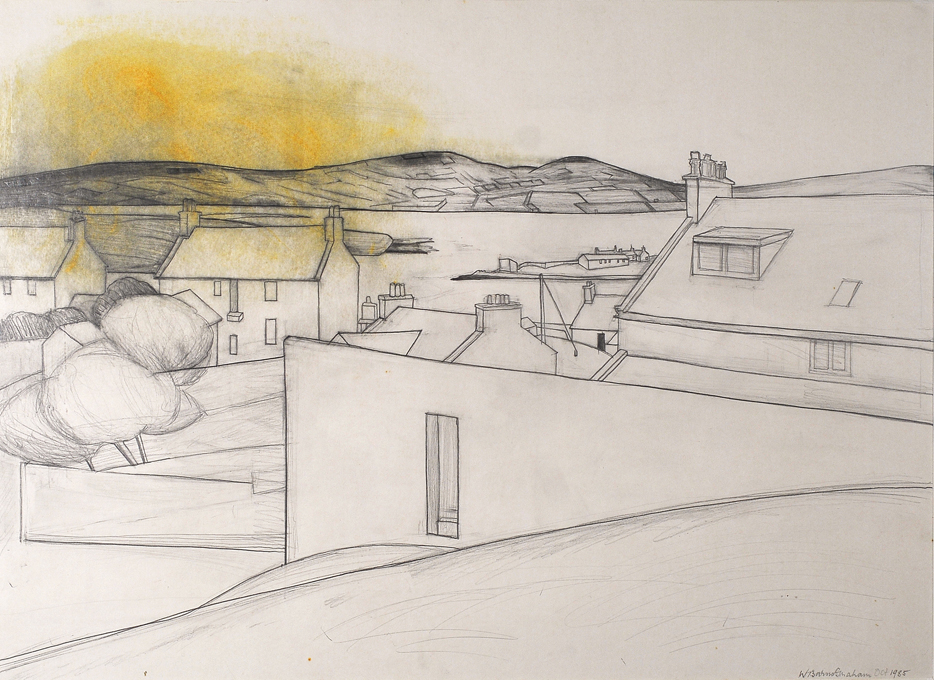 Looking Ahead to 2022
We're continuing into next year supporting museums and galleries with loans and exhibitions, including the Trust's first international loan! It's great to see Barns-Graham's works in different contexts and reaching new audiences.
In May, Tate St Ives will bring together works by Cornish contemporary artist, Jonathan Michael Ray, and Wilhelmina Barns-Graham in a display exploring their shared interest in the Cornish landscape and the graphic potential of line. Also opening the same month, Museum Belvédère in Heerenveen, Netherlands, are staging an exhibition of St Ives modernists exploring the parallels between surrounding Friesland and Cornwall as remote coastal regions that have been home to successive groups of modern artists.
From late June, our touring exhibition, Inspirational Journeys, reaches its final venue, the Pier Arts Centre, in Orkney. Two visits to Orkney in 1984 and 1985 galvanised Barns-Graham to return to exploring landscapes and nature in her work following two decades dominated by hard-edge abstraction. We're delighted to be able to end this successful tour in such an influential place for her work.