Abstract, Issue 14
Welcome to our summer edition of Abstract, the Trust's quarterly newsletter, dispatched on what would have been Barns-Graham's 109th birthday. Many happy returns, Willie! To celebrate, we're offering a special subscriber's discount for our online shop.
Inspirational Birsay at Pier Arts Centre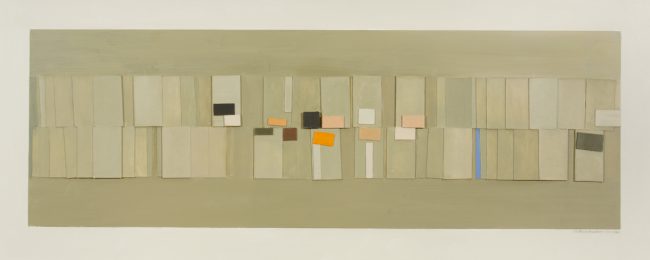 The Trust has lent two Barns-Graham works to a forthcoming exhibition at the Pier Arts Centre, Stromness, Inspirational Birsay. The exhibition is timed to coincide with the opening of a new facility for artists and creative people in Orkney – Linkshouse: Orkney Arts Residency. Located on the links at Birsay, Linkshouse will provide living and working accommodation for artists, writers and musicians to spend time in Orkney creating new work against a beautiful setting. Please check the Pier Arts Centre's website for details of the exhibition opening dates.
The parish of Birsay is located in one of the most scenic areas of Mainland Orkney. The Viking settlement on the Brough of Birsay and the cliffs at Marwick Head look out across the Atlantic and the surrounding landscapes, farmed since the Neolithic age. Many artists have been drawn to the area and the exhibition will feature landscapes by Orcadian artists including Ian MacInnes and Sylvia Wishart alongside work by visiting artists such as Frances Walker, John Busby and Richard Long.
Barns-Graham made two working trips to Orkney in 1984 and 1985 and produced a series of paintings exploring the particular landscapes she found on the islands. The exhibition includes two works both titled 'Birsay', painted in 1986, as well as photographs of Barns-Graham surveying nearby rock formations and beaches. The loan of these Orkney works precedes the showing of the major touring exhibition 'Wilhelmina Barns-Graham: Inspirational Journeys' at the Pier in summer 2022.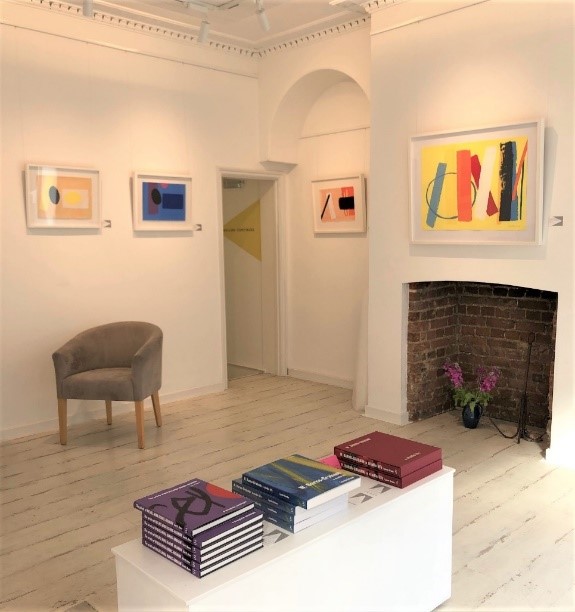 Wilhelmina Barns-Graham: Dancing Into The Light – Gallery East until 25th June
The exhibition of late screenprints, 'Wilhelmina Barns-Graham: Dancing into the Light', is open until 25th June at Gallery East in Woodbridge, Suffolk. The gallery chose the title in reference to Barns-Graham's confident unleashing of expression in her later years, which finally secured her recognition as one of Britain's most significant 20th century artists. It also refers to a series of works titled Water Dance Porthmeor (the beach in St Ives, Cornwall where she had her home and studio). Barns-Graham said her work was about expressing what she felt as well as what she saw.
For a special exhibition closing event, WBGT Trustee, Selina Skipwith will be in conversation at Gallery East – Bringing WBG into the Light, spaces are limited for Friday 25 June 4.30 – 6pm so please contact the Gallery direct to book a space.
Gallery East represents established and newer artists coming to the market for the first time, positively encouraging artists, painters, sculptors and ceramic artists with a connection to East Anglia, and especially women artists. Please visit their website for more information (www.galleryeast.co.uk/)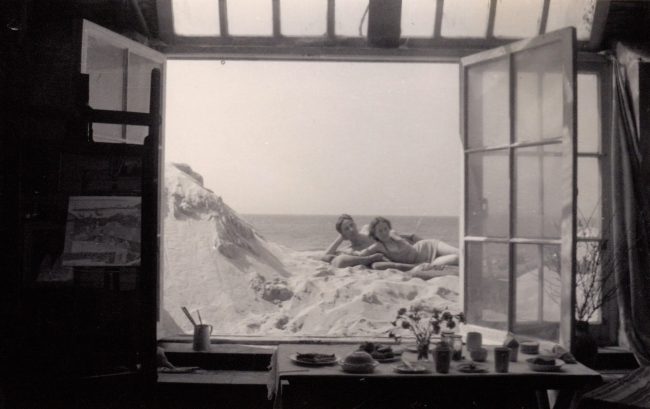 A strong defence of delicate things – Anna Lucas, Melanie Stidolph, Alice Walton – Auction House, Redruth, 23-27 June 2021
This image of Barns-Graham outside her studio window on Porthmeor beach in 1943-44 also featured in our last newsletter, this led to conversations with Cornwall based artist Melanie Stidolph about the possible use of the image within a new project/exhibition. The three artists state – 'A strong defence of delicate things is the result of an ongoing conversation between three women working with film, photography and found images. The installation brings together photographs from artists practice and archives, social media and fashion, staged within a provisional structure. Over five months meeting online the artists developed their shared interest in collaborative looking, working with images that fell loosely within categories of inside & outside, women in the studio, building materials, water, rocks and bodies.
Half-way through developing the project an image posted on social media became an anchor for others gathering on an online board. This black and white photograph was taken around 1943, by an unknown photographer, from inside Porthmeor Studios, St Ives, Cornwall. The dark interior of the studio contrasts with the sunlit scene outside and contains a still life arranged on a table, curtains pulled to one side. On the beach, level with the window, a woman and a man lie alongside each other. The woman is the artist Wilhelmina Barns-Graham, the man is likely Robert Wagner, an American GI who she formed a close relationship with during the war. Both in swimsuits with their legs stretched out, mirroring each other. A shovel leans to one side of the open window, suggesting they have dug their way out through the sand.
Coming at the end of a three-week residency, the installation gathers multiple photographs, moving image and audio, presented across the walls and temporary structure. Each image holds a place in the artists' life and research, which 'stick' because looking at them still raises questions about why they remain significant.'
Auction House is an artist led project space in the heart of Redruth, Cornwall, established in 2018 with the aim of providing creative space for contemporary artists to experiment and test ideas, but also a platform for public exhibitions, performance, screenings and residencies. www.auctionhouseart.co.uk
New Vintage Postcards and Birthday Discount
We have found another postcard from our very popular Vintage Small Energy Postcards selection which is now available to buy as part of a group of 5 on our online shop.
To celebrate Willie's birthday today, we're offering our newsletter subscribers a special 10% discount for our online shop until the end of July.* Enter the code BIRTHDAY10 at checkout.
All proceeds go towards supporting the charitable activities of the Trust. Click here to take you directly to the shop.
*Discount code excludes Prints, Limited Edition Books, A Studio Life by Lynne Green and Wilhelmina Barns-Graham by Virginia Button. Code is limited to one use per customer and expires on 31 July at 23:59 GMT.

Picture of the Month
Jenny Wilson is one of the WBGT's original Trustees (and the last to be still serving), chosen in 1987 by Barns-Graham to help guide and manage the Trust following her death (in 2004). With a career spanning promotional activity of visual artists, theatre, music, literature and spectacle, Jenny has worked as a promoter, programmer and administrator for art form development agencies in England and Scotland, with a focus on audiences, participation and fun.
She has (coincidentally) chosen 'Birsay I' for Picture of the Month and writes 'I was lucky enough to come to know Willie Barns-Graham and Rowan James during my time at the Crawford Centre In St Andrews.  So I look at works that she created there, and which I first saw as part of her exhibitions there, an in Edinburgh, and I look at others which remind me of her as a person.  I love her portrait of the garden, protective and sheltering, and for her, reminiscent of her generously perceptive aunt, giving Balmungo as workplace, refuge, and home.  It was in the garden that we sat, with cups of tea by the deodar, and talked of Orkney.  We shared our enthusiasm for recent visits, for Highland Park, and for George Mackay Brown's work, in particular 'Magnus'.  Willie was moving in yet more new directions, and as always, I held my breath as we went upstairs to the studio, where I saw 'Birsay I' for the first time.  A contemplation, landscape, meditation.'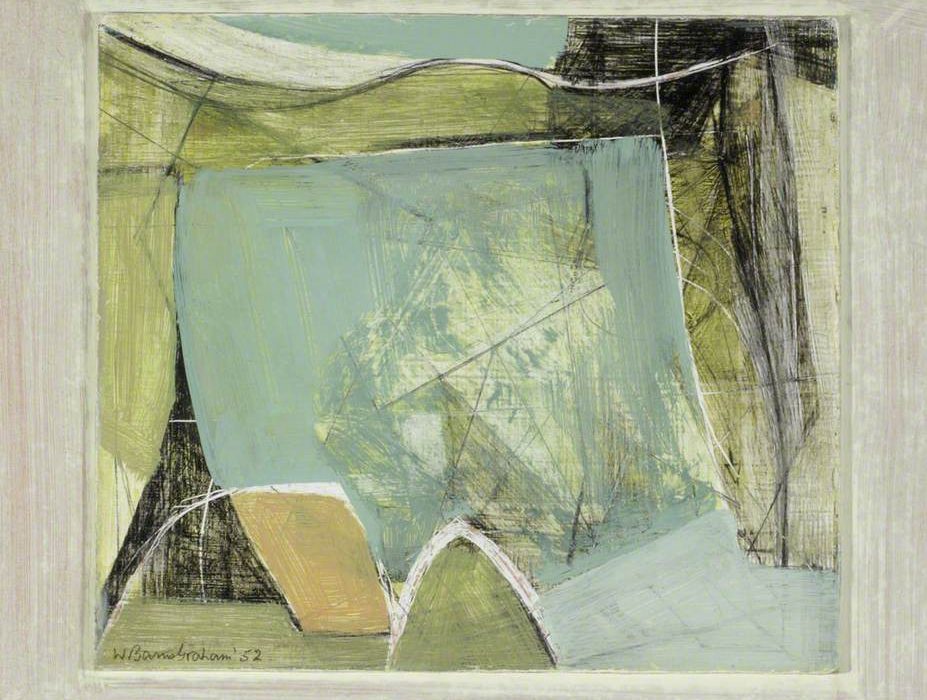 Where to See Willie
With museums and galleries now open across the UK, there are plenty of opportunities to see works by Barns-Graham in exhibitions and displays.
The Harley Gallery in Welbeck are hosting a year-long collaboration with the Jerwood Collection and their first exhibition together, A Curator's Choice, includes the wonderful Winter Landscape 1952. On until 8th August.
Tate St Ives have refreshed their permanent collection displays adding the spectacular White, Black and Yellow (Composition February), 1957, gifted to Tate by the Trust in 2018, amongst other Barns-Graham works. Pallant House Gallery has also included works by WBG in its reopening permanent collection displays.
Curated by James Russell, Seaside Modern: Art and Life on the Beach is open at Hastings Contemporary and features a colourful drawing of St Ives from the Ingram Collection.