Abstract, Issue 13
Welcome to our spring edition of Abstract, the Trust's quarterly newsletter. Bringing you updates on exhibitions, events and other Trust activities over the next three months.
Online Shop and Book Sale
We are opening our new and improved online shop with a Book Sale. Many of our exhibition catalogues have been reduced by up to 25% for a limited time.
You'll also find some newly added products in the shop from vintage catalogues to a refreshed selection of original screenprints by Wilhelmina Barns-Graham. All proceeds go towards supporting the charitable activities of the Trust.
Visit the shop now.
Rebecca Birrell talks about her recent 3-month SGSAH sponsored internship at the WBGT
When this opportunity was advertised by the Scottish Graduate School of Arts and Humanities (SGSAH), I was immediately hooked. Although I am an historian of twentieth century women artists, I only vaguely recognized the name Wilhelmina Barns-Graham; a collection of personal and professional photographic material in need of sorting seemed like a more practical and fascinating way of quickly learning about an artist, more comprehensive and certainly more personal than a book.
Based at the Wilhelmina Barns-Graham Trust offices in Edinburgh, I completed a survey of the photography collection. I arranged loose photographs dating back to the forties into chronological order in new archival grade boxes. I carried out research on the exhibitions recorded by particular packets of photographs, and identified works, locations and subjects where possible; through this close attention to each packet and their contents, I adapted and expanded the current database used to store information on the collection. The aim was to make the database as useful as possible for future researchers, and throughout I considered what I had personally found helpful when accessing archival collections, especially when short on time. It felt important to identify which aspects of the photography collection related directly to Willie's practice: some photographs reveal surprising things about her process, or connect abstract forms to their empirical template; others confirm locations for works or simply trace the endurance of certain interests. In my experience, this dialogue between archival material and aesthetics, personal and professional life, is the foundation for original and compelling art historical scholarship.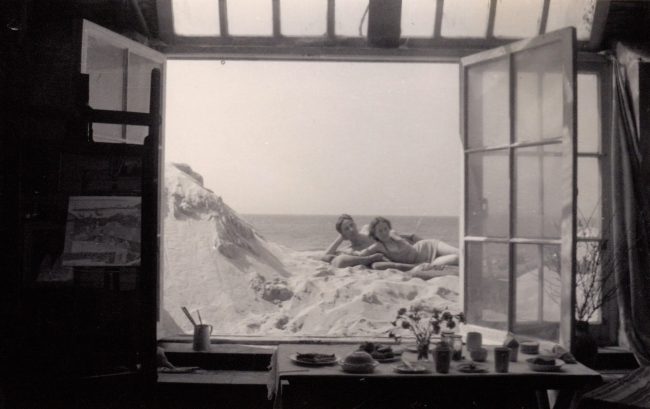 The boundary between nature and culture, pleasure and professionalism, was always being blurred by the studio at Porthmeor in St Ives, which looks out onto the beach. Here Barns-Graham is relaxing with a friend on the sand, which at the time reached up to the studio window, an activity that through the striking composition of the photograph is framed as continuous with her art practice. In a sense, this was true for Barns-Graham, as she was forever returning to the sea, sand and shoreline in her work throughout her career, whether as a concrete figurative presence or a more general formal inspiration.
With Rob, I am now curating a small exhibition of photographs of Willie drawn from this collection to be shown at Porthmeor Studios in September. I am interested in how images of Willie at work reveal a self-consciousness to her public image as an artist, a professional strategy she was perfecting from the very beginning of her career, a particularly unusual and daring position to adopt given her gender. The Trust are incredibly fortunate to have such a wealth of material addressed to Willie's working life, and I feel very lucky to have spent so much time so close to it.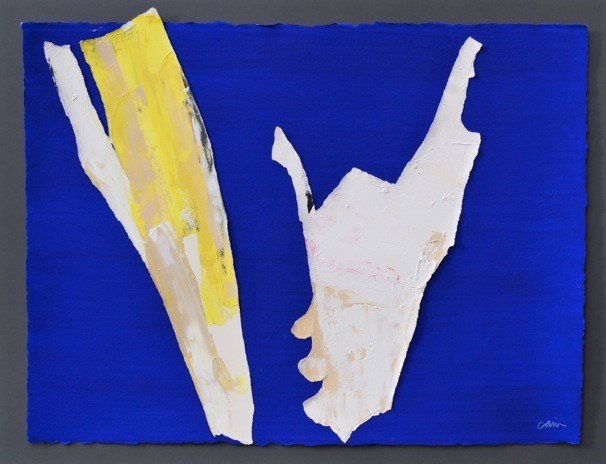 Dancing into the Light – Wilhelmina Barns-Graham and Patricia Cain – Gallery East, Woodbridge
Opening on 30 April 2021, this joint show pairs Barns-Graham's late-career prints with work by contemporary artist Patricia Cain at Gallery East in Woodbridge, Suffolk.
The Barns-Graham screenprints will be shown alongside work produced by Patricia Cain during her 3-month RSA/Barns-Graham Trust residency in 2013 at Balmungo, Barns-Graham's house and original base for the Trust, in Fife. Both artists work with representational and abstract processes and Patricia used this as a basis for observing how the artist moves between the two. One of her paintings from this residency won the RWS Award at the RWS Contemporary Competition in 2014. Each are accomplished draughtswomen. Patricia is interested in how artists think as they draw, and uses her innate drawing ability to explore different styles of thinking and cognitive signatures of artists. Patricia's residency work was the basis for the 2017/18 Scottish touring exhibition 'Seeing Beyond the Immediate', where the working methods of both artists were made visible.
Harbour Project
Harbour is a still space, built by humans, between land and sea / It is a safe place to arrive and to depart from / Harbour is also a term for a person thinking and feeling something, usually over a long period of time.
Annie Cattrell (London), Leila Galloway (Cornwall) and Gillian McFarland (Fife) are visual artists who have founded Harbour. Harbour is an art project and forum affording the necessary space and time to consider how past societal attitudes and geological influences inform the present, with a view to visioning the future. Harbour hosts a series of events and public exhibitions, which include engaging with specialists in specific archives and dialogues with academic institutions, artists, scientists and writers.
In October 2020, Scottish based, McFarland successfully attained aSustaining Creative Development Award from Creative Scotland. This award was to enable Harbour to: 'focus on the impacts of climate change and the passage of time on physical, historical and emotional landscapes through considering historical archives and material.'
The first part of this funding allowed Harbour to work closely with the WBGT archive and collection. One of the many highlights of these discussions was around Barns-Graham's focus on the importance of observation, drawing and how this impacted on her approach to abstraction in her artworks.
"I am always searching, and I believe in drawing. My drawings are not pretentious….(they need) constantly to search and abstract, to communicate; our work is what we are."
WBG in A Discipline of the Mind, 2007
As a result of these discussions, and specifically concerning Barns-Graham's awareness of geological and glacial time, and tranistional emotional states, Harbour will show a series of new drawings alongside archive material from the WBGT.
This public exhibtion In Time, From the WBGT Archive is also aimed to coincide with COP26, the UN Climate Summit hosted this year in Glasgow.
The images below show a work each by the three Harbour artists; their individual responses, in the form of drawings, to aspects of Barns-Graham's work and the archive material.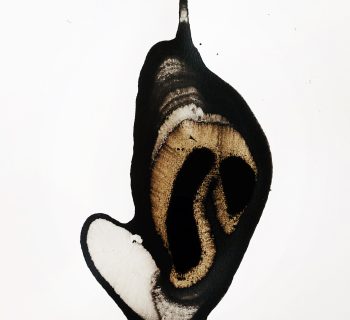 Ice Drawing, 2021, Annie Cattrell, A3, 300 gram paper © Annie Cattrell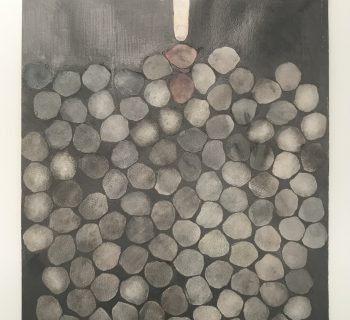 poking the underworld, Leila Galloway, Watercolour and pencil. 38 x 43 cms © Leila Galloway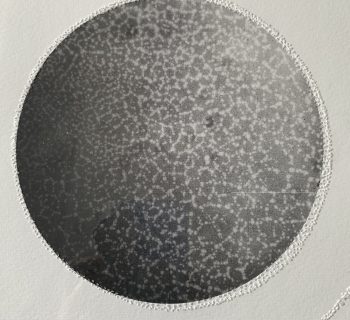 Flat Field, Gillian McFarland, Print. 20 x 20cms © Gillian McFarland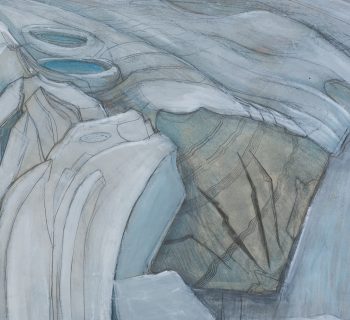 End of the Glacier, 1949, gouache on paper, 40 x 59 cm, BGT6399
Barns-Graham: Decade by Decade
Have you seen our new series of short films, Decade by Decade? We invited a group of artists, art historians, academics, gallerists and curators to examine one work from each decade of Barns-Graham's professional life. Rather than trying to give a broad overview of her career, these bitesized films give a very personal response to particular works.
Having each speaker talk about a specific piece, actually sitting on Barns-Graham's easel next to them was a conscious effort to emphasise each work's physical presence as an object, rather than the flat, cropped decontextualized images we are all so used to consuming online. The series is now available on our Youtube channel.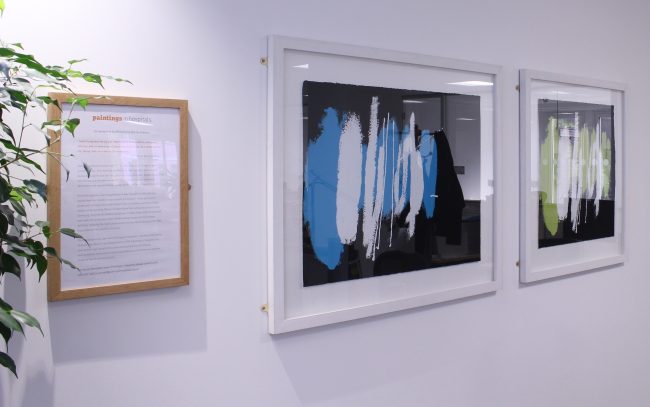 Gift of prints to Paintings in Hospitals
Paintings in Hospitals aims to transform the UK's health by using world-class art to inspire better health and wellbeing for patients, carers and communities and is committed to bringing world-class art to everybody by providing artwork loans and art activities to all types of healthcare and social care.
The Paintings in Hospitals art collection is the only national loan collection dedicated to inspiring better health and wellbeing, it was the first such collection with the specific purpose of improving patient's health. Since 1959, the collection has grown to hold over 3,800 artworks, including drawings, paintings, prints, sculptures, photographs, textiles and digital works, with over 2,000 artists represented. Recently added to this impressive collection are 17 screenprints from Barns-Graham's later career, donated to Paintings in Hospitals by the WBG Trust in acknowledgment of the important work they have undertaken over many decades.
"Paintings in Hospitals is absolutely delighted to receive this generous gift of artworks from the Wilhelmina Barns-Graham Trust. The 17 prints, including works from Wilhelmina's Millenium and Water Dance series, have been bringing colour and movement to health and social care spaces across the country while on loan to our charity over the past few years. They will now become a permanent part of the Paintings in Hospitals collection in its 62nd year and help to bring joy and comfort to patients and care staff for many more years to come." – Sandra Bruce-Gordon, Director of Paintings in Hospitals.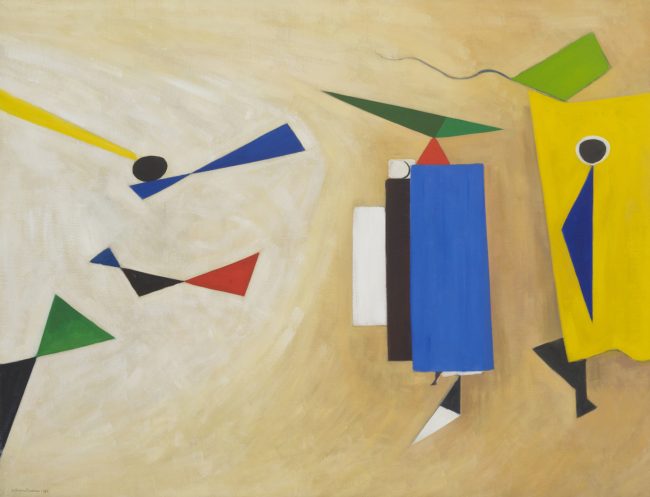 Picture of the Month
This edition's picture of the month is selected by our recent SGSAH intern, Rebecca Birrell.
Inspired by my work in the archive, I have chosen Summer Painting No.2, 1985. One of the most fascinating aspects of working with this collection was the opportunity it presented to map casual, mass-produced, apparently artless and insignificant photographs onto Barns-Graham's paintings. On first looking at Summer Painting No.2, what struck me was its analytical play with colour, form and movement. The work's enigmatic world is governed by its own physics, filled with questions and possibilities: a triangle is placed precisely against a circle, deep blue and black which connect to an arrow of light, and around them other shapes form strange geometries, each as though surrounded by their own forcefield.  To me, it initially read as a rigorous experiment in abstraction removed from any recognisable concrete realities.
However, in the archive I found dozens of photographs taken from the window of Barns-Graham's Barnaloft apartment on summer days in which sunbathers and swimmers headed to the beach.
The results are surprisingly abstract images of vibrant windbreakers and vividly patterned towels, and clearly functioned as the inspiration for Summer Painting No.2. The photographs position Barns-Graham as an artist-archivist seeking to catalogue the distinct texture, aesthetics, vision and vernacular of this particular shoreline in St. Ives. This ephemeral, discordant, impromptu material culture was clearly an important resource for Barns-Graham, as she translated its exuberant excess, its abundance of human flesh and noise and mess and pleasure, into an entire series of spare, magnetic canvases similar in structure and style to Summer Painting No.2.